SUBCONTINENT:
The People Triumph: Bangladesh's Path to Democracy


After a two-year-long disturbing detour, Bangladesh has returned into the democratic fold with remarkably free and fair elections that have give an overwhelming mandate for the left-of-center and secular Awami League and its allies. A Siliconeer report.
---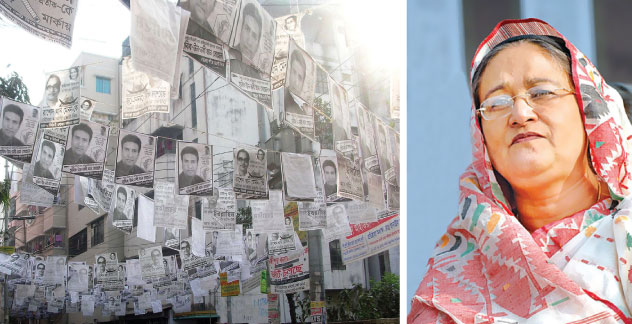 (Above, left): A neighborhood festooned with election promotion material in Dhaka. (Right): Former Bangladesh Prime Minister Sheikh Hasina, leader of the victorious Awami League.

---
Bangladesh, a nation struggling with a huge population, underdevelopment and recurrent natural calamities, took a quantum step towards democracy as the Mahajote (grand alliance), a secular coalition of 14 parties led by the Awami League, won a stunning mandate in an election conducted by its Army-backed interim government Dec. 29.

To be sure, this is only a first step towards a smoothly function administration that the country desperately needs, but early signs give considerable cause for hope.

The poll was generally peaceful, with both independent observers and many voters saying they saw few glitches. Previous elections were marred by widespread accusations of vote-rigging.

"All Bangladeshis can take great pride in the success of these elections. The high voter turnout underscores the people's desire to see democracy restored," Gordon Duguid, a U.S. State Department spokesman, said in a statement.

However, in keeping with the nation's fractious political tradition, the losing coalition of four parties led by the Bangladesh Nationalist Party and including the Islamist Jamaat-e-Islami, have dismissed the elections, calling it a massive fraud, as it smarts from a devastating drubbing at the polls. Later, reason seemed to have prevailed as it showed increasing signs in participating in Parliament. The BNP-led coalition, which ruled the country until its term ended two years ago, has been decimated in the December polls.

The Mahajote has won 255 seats in the 300-seat parliament, and the BNP coalition led by Prime Minister Begum Khaleda Zia, won just 31 seats. This is the BNP's worst showing ever, and the best for the Awami League since before independence from Pakistan in 1971. The Islamist Jamaat-e-Islami also received a thorough drubbing, with its seats coming down from 17 to two.

The elections were monitored by tens of thousands of international and national monitors, who unanimously backed the results.

---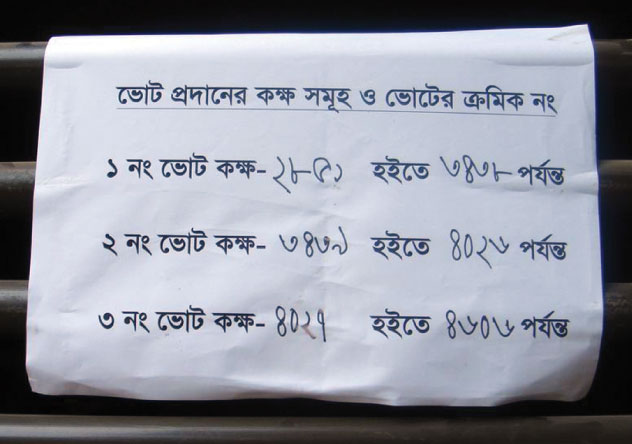 (Above): A sign at a voting center to guide voters to their polling booths.

---
Populist rivals Awami League leader and former Prime Minister Sheikh Hasina and Khaleda alternated in power for 15 years up to 2006 in Bangladesh's personality-dominated politics.

The two-year-long interim government came to power at a time of political crisis for Bangladesh. The elections of Dec. 29 were held after millions of nonexistent voters, whose "names" found their way into the electoral list through manipulation by the previous coalition government — a coalition of the rightist Bangladesh National Party and the fundamentalist Jamaat-e-Islami — were deleted.

The determination of Bangladeshi voters to exercise their democratic rights was manifested in a massive turnout of over 80 percent of the 81 million registered voters, with women voters outnumbering their male counterparts in this predominantly Islamic country.

Voting was held amid a remarkably festive mood across the nation, with people standing patiently in long queues for hours, often dressed in their best, a poignant reminder of how much ordinary people valued their right to franchise. The government, for the first time, issued photo IDs which were matched with ledgers of voters' lists that also had photographs. This resulted in some minor glitches.

Bangladesh's neighbor India has worried that an increasingly violent Islamist militant minority could provide support and shelter for radicals in their own countries.

But the elections showed once again that most Bangladeshi Muslims are moderates, however. Analysts said Khaleda suffered from the presence in her alliance of Islamist party Jamaat-e-Islami. Its chief and other leaders lost their seats as its parliamentary members dropped from 17 to 2.

"She courted the Islamists, ignoring popular sentiments. An apparent dislike of young voters (for her alliance) was another key factor," said political scientist Ataur Rahman the Reuters news agency.

Delwar Hossain, campaign manager for a BNP candidate in the eastern Brahmanbaria district, told Reuters: "The results came as a big shock to us. Nothing worked like we had expected. People seemed determined to change."

Added retired major-general M.A. Matin, the interim government's home affairs adviser (minister): "The election results were a very positive development. People have rejected the (BNP alliance) for corruption and other misdeeds."

To be sure, the new government faces challenges, particularly at a time of global economic distress.

Foreign direct investment in Bangladesh in 2007 was $666 million, down from $793 million in 2006.

Hasina has pledged to contain prices and promote growth in a country of more than 140 million people and where 45 percent of the population live below the poverty line.

Another challenge Hasina will face is the threat of Islamist militancy.

"There is little doubt that Sheikh Hasina will seek to clamp down on al-Qaeda affiliated groups like the Harkat-ul-Jihad-ul-Islami, functioning in Bangladesh with patronage from sections of the army establishment," G. Parthasarathy, a former Indian diplomat, wrote in Forbes. "It remains to be seen how far she will succeed on this score."