REMINISCENCE
Trip to the Fair: Childhood Memories

In a poignant autobiographical story, poet and folklorist Ved Prakash Vatuk writes of a childhood visit to a fair, the realization of an impossible dream due to the desperately poor circumstances of his childhood.

(First installment of a two-part series.)

---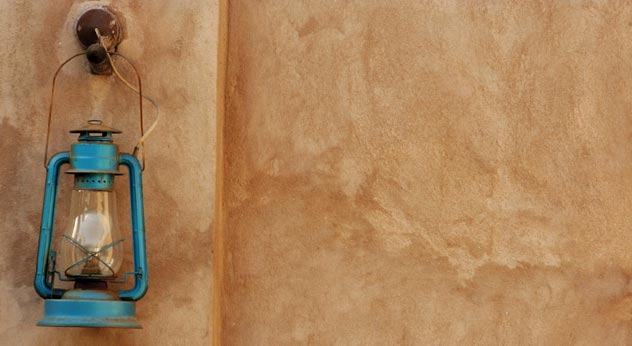 ---
Laying on his little cot on the roof on their mud house, he looked at the moon, which was only one day shy of being full. The weather was clear and soothing, yet he felt restless. "Tomorrow is the great fair of Lord Shiva at Pura," a village five miles to the east of his home. All of his friends were going to the fair — the friends with whom he occasionally played, and who went to school with him. And he? What would he not give to be going to the fair with them?

He was a quiet, lonely boy, good in his studies, so that the others sought his help, but he felt insecure and lacked something, he knew not what. He was obedient to his mother — all his sisters were married and living in their husbands' villages so that he was left alone with his mother and became even closer to her than as the youngest child he had been before. The other boys of his age did not understand him, and he felt that he had nothing in common with them. He found peace in his little books. They were the same books that his brother had read many years before, but he loved them and lived in the dreams they depicted. Someday he would be a great man like those in his books, he would go to a foreign land to study and would provide for his mother every pleasure she lacked.

But his eldest brother, 26 years older than he, was educated and yet he was no help to their mother. They did not let him. "Why? Why?" He asked several times. He remembered his brother and wept slowly, so that the torn sheet that was unable to fully cover the little cot, became wet. His brother was far away, and they had not heard anything for him for a year now. He was closed within the high walls of a prison, where, they said, he slept on the floor and wore rough jute clothes "To sleep on the floor, what does it feel like?" He left his cot and lowered himself to the floor, but the idea that there might be some insect or even a snake nearby made him rise again quickly and resume his position on the bed. They also said that his brother was closed night and day in a little cell where he had to relieve himself on the floor and eat in the same place. And what food! The jailors kept back the prisoners' rations to sell, and mixed dust and stones in the flour from which the chapatis were cooked.

Sometimes his brother would have to pull the grist mill like an ox watering a field. He could not imagine how a person could do this thing and still live. He himself did not eat well, but at least there were no stones in his food, and he did not have to use his body to turn the mill wheel. They said, too, if his brother did not pull, he was caned — with sticks soaked in water to make them more painful — and made to lie on ice. At the thought of caning and lying on ice, he could not contain himself and was terrified: Sweat ran through his forehead and he cried "Ma" with sobs and shivers.
Ma awoke as if from a bad dream and cried out, her voice full of alarm: "What is it, my son? Come and lie with me." So he lay near his mother on the cot, with his arms around her, pressing her tightly to hide itself.

---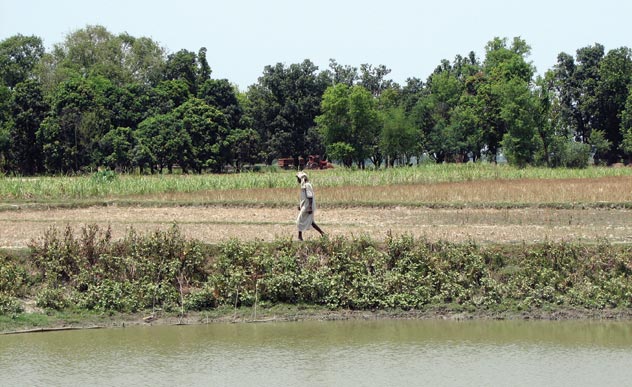 (Above): A farmer walks down a village path in Uttar Pradesh. Very little has changed over many decades in the rural hinterland of India's largest state.
---
When the wave of terror was over, he began to think again. "Why don't they let my brother out? Why do they make him suffer so?" His brother wanted only to see people happy, to see them smiling. He didn't want any position in the government — although he could have had one if he had wanted. He followed Gandhi's teaching.

When he was five years old, he had heard Gandhi say, "Every man is born free, we should be free too, and as long as we are not, we should not accept any job in the government; the government that whips the farmers, robs them, and consistently leads them to starvation." He had heard that whites were nice people. He had been taught in books about white kings and queens who wept to see people suffering; he had read about Lincoln who freed the slaves. His mother used to tell him that all good fairies were white, and they helped people in need. And he wondered, "How can the same people do such dreadful things to us?"

His father had become sick, very sick, and had wanted to see his eldest son before he died. But his brother had not been allowed to leave jail, and in his misery lay motionless in his cell for days, without speech. At the end his mother had kept him away until his father had showed up no more. At this thought, he cried again, and Ma murmured words of comfort and wrapped him tightly in the sheet.

When his father was alive, he used to sometimes see a pice, or even an anna — four pice — lying here or there. He would take it and go to the shopkeeper to buy something salty or sweet; and no one would know until the shopkeeper returned the charge to his father. But after his father's death, everything had suddenly changed. He never saw any money again, and the food was only chapatis — unleavened wheat bread — brown sugar, and occasionally buttermilk, when the buffalo was giving milk. He had seen his niece dying of some unknown disease and no doctor was available. With his brother in jail and no money in the house, his brother's wife had left them to return to her parents and brothers, and he and his mother were alone.

He respected, loved and admired his old mother, and wanted to give her comfort, so he fetched water for her, cleaned the house twice a day, cleaned the brass pots by rubbing them with ashes, gave a coat of yellow clay and wet cow dung to the fireplace, and sometimes even baked crooked chapatis with his little hands.

For all this work he was jeered by the other boys as "his mother's little girl." Once, to show that he was a boy, he had tried to cut cattle fodder with a sickle. He could not even properly hold the handful of barley plants he was trying to cut, and at the first attempt, instead of chopping the barley, he chopped at his hand.

Soon after this the police had come one day to the house, with red clothing and guns. The buffalo and some of their other possessions were auctioned , their meager crops were sold, leaving no food for the coming year, and his beloved framed portraits of Gandhi, Nehru and other leaders were destroyed. These were pictures that were even loaned to other villagers to help decorate the house on festive occasions, and he saw, stunned with terror, the glass being smashed with gun butts, the frames broken with heavy boots. For days he had cried, tried to put the torn pieces of the pictures together, prayed to God, and apologized to the pictures for his being unable to restore them. At the same time he cursed the police and the government.

This had been the beginning of much misery. Hunger had begun to haunt him. His mother was sick for a long, long time, and he had looked at her painfully, with the terror of a dream he did not dare to think of. He put his head against his mother's breast, which was burning with temperature, and tried to soothe her burning with his tears. Often in those days he had caught cold himself, and lay next to his mother as if they could cool each other. Days passed by, and it was almost two years and he had not once seen a pice in his hand. "Tomorrow is the fair of Lord Shiva," he thought. At the time of the last fair, six months before, he had wanted to go and had cried before his mother, who had no money to give him. It was the great dream of his life to go to this fair. All of his friends had gone in other years, and had told him about it. They had told him about bathing in the river, offering water to Lord Shiva, about the dancing, the "valley of death," the food they had eaten. They had told how they listened to the music and enjoyed the glittering lights, the lights with which even a hundred festivals of the lamps could not compete. He wanted desperately to see all that, too. Long ago he had seen the river, as he stood with his father on a bridge, but he had never bathed in it. And all the other things he could only dream about. Some time ago his mother had told him that she was trying to get some money for him to go to the fair, but she had not spoken of it again, and he had not dared to ask.

---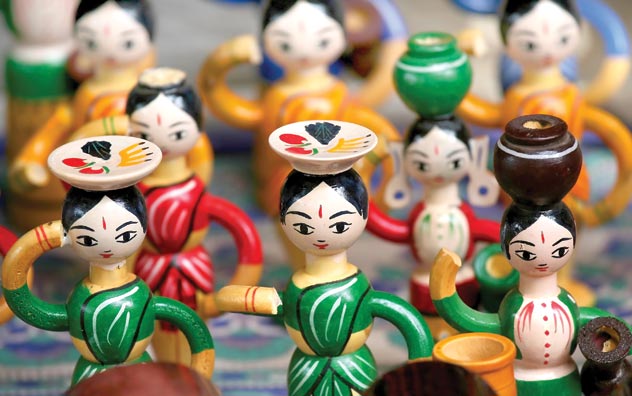 (Above): Artisan-made handicrafts add color to any village fair.
---
Every household expected several guests to come and stay for many days — the village was full with the gaiety of the visitors. To their house had come only one of his married sisters, but he welcomed the respite from loneliness that she provided. Lately, absorbed in thoughts of the fair, of his father and brother, he had slept little. Tonight again, when the village was sound asleep except for the occasional barking of dogs, he was occupied with thoughts of the day to come with hopes that his dream would be fulfilled, and deeply lost in his world of painful imagination. He did not know when sleep overtook him.

When dawn broke and jackals began to cry, the cock started to crow, he was awakened by his mother. Still rubbing his eyes, he saw her and his sister preparing churma, a mixture of chapatis from the night before and brown sugar mixed with a little water, as they had no butter.

"What is that for? Is sister going back today? But she has only been with us for four days!" he asked, recalling that her visits on festive occasions always lasted for many days. "No. It's for you. Don't you want to go to the fair?" Ma replied, with a sweet, loving smile. "Fair?" he could not believe his ears. "Did you say fair? But we have no money!"

"You talk too much," his mother laughed, patting his shoulder. "Go wash yourself and I will take care of that."

With a mixture of amazement and joy, he took the jug of water and went out to the porch to wash. As he returned to the room, he overheard his mother confiding in Sister that she had been collecting the discarded mustard seeds, one by one, on the paths as she went to the fields, and had finally collected enough to sell to the shopkeeper. In deepest devotion and gratitude to his mother, he entered the room. Ma was untying a dirty rag she had taken from a pot and, after he had dressed, placed three pice on his palm. "Three pice!" he cried in joy, as if he suddenly found himself in heaven. He hugged his mother, she pressed him to her bosom and kissed him, hiding tears of elation and misery, an experience she had never had before. Controlling herself, she took him to the house of an older boy, who consented to take care of her child at the fair. She tied the money tightly in a knot at the corner of his dhoti and pushed it inside around the waist.

(To be concluded in the next issue.)