RECIPE:
Vegetarian Entree: Kadhai Paneer


It's simple to make yet delicious to eat — here's a surefire delight from the kitchen of Chef Sanjay Patel.
---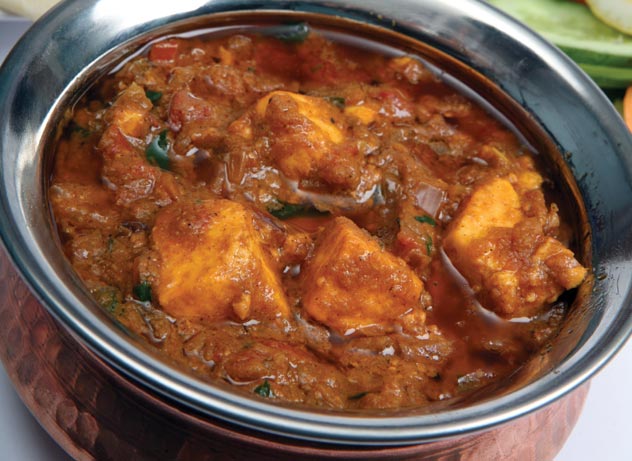 (Above): Kadhai Paneer [SILICONEER photo]

---
Ingredients

8 oz Cottage cheese (paneer)

3 Bell peppers)

4 Onions

4 Tomatoes

1" Ginger

1 tsp Red chili

2 Bay leaves

4 Cloves

1 stick Cinnamon

Pinch of orange color

4 tbsp clarified butter (ghee)

Method:

Cut cottage cheese, bell pepper in longitudinal pieces. Grind onion, tomato, ginger, salt, red chili powder and orange color. Crush cloves and cinnamon.

Heat clarified butter in a pan. Add bay leaf, cloves, cinnamon. Then add onion, tomato, ginger paste. Continue cooking on medium flame till ghee/oil begins to separate.

Add cheese and bell pepper. Cook on a low flame. When bell peppers are done switch off stove.

Serve while hot with naan or parathas.