TAMIL CINEMA:
Stylish But Flawed: Sarvam

Cast: Arya, Trisha, J.D. Chakravarthy Indrajith, Anu Hassan, Prathap Pothan, Rohan Shiva
Music: Yuvan Shankar Raja
Director: Vishnuvardhan

---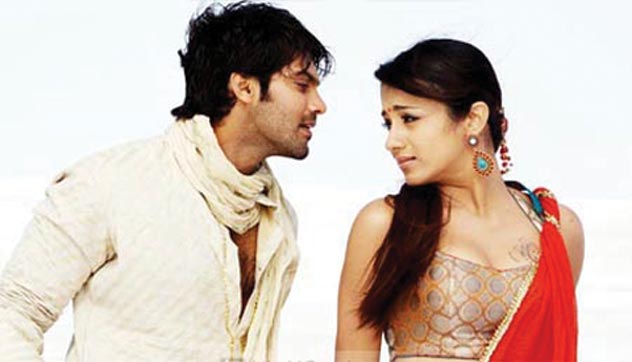 ---
Vishnuvardhan's Sarvam is a mix of romance and thriller. The movie is trendy and stylish. It has come out as a visual and musical treat, thanks to Nirav Shah and Yuvan Shankar Raja.
Vishnu has attempted to make a thriller without gimmicks. While the first half revolves around the romance involving the cool Arya and the fabulous Trisha, the second half concentrates on a revenge drama.

Karthick (Arya), a software professional, falls for pediatrician Sandhya (Trisha ) who keeps giving him repeated brush-offs. There is a sidetrack involving the mentally disturbed Easwar (J.D. Chakravarthy), who is distraught following a car accident. He gives some jitters to a father-son-duo — Naushad (Indrajeeth) and Iman (Rohan) — seeking revenge for the loss of his son who died in a car accident caused by Naushad.

The rest of the story deals with how Karthick saves the child from Eashwar.

Vishnu has concentrated more on visual techniques rather than narrative skills, and the movie is less appealing in terms of content. He hasn't etched the characters well. The sequences leading to the crisis and the climax are not convincing.

Vishnu, however, has made the romantic sequences well. Yuvan's music adds value to the romantic scenes, in which Trisha looks fabulous.

Arya has done a good job. He comes across as a cool, suave architect. However, the fact that he is non emotive when certain scenes demand histrionics doesn't auger well for the movie.

Trisha is simply superb. The gorgeous actress steals our heart with her fresh and charming looks. The problem with her character is that she gets very little screen space, which leaves us disappointing.

J.D. Chakravarthy from Tollywood has done well but the impact of his acting is marred by the flaw in his characterization. Malayalam actor Indrajith as a desperate father is competent.

The movie looks stylish. The camera work and music are excellent. Trisha is definitely a plus. However, the movie loses its way due to some flaws in the script, characterization, and performances.

— Chennai Online.