COUTURE:
Fashion for the Recessionista: Pia's Spring Collection


The boutique PIA, which combines high fashion with social entrepreneurship, unveiled its spring collection, writes Pia Ganguly Ghosh.

---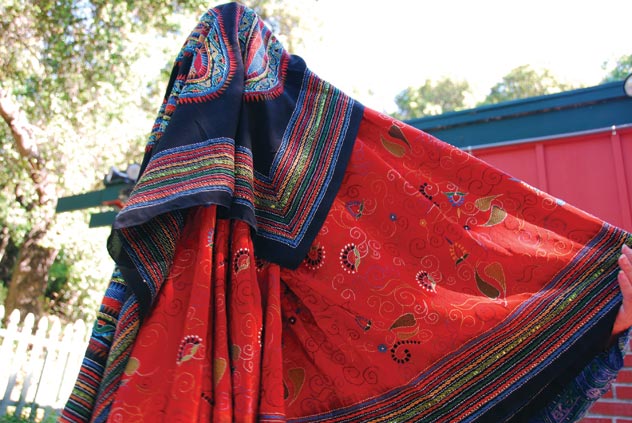 (Above): BSaree with orange kantha design (below): A bag handcrafted in Italy.
---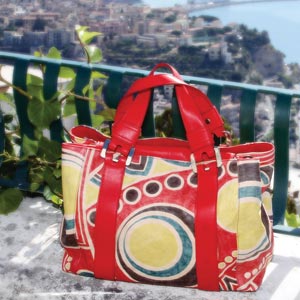 On May 2, Pia unveiled her Spring Collection at Los Altos. This collection is the result of many months of traveling in India as well as in Italy, thinking and working with artisans in both countries. The primary thrust of this collection is "fashion flavors for the recessionista." Given the chills rippling through the economy, most people are on a limited budget.

Italy commanded lavender despite the depressed economy and a myriad of colors came in from India, where even slum dogs can think only in color. Reds, purples, stone greys, titillating greens, oranges, saffrons, pastels, and of course, the off white and black, the point from where it all emanated.

The style had to have an unbearable lightness to deal with all the gloom and doom around. What the elegant women in Bengal wear was a strong influence, with sarees of strong but fine cottons and hand woven tussars and unbleached silks. Kantha work was done on sarees on fine Italian crepe and an extension of this motif was translated to dupattas and scarves. Reversible silk jackets embroidered in long lines of Kantha stitch (thus creating a very slimming effect) were the piece de resistance of this collection. On offer were also the light but rich printed crepes with stitched blouses and feather light benarasis on pure georgette. To these sarees and jackets are matched handbags and sunglasses, both handmade in Italy.

The price points were carefully chosen to be well within reason for the recessionista. Quality was never compromised to reach a lower price point. Sarees ranged from $45 to $350; handbags from $55 to $550.

Pia functions as a social entrepreneurship and all profits are either sent back to the artisans to keep them at full employment or given to needy people in India or charities in the U.S. benefiting both human beings and dogs.

All the proceeds from the sale have been sent to Bengal but the total amount needed has not yet been collected. Silence, the recession is in session. Brick houses have to be built one brick at a time.