BUSINESS:
The Italian Job: Real Estate Goes Green


The new Intero Andare style of realtor office space offers a high-tech, upscale, and comfortable environment for agents and clients with cutting-edge technology, including tablet PCs, keyless entry, Voice over IP (VoIP), flat screen plasma TVs, and a high speed Wi–Fi network. A Siliconeer report.
---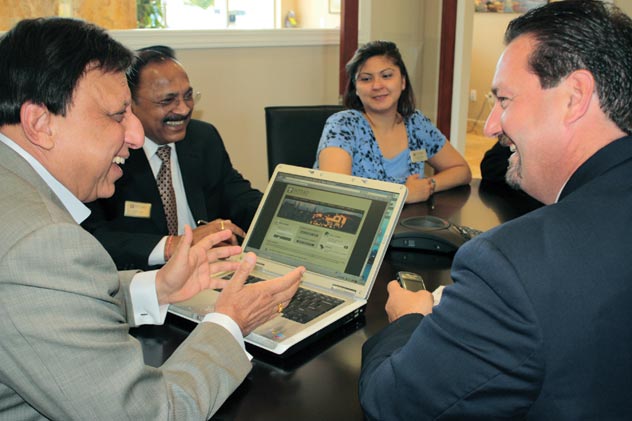 (Above): Seen at the San Ramon office conference room (l-r) Roger Bakshi, president; Ashok Gupta, realtor and broker associate; Mirella, realtor; and Steve Lloyd, sales manager. [Siliconeer photo]

---
No, it's not an art gallery or a hotel reception mock-up, if you will. When I walked into the new San Ramon office of Intero Real Estate I was confused. Was it the right place? No cubicles, no papers, no phone lines hanging through the desks and no ugly over sized desktop computers.

Instead what I found was a very state-of-the-art setting that looked as if it was a TV show set or a hotel lobby that was scaled down to make one feel downright comfortable and at ease.

There's more than meets the eye, as I discovered when we were the explained the concept and technology that packed the office.

Located in the Gail Ranch Plaza along with Wells Fargo, Chase and Safeway, among others the office is based on the new Intero Andare concept, said Rishi Bakshi, broker and managing partner of Intero Fremont, Union City and San Ramon franchises.

Andare is an Italian word that means "to go or to work." The concept for the Intero Andare office came first originated in 2007 when Intero's executive team decided to create a smaller, technology-rich and more eco-friendly real estate office that better met the needs of today's mobile realtors.

"The nature of our business has changed. Agents aren't spending as much time at their desks as they were 10 years ago," says Gino Blefari, president and CEO of Intero Inc., "Most realtors have a wireless-enabled laptop and PDA, and they're constantly on the go. They don't need cubicles. They need an attractive space with a few secluded areas where they can go to meet with clients and work — where they have access to technology and can get their work done as efficiently as possible."

Rishi Bakshi explains his reasons for opening an office under this concept, "The new space will be a positive hub of energy. We are excited to offer a high-tech, upscale, and comfortable environment for our agents and clients. The new space and design also allows us to keep our startup costs as low as possible. We are looking forward to having offices in all key signature spots in the East Bay."

---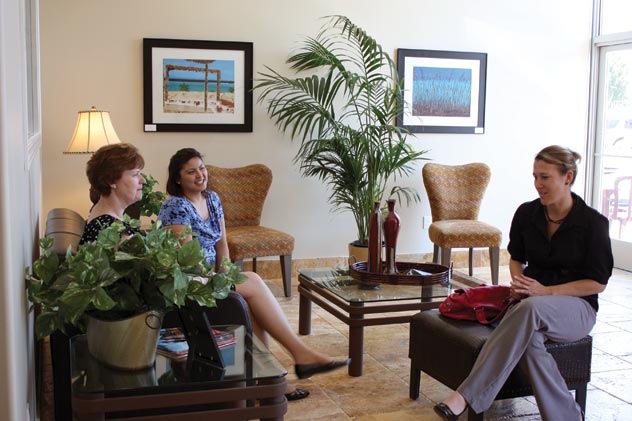 (Above): Seen at the San Ramon office built on Intero's Andare concept are (from l): Dori, administration manager, Mirella, realtor, and Amy escrow coordinator. [Siliconeer photo]

---
What distinguishes the Intero Andare office from others is the use of cutting-edge technology, including tablet PCs, keyless entry, Voice over IP (VoIP), flat screen plasma TVs, and a high speed Wi–Fi network. The office also uses Web-based transaction management software that gives agents the ability to manage entire client files online and eliminate the need for paper and storage.

Clients can sign directly to a PDF and those signatures are as secure and official as a contract on paper. Intero then stores the files securely online where they remain available to access down the road from any location.
Intero opened its flagship Intero Andare office in Santana Row, a popular, upscale retail/residential development in Silicon Valley, in early 2007. Since then, they have opened additional Intero Andare offices, including company and franchise-owned offices, in Carmel, downtown San Jose, Menlo Park, Santa Cruz and Truckee, Calif. They now have more than 135 agents working in these offices.

The Intero Andare design footprint is suitable for spaces that range in size from 1,000 to 3,000 sq. ft. That's a much more modest size compared to the size of Intero's traditional offices: approximately 7,000 sq. ft. for medium spaces and 11,000 sq. ft. for large. Because the Intero Andare office is smaller, it's more cost efficient to construct overall — approximately 70 percent less expensive to build-out than Intero's larger offices.

"We already have 10 agents on board to work through this new office, and plan to gain one hundred more. The next steps are continued expansion, with plans to open similar offices throughout the East Bay corridor in cities like Pleasanton, Danville, Lafayette, and the Oakland Hills," said Rishi.

---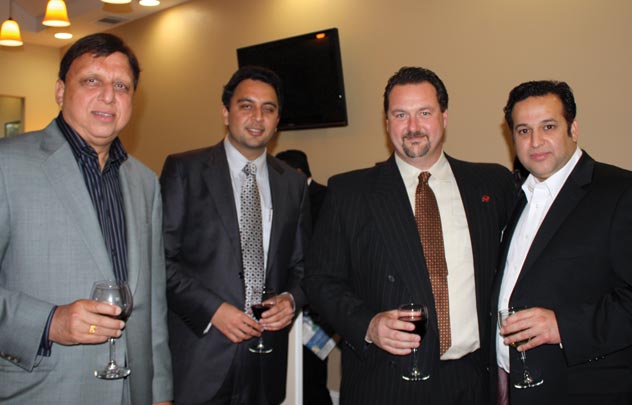 (Above): At the inauguration of the San Ramon office: (l-r) Roger Bakshi, Rishi Bakshi, Steve Lloyd, and Naeem Wahab, CEO. [Siliconeer photo]

---
Rishi Bakshi opened his first Intero franchise in December of 2005, and now is partner and general manager for Union City, Fremont, and San Ramon offices. The key partners in the growth of these Intero offices are Roger Bakshi, president and Naeem Wahab, CEO.

With an Intero-like driven attitude Rishi's offices grew from 0-160 agents in less than three years.
With more than 2,000 agents in 53 offices serving California, Arizona, Colorado, Hawaii, Nevada, and Texas, Intero is one of the fastest growing real estate companies in the U.S.and has been named the #1 residential real estate company in Silicon Valley by the Silicon Valley/San Jose Business Journal and the fastest organic growing real estate company in the nation, by Realtor magazine.