SUBCONTINENT:
Congress Rules: After the Landslide


While the Congress Party can take pride in its victory in the recent elections, it will now have to deliver, writes Siddharth Srivastava.

---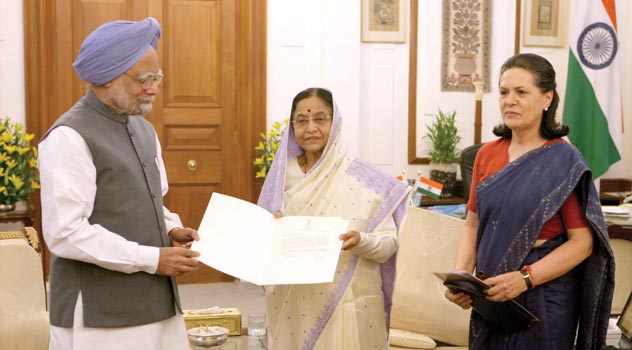 (Above): President Pratibha Devisingh Patil (c) with Prime Minister-designate Manmohan Singh and the UPA chairperson Sonia Gandhi after inviting Manmohan Singh to form the new government at Rashtrapati Bhavan, New Delhi May 20. [PIB photo]
---
The unexpected landslide victory of the Congress party in the general elections will unshackle the new government from the tricky task of managing the earlier coalition for survival, especially the anti-American, Left parties.

There is no doubt that the team of Prime Minister Manmohan Singh, all-powerful Congress president Sonia Gandhi and her son Rahul Gandhi, who led the election campaign, will look to firm up some of their earlier aims, given the near majority and stability that the party and its allies now command.

In fact the new government cannot offer excuses for not delivering on its promises, whether in pushing economic reforms further, building infrastructure, implementing security measures, diplomacy and working on a good education and health services framework that benefits all.

If there has been a singular message in the election results, it is that the people of India want their political representatives to make a concerted effort to develop a national policy focus, push development and provide a stable government.

It is a mature verdict even as regional parties with limited and parochial notions about national issues have been sidelined. The emergence of regional satraps such as Mayawati of Uttar Pradesh, who rode on caste politics, as potential prime minister has been blunted. At the same time, leaders and parties in states such as Bihar, Delhi, Orissa that have provided a-corruption free pro-growth governance have emerged victorious.

Thus the Congress cannot afford to be complacent. The expectations are high. The stock markets have been on a bull run.

If the opposition Bharatiya Janata Party plays it right and shuns some of its communal politics, there is all likelihood that the country will head towards a two-party system and away from the squabbles that invariably accompany coalitions.

Given such a mandate, India's foreign policy should reflect domestic concerns. It should seek to ensure that relations with Pakistan are on the mend and the derailed peace process gathers momentum, while security should not be ignored. With aspirations for a better life, the Indian population is hardly a votary of a conflict situation with Pakistan that sets back business and economic prospects.

---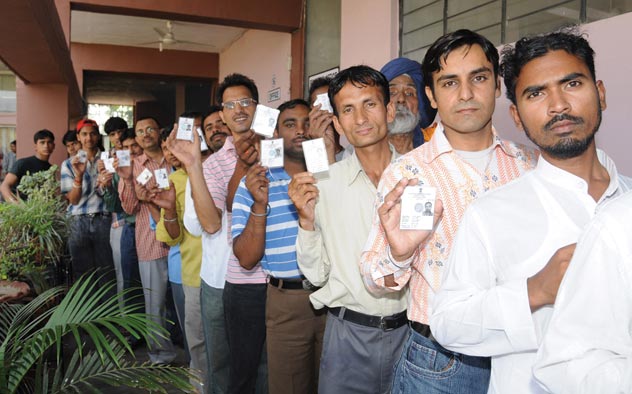 (Above): Voters queue to cast their vote at a polling booth Davesamaj College for Women during the fifth and final phase of the Lok Sabha elections 2009 in Chandigarh May 13. [PIB photo]
---
Indo-Pakistan relations have nosedived due to the brazen 26/11 Mumbai terror strikes. India has accused Pakistan for training terrorists in camps, especially across the border in Pakistan-ruled Kashmir.

This means that India will back America's war on terror as it is being played out in Afghanistan and Pakistan, without being directly involved in the annihilation of terror camps and cells across the border as has been debated intensely.

Ideas such as hot pursuit and bombing of terror camps in Pakistan will be shelved as New Delhi will seek to avoid conflict and deflect global pressure on Islamabad to take on terror groups.

In this context, America will emerge as a crucial partner. As a matter of fact, there is a consensus among both the national parties, the Congress and the BJP, that India needs to engage with America closely.

With the exit of the left, America's presence in businesses related to defense and nuclear energy among others will rise even as Washington will look to back India further to dilute the influence of China in the region.

Given its strategic and financial muscle, the U.S. will exercise some leeway even as the vanquished left parties' impact on an anti-American foreign policy diminishes considerably.

This, however, does not mean that Washington will enjoy a free run in deals and contracts, given competition from countries such as France, Russia, Israel, Britain and Sweden.

At the instance of industry, New Delhi will definitely lobby for India's powerful software sector and try and leverage dilution of some of the anti-outsourcing talk that is gathering steam in America, in exchange for big contracts, especially in defense.

Another delicate issue concerns Indian Jammu & Kashmir, which is at the center stage of militancy and a separatist campaign. In the past few years, Kashmiris have braved the fear of terror and bad weather to exercise their franchise, whether for state or federal elections. Elections in J&K have always been a fearful prospect due to boycott calls by militants, separatists, attacks on voters and the voting process. Participation in what is termed "India-held elections" by separatists has been a much debated topic. Time and again anti-India political parties have boycotted the democratic process and voter turn-out has also been quite varied.

Currently, the J&K government is led by Chief Minister Omar Abdullah who heads the alliance of his party National Conference and Congress. Abdullah's good personal equations with Rahul Gandhi have reaped electoral benefits for both parties. Unlike the separatists, the NC has a history of backing the Indian government for armed action against insurgency and has been urging New Delhi to resume the peace process with Pakistan, derailed after the Mumbai terror attacks.

The separatists, meanwhile, have organized themselves under the umbrella of the All Parties Hurriyat Conference and have chosen to remain out of the electoral process, though major differences have been cropping up. There is no doubt that the separatists fear the risk of political isolation as their stand of freedom (azaadi) for Kashmir cuts less and less ice with the people, even as a new local young leadership under Omar and others such as Mehbooba Mufti look towards re-focusing on development, tourism and growth.

A new twist this election was thus Sajjad Lone, a prominent 42-year old separatist leader who contested the polls. Though Lone lost, the symbolism of his political participation will not be overlooked in a hurry.

To sum up, the Congress party has been given a mandate to perform. India is on the threshold of change. The new government has its task cut out. Tough challenges lie ahead, and winning the elections is just the beginning.