HINDI FILM REVIEW:
Ho Hum Comedy: '99'

Rating: ** (Mediocre)
'99'

Directed by: Raj Nidimoru, Krishna DK
Music: Ashu, Roshan Machado, Shamir Tandon, Mahesh Shankar
Starring: Vinod Khanna, Kunal Khemu, Soha Ali Khan, Boman Irani, Cyrus Broacha, Mahesh Manjrekar, Simone Singh, Amit Mistry.
---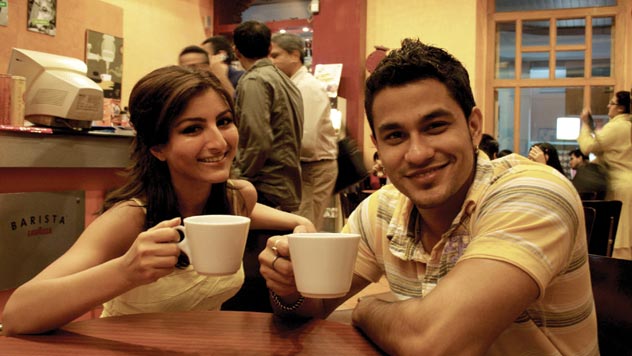 (Above): Soha Ali Khan and Kunal Khemu in "99."

---
What if somebody made a comedy and you had a hard time laughing? That alas is exactly the case with this trainwreck of a film. This film is a classic case study of how the kernel of a good idea falls utterly flat because of deficiencies of key departments in filmmaking—script, conception and execution.

Humor is serious business, people. We love to laugh, and entertainment abounds in examples of slapstick comedy which appear to be exercises in frivolity, but take a closer look at any instance of successful humor—and you will find that considerable thought and skill has gone into it.

We are not talking high art, simply entertainment that works. Walt Disney—now that's an entertainer who understood the public—used to spend hours going through some of the funniest cartoons—with a glum face. That's how success comes, with intense concentration on the craft of your work

Which is not at all what the filmmakers seem be up to here, at least there is no discernible sign of it in the film. Of course why it took two people to make such a piece of filmi junk is another one of the film's mysteries. Of course, even more people were involved in the music department with exponentially more disastrous results.

---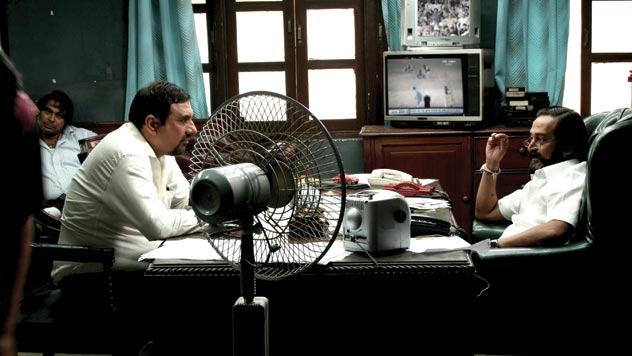 (Above): Boman Irani and Sanjay Manjrekar in "99."

---
The filmmakers have brought together a number of oddball lowlifes—I suppose the idea was to make an edgy, dark comedy. What ended up, thanks to the complete pig's breakfast made by the filmmakers is an edgy, dark piece of pretentious tripe.

Yet it didn't have to be that way. The story line has in it elements that showed promise.

Sachin (Kunal Khemu) and his friend Zaramud (Cyrus Broacha) hustle the street. Their business, if you want to call it that, is in counterfeit SIM cards.

Soon the cops are on their case. As they try to escape in a Mercedes, they end up totaling it.

Now they are in real trouble, because the car they just kissed goodbye is owned by a thug called AGM (Mahesh Manjrekar). When AGM decides to recruit them, they have no choice.

Here's a classic case of Bollywood illogic. I mean, hello? If somebody totaled your car, why on earth would you offer them a job? I suppose it takes a moron to know one.

In any case, the new task of the duo is to recover money from folks who owe AGM. In the course of their activities they run into Pooja (Soha Ali Khan), who works at a hotel and gambling addict Rahul (Boman Irani), who seems to owe money to half the world.

---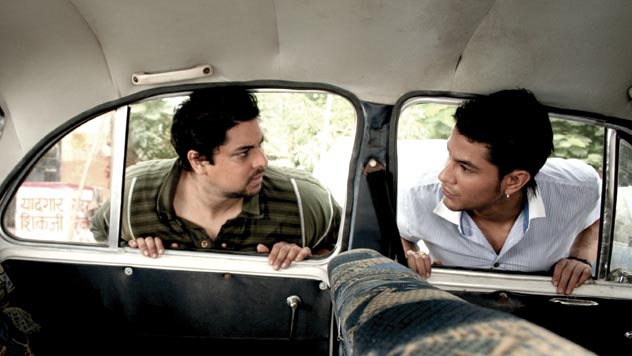 (Above): Cyrus Broacha and Kunal Khemu in "99."

---
From two, they are now four, and their troubles multiply too as not only AGM is after them. Delhi gangster Kuber (Amit Mistry) also joins in the fun. Aptly, with Rahul being a gambler, they go for one last big bet.

Put like that, the story doesn't seem half bad, does it? However, to translate into cinematic entertainment requires more thought and skill than the director duo can command. First, you need a well-thought out script which sets up the gags and humor right, then you need a witty script that bubbles with humor, and finally you need great actors to pull it off. Comedy is the toughest of skills.

---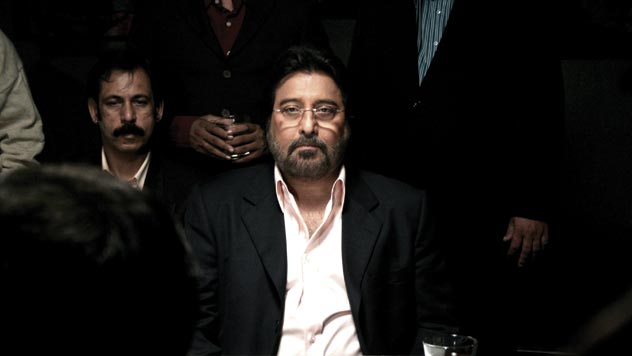 (Above): Vinod Khanna in "99."

---
Well, the film fails in all departments, and so it should be no surprise that it should fall flat. The directors fail woefully to get a well-thought-out and funny script, and the actors screw it up further.

Vinod Khanna looks awful—ah, how the mighty fall—Cyrus Broacha forgets he is not on stage—and Amit Mistry's hit-and-miss humor is a poor substitute for easily the best performance in the film—Mahesh Manjrekar's befuddled thug is a hoot. But true to form, the filmmakers choose to give him short shrift.

---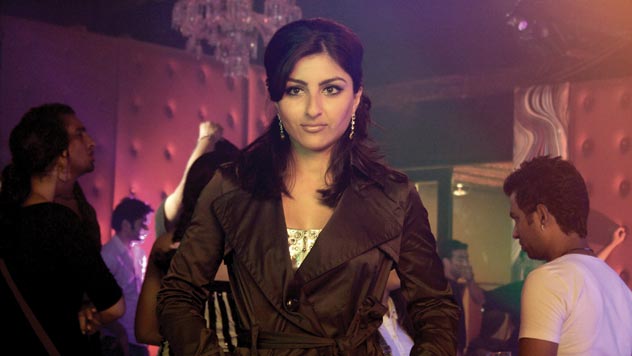 (Above): Soha Ali Khan in "99."

---
And a word of advice to Soha Ali Khan. Quit. The woman is simply a walking, talking disaster.

To give the devil its due, the film has slick production values. Excellent cinematography, eye-catching editing gives the film a stylish look, but to what end? At the end of the day, the film is an analogue of the classic bimbo — looks great, but there isn't really anything upstairs.

Guys, get your act together, or your careers will be in so much trouble that the travails of your silly film's protagonists will look like a Sunday school picnic.