TRAVEL:
Verdant Splendor: Smoky Mountain National Park


A soothing sea of green awaits visitors to the Smoky Mountain National Park. A Siliconeer report.

---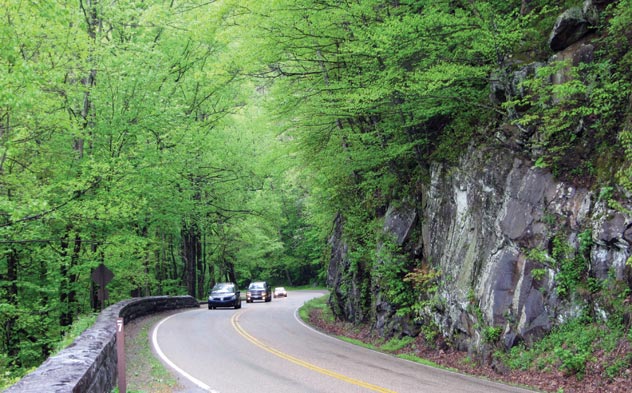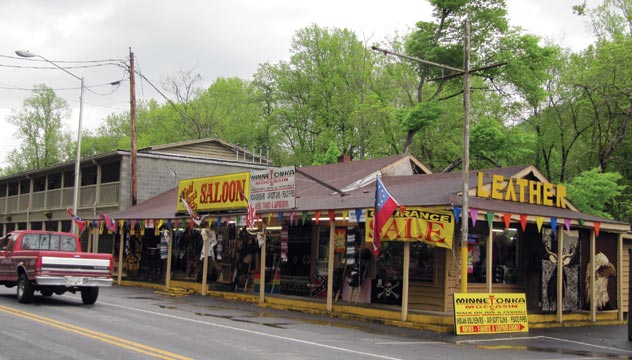 (Above, top): A breathtaking canopy of green envelops much of the path along the Smoky Mountain National Park; (Bottom): A store in Cherokee, Tenn., hawks a variety of kitsch for visiting tourists.

---
The This trip provided quite a study in contrasts.

On one hand is the breathtaking, unspoiled natural beauty of the majestic Smoky Mountains, yet nestling right next to it are the brazenly commercial towns.

Yet just drive only a mile into Smoky National Mountain Park, and pretty soon you are enveloped in a lush green oasis of such surpassing beauty and serenity that memories of crass commercialization recede to make room for a soothing wonder at the grandeur of nature.

We traveled through several states to reach the park. My home base was in Myrtle Beach, S.C., another sad sacrifice at the altar of Mammon.

Whatever possibilities Myrtle Beach had as a relaxing town of natural beauty, it's no longer there. So I for one was glad when we set off for the Smoky Mountain National Park in Tennessee. The going was a bit slow on the state highway at first, but soon we got on the freeway and traffic was mercifully light. We had left at around 2 pm, so by the time we reached our destination it was late into the night, partly because we lost our way

---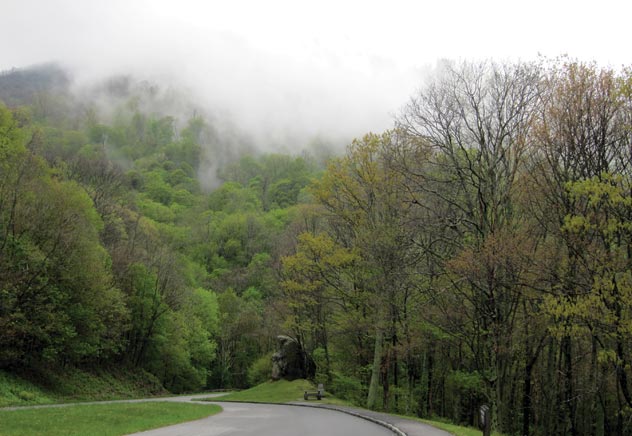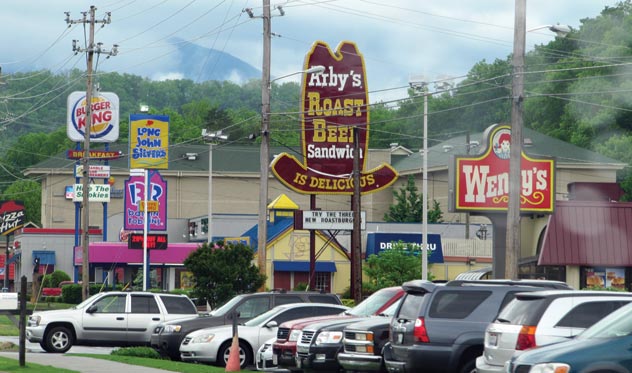 (Above, top): Afternoon fog creates a dreamy ambience over a sea of beautiful greenery at the Smoky Mountain National Park; (Bottom): Pigeon Forge, Tenn., is an unabashedly commercial tourist town right next to the Smoky Mountain National Park.

---
Our destination was a town called Pigeon Forge. I was charmed by the name, it evoked images of an unspoilt, small Southern town close to nature.

Were we in for a shock! Pigeon Forge is a monstrosity, an appalling supplication to the gods of commerce. This place has to be seen to be believed. Amid the lush, majestic Smoky Mountains is this monstrosity, a testament to how mindless lust for lucre can blight the pristine beauty of nature. Plumb in the middle of the Smoky Mountains, Pigeon Forge is like a shameless tart -- gaudy, tacky, hideous.

The skyline is marred by a thicket of signs beckoning visitors to the wonders of fast food, mini-golf and the exotic joys of Ripley's Believe it or Not!. Believe it or not.

Gaitlinburg is similar, only a tad more upscale.

But drive a mile into the Smoky Mountain National Park, and all that commercialism seems a million miles way. On the day we drove, the sun was not kind, but that turned out to be a blessing in disguise. The muted light added a special grace as we passed through a canopy of the lushest, most soothing green imaginable. As we climbed higher and higher, we came to the vista points. This is where things got really spectacular.

It's almost a humbling feeling to see the majestic beauty of the undulating landscape as it unfolds as far as the horizon. The delicate shades of green, with a dash of other hues, create vistas that fill the heart with awe.

---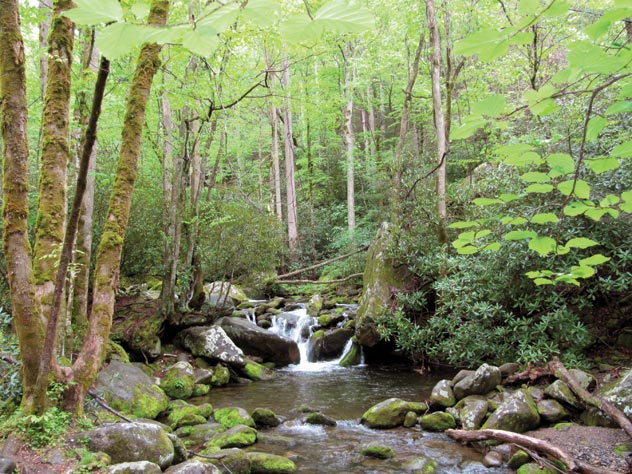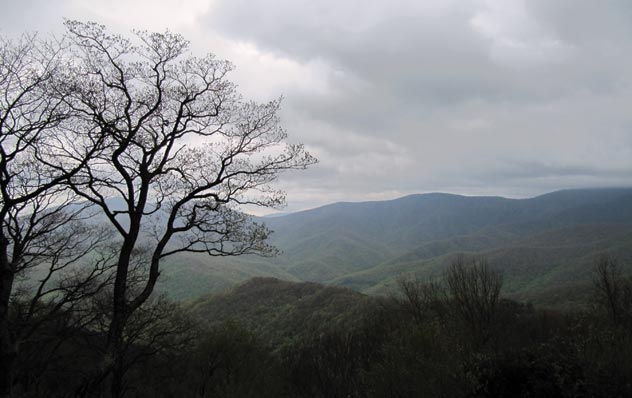 (Above, top): A picturesque tableau with a bubbly stream at its center during a drive through Smoky Mountain National Park; (Bottom): Even in fading light occasional spectacular vistas greet visitors at a number of observation points.

---
On the way back we stopped by in two towns — Cherokee and the North Carolina town of Sylva. Cherokee is named after the eponymous Indian tribe, and has a lovely museum devoted to Cherokee heritage as well as a spectacular open-air theater where performances depict the heartbreaking history of the Cherokees after the arrival of the Europeans.

Sylva is something else. You don't get more Dixie than this — and last year, when I h ad visited the place on the Fourth of July, we seemed to be the only people of color around, and quite a few some stares. Nobody was rude, thought, so perhaps I shouldn't read too much into it.

Soon we were back in the developer-friendly environs of Myrtle Beach, but sweet memories of Smoky Mountain National Park continued to linger.