TRIBUTE
Farewell, Mohtarma
Iqbal Bano


Iqbal Bano combined a talent and sensitivity that delivered the finest ghazals with incomparable delicacy, but she will also remain immortal in the hearts of all those who resist oppression because she gave voice to the conscience of the nation with an incomparable song of protest penned by Faiz Ahmed Faiz. Ras H. Siddiqui mourns the passing away of a Pakistani legend.
---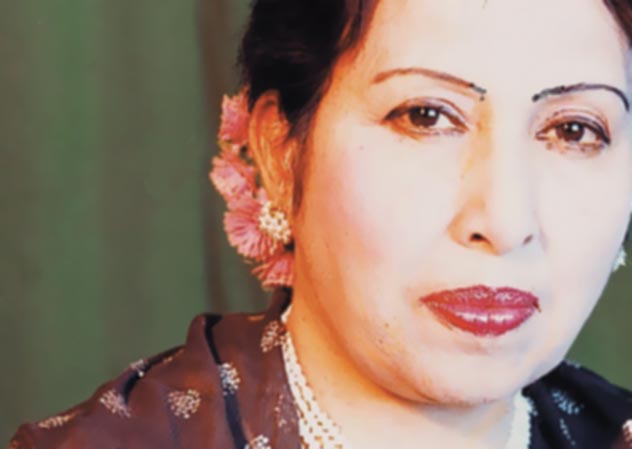 (Above): Iqbal Bano (1935-2009)
---
Another chapter recently closed in the realm of classical vocals in Pakistan. Mohtarma Iqbal Bano departed from this world at the age of 74 on April 21, leaving an increasingly orphaned state of the arts, especially for what is my generation. The world of the ghazal singing art form is already on shaky footing as Ustad Mehdi Hassan fights for his life as this article is being written. And with the passing of Iqbal Bano, the Urdu (and Persian) speaking world has lost one of its finest ghazal singers. .

Born in 1935 and brought up in Delhi, Iqbal Bano received formal training from Ustad Chaand Khan of what is known as the Delhi Gharana of South Asian music, during which the young Bano excelled at the classical thumri and dadra. We know that her first major performance was on All India Radio, Delhi and later she had a chance to dazzle many listeners of Radio Pakistan after she moved there during the early 1950s. She sang for the Pakistani movie industry for a brief period during the 50s in Urdu films. But her forte remained the ghazal, especially since her mastery at singing the poetry of Faiz Ahmed Faiz (plus a few other poets) is now legendary. In Persian she sang the works of Hafiz and Bedil, to name a few. Her popularity in Afghanistan and to a lesser extent Iran (both before 1979) is a feat rarely duplicated by Indian-Pakistani singers (in Farsi).

That was her musical history, but this brief article is about more. Baqi Siddiqui's lyrics and Mohtarma Iqbal Bano's singing of "Daag-e-Dil HumKo Yaad Aanay Lagey" comes to mind here. Tameez, tehzeeb, talaffuz and other descriptions are embedded in this song, a superb delivery from a perfectionist, with non-political lyrics and just the right touch of romance.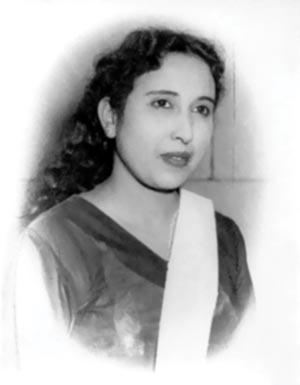 But we all know that it was in the theatre of politics that Mohtarma Iqbal Bano earned her widespread fame. Her singing of Faiz Sahib's "Hum Dekhenge" still resonates loudly amongst the revolutionary Left and all thinking people in Pakistan to this day. Jab arz-e-Khuda ke kaabe se/ Sab but uthwae jaenge/ Hum ahl-e-safa mardood-e-harm/ Masnad pe bethae jaenge/ Sab taaj uchale jaenge/ Sab takht girae jaenge. . . became an anthem of oppressed people everywhere, delivered with such passion by Iqbal Bano sahiba that friends to this day tell me that they still get goose bumps while listening to this particular song.

Faiz Sahib left one of the richest legacies of verse for South Asians everywhere within his poetry. But if I may add, the late melody queen Noor Jehan's "Mujh Se Pehli Si Mohabbat Mera Mehboob Na Maang," and Iqbal Bano's "Hum Dekhainge" ended up as inseparable parts of a generational experience. And if one can add Ahmed Faraz's "Ranjish Hi Sahi" sung by Mehdi Hassan and Nusrat Fateh Ali Khan's "Allah Hoo" what we have here is almost the complete bouquet or Pakistani-Guldasta of the finest form and fragrance of our times. It is sad to know that only one out of the four of these great vocalists is left amongst us now. And the world no longer has Faiz and Faraz Sahib either.

There have been some moments when a moment of silence for departed ones is held more than once. Mohtarma Iqbal Bano's death combines many such silences. For our readers let me leave here with Faiz Sahib's words and Mohtarma Iqbal Bano's other masterpiece: "Aaayiyey Haath Uthain Hum Bhi, Hum Jinhay Rasm-e-Dua Yaad Naheen." Shukriah, Mohtarma Iqbal Bano Sahiba for giving our generation a much needed song of hope and for enriching our lives with your God-gifted voice.

Her departure is particularly depressing and disquieting in these days of increased globalization when a tendency towards monoculture is every bit as threatening to the world's cultural diversity as it is to its biodiversity.



'Hum Dekhenge' — The Protest Song that Galvanized Pakistan

(Written by Faiz Ahmed Faiz and performed by Iqbal Bano)

Hum dekhenge
Lazim hai ke hum bhi dekhenge
Wo din ke jis ka wada hai
Jo lauh-e-azl mein likha hai

Jab zulm-o-sitam ke koh-e-garan
Rooi ki tarah ur jaenge
Hum mehkoomon ke paaon tale
Ye dharti dhar dhar dharkegi
Aur ahl-e-hakam ke sar oopar
Jab bijli kar kar karkegi

Jab arz-e-Khuda ke kaabe se
Sab but uthwae jaenge
Hum ahl-e-safa mardood-e-harm
Masnad pe bethae jaenge
Sab taaj uchale jaenge
Sab takht girae jaenge

Bas naam rahega Allah ka
Jo ghayab bhi hai hazir bhi
Jo manzar bhi hai nazir bhi
Utthega an-al-haq ka nara
Jo mai bhi hoon tum bhi ho
Aur raaj karegi Khalq-e-Khuda
Jo mai bhi hoon aur tum bhi ho

We shall witness
It is certain that we too, shall witness
The day that has been promised
Of which has been written on the slate of eternity
When the enormous mountains of tyranny
Blow away like cotton.
Under our feet- the feet of the oppressed-
When the earth will pulsate deafeningly
And on the heads of our rulers
When lightning will strike.
From the abode of God
When icons of falsehood will be taken out,
When we- the faithful- who have been barred out of sacred places
Will be seated on high cushions
When the crowns will be tossed,
When the thrones will be brought down.
Only Thy name will survive
Who cannot be seen but is also present
Who is the spectacle and the beholder, both
I am the Truth- the cry will rise,
Which is I, as well as you
And then God's creation will rule
Which is I, as well as you

Lyrics and translation:
Ghazala's Weblog (http://ghazala.wordpress.com/)