2009 IN REVIEW
Year 2009: India Diary


Siliconeer takes stock of the events and developments that impacted India in the past year.
---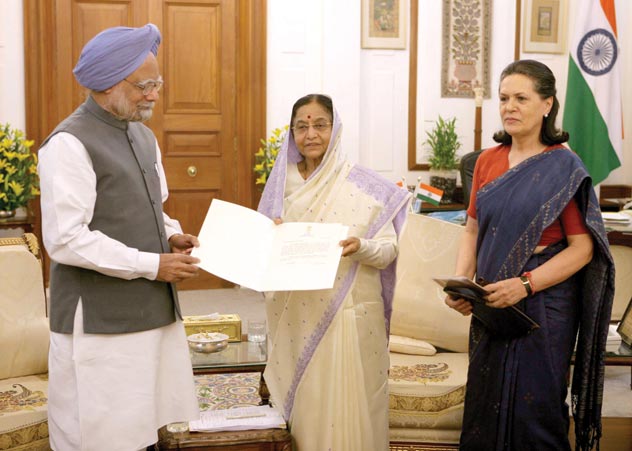 (Above): President Pratibha Devisingh Patil with the Prime Minister Manmohan Singh and the UPA chairperson Sonia Gandhi, after inviting Singh to form the new Government, at Rashtrapati Bhavan, in New Delhi May 20. The Congress Party romped home in Lok Sabha elections with stunning electoral gains, largely at the expense of opposition Bharatiya Janata Party. [PRESS INFORMATION BUREAU photo]
---
Politics: Rise of Congress, Decline of BJP. The rise of Congress, further decline of the Bharatiya Janata Party and the relegation of the Left and some regional parties to the margins marked the highs and lows of politics in 2009 as price spiral poses an intense challenge to the Indian government in the new year along with Naxal and cross-border terror.

The sudden demise of Andhra Pradesh Chief Minister Y.S. Rajasekhara Reddy in a helicopter crash saw Congress flounder in the state which he had delivered to the party on a platter in two consecutive elections. Topping it, the centre tied itself up in knots over the issue of a separate Telangana state by its flip-flop as the year wrapped up.

The year 2009 turned out to be a watershed year for Indian politics with Congress' good showing in the Lok Sabha polls, especially displaying revival signs in a state like Uttar Pradesh that has also raised hopes of its comeback in the Hindi heartland.

Against the backdrop of Mumbai terror attacks and the negative effects of a global downturn, the Congress campaign message in the May elections was that it was no time to experiment with any new combination.

Indian Prime Minister Manmohan Singh was the first Congress Prime Minister outside the Nehru-Gandhi family to get a second consecutive term.

In fact, the Congress tally of over 200 in the 543-member Lok Sabha, the Lower House of Parliament, 50 seats more than it got in 2004, surprised even many a Congressman.

Economy: India Wins Slowdown Battle. India achieved the distinction of being the second fastest growing economy amid the global recession in 2009, but the joy was marred by the decade's sharpest rise in food prices, to the chagrin of common man.

For a country that continued to lose on its exports throughout the year that has gone by, its economy achieved a remarkable growth of about seven percent (during April- September 2009) on the back of focused government stimulus in tandem with well articulated interest rate-cum-monetary policy of the Reserve Bank of India.

But it is a paradox of sorts that the price line that dipped from a 13-year high into negative zone at one point during the year climbed sharply again, with food inflation touching more than a decade's high of 20 percent.

Moving from the growth focus, the Indian government had to concentrate on fighting natural disasters ranging from drought to floods in different parts of the country that led to shortages of foodgrains, fruits and vegetables and the resultant spurt in their prices caused a political storm.

Science: Indian Spacecraft Found Water on Moon. Indian science witnessed its crowning moment in 2009 when its maiden lunar mission Chandrayaan-I revealed to the world the existence of water on moon and nuclear scientists designed a new atomic reactor that uses little uranium per unit of energy.

Tamil Nadu-born and Baroda-educated Venkataraman Ramakrishnan brought cheers as he shared the Nobel Prize for Chemistry this year.

The scientific establishment had its share of controversies as the government's ambitious scheme to woo Indian scientists back to their country got off to a false start. Another scientist had to forfeit his prized scholarship following allegations of scientific misconduct.

The year also saw a change in guard in two key institutions — the Indian Space Research Organization and the Atomic Energy Commission.

While Anil Kakodkar bid farewell to the Department of Atomic Energy after an illustrious 45-year stint, G. Madhavan Nair retired as ISRO chairman after 42 years in the space agency. Sri Kumar Banerjee and K. Radhakrishnan succeeded them.

ISRO's maiden moon mission Chandrayaan-I made headlines the world over when it announced late September that an American instrument onboard had detected presence of large quantities of water on moon's surface.

---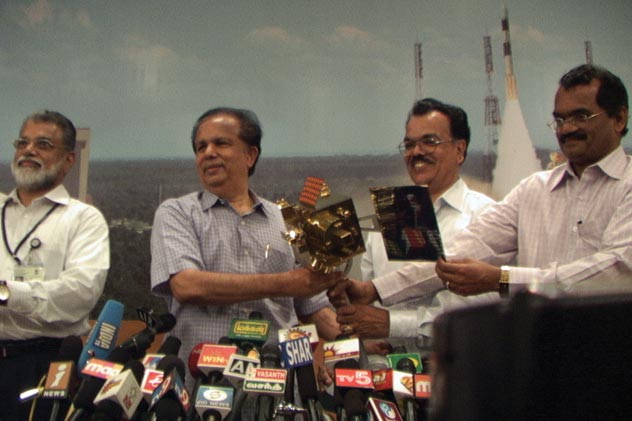 (Above): Erstwhile Indian Space Research Organization chairman Madhavan Nair with the model of PSLV C-11 Chandrayaan-1 at a press briefing after its successful launch from the Satish Dhawan Space Centre, Sriharikotta. The mission made a significant scientific discovery when it found water on the moon. [PRESS INFORMATION BUREAU photo]
---
Defense: Chinese Incursions, Sukhoi Mishaps, Agni-II Failure. It was not happy tidings in 2009 for the Indian Defense Ministry which was stung by the alleged role of four generals in a Darjeeling land scam and the failure of BrahMos and Agni-II missile tests.

The Indian Ministry came under pressure to punish the generals after an army probe held them responsible for the sale of a 70-acre estate in Darjeeling town in West Bengal to a private realtor.

The Indian Army Headquarters is now considering the report. The generals may face summary dismissal, court martial or punitive administrative action.

Repeated incursions and airspace violations by Chinese military in the state of Arunachal Pradesh in the northeastern part of India and Ladakh region of the northernmost Indian state of Jammu and Kashmir, too, engaged the defense top brass's minds during the year.

To boost their defense preparedness, India floated a Request for Information for lightweight tanks to deploy them along the Chinese border and also based a Sukhoi fighter squadron of the Indian Air Force in Tezpur in the northeast Indian state of Assam.

It also activated the Nyoma advanced landing ground in Ladakh during September for operating AN-32 transport aircraft, enabling faster troops movement.

The failure of BrahMos and Agni-II missile tests bruised the image of Defense Research and Development Organization.

Overseas Ministry: Job Loss, Attacks in Australia. Large-scale job loss among the diaspora due to the economic crisis and safety concerns of Indians in Australia, facing a spate of attacks, kept the Overseas Indian Affairs Ministry on its toes in 2009.

Responding to the severity of the retrenchment of Indian workers abroad, particularly in Gulf countries, following the economic downturn, the Overseas Indian Affairs Ministry set up Indian Community Welfare Funds in all the missions in the region to provide support to immigrants in distress.

To further assist Indian workers with employment opportunities, the ministry has also started ground work to set up Indian Workers Resource Centers in all the Emigration Check Required countries besides deciding to launch a comprehensive package to rehabilitate the Indians pink-slipped abroad.

The government also felt the blues of the Dubai debt debacle in November which had fuelled fears among families of over two million migrants from Kerala working in the Gulf, but its impact on the job market was not too severe as per preliminary estimates.

Overseas Indian Affairs Minister Vayalar Ravi said the government was not anticipating a surge of returnees to India from the region following the debt debacle as it was confident that the current crisis will blow over as it was much less in magnitude compared to the worse period of global meltdown.

As per estimates, nearly 400,000 Indians returned to the country in the last one year.

Australia: Racial Attacks Dominate Indo-Australian Ties. Indo-Australia ties were in the news in 2009 for all wrong reasons — a spate of racial attacks on Indians, particularly students, forced the two governments to act to contain the fallout even as they agreed to take their strategic relations to a new level.

Relations between India and Australia started to deteriorate in June this year after racial attacks on Indians prompting the Australian government to control the damage by assuring New Delhi that Australia was indeed the best place for students pursuing higher studies.

The attack on Shravan Kumar, hailing from Andhra Pradesh, came as a rude shock for Indians after his comatose pictures were flashed on television channels. Over 30 students and some community members were attacked by Australians since June.

Though the Australian government assured India and students that their safety would be taken care of, there was no let up in the attacks against Indians as almost one or the other kind of assaults on Indians continued.

A number of top diplomats and leaders, including Victorian Premier John Brumby and Australian Prime Minister Kevin Rudd, visited India in 2009 to reassure Indians that that country was safer for foreigners.

During Rudd's India visit, the two countries signed a number of agreements on various fields, but Australia refused to supply uranium to India, saying New Delhi was not a signatory to the Nuclear non-proliferation Treaty

Art: Indians Draw World Attention. Indian artists not only managed to steer clear the recession storm that hit their counterparts in the U.S., U.K. and other countries last year but witnessed increased confidence in Indian art in the global market.

According to Indian Art Market Confidence survey by Art Tactic released in Nov 2009 the confidence indicator for the Indian art market stood at 49, up from 20 in May 2009.

The modern Indian art market led the march. The Confidence Indicator in modern Indian art receiving a healthy 54, signaling a positive sentiment in this sector too.

Contemporary Indian market too emerged out of the gloom, indicating that the worst could be over according to a market research firm.

Auctions throughout the year recorded good results for Indian artworks. In December 2009 an untitled canvas by Manjit Bawa sold for Rs 1.7 crore at Saffronart's online auction which created a world record for the late artist.

Sotheby's annual sale of Indian art in London on June 16 achieved Rs 16.33 crore, much above the pre-sale expectations of 1.2 million pounds (Rs 9.44 crore) while Christie's South Asian Modern and Contemporary Art sale in London on June 10 saw a 1960 painting by M.F. Husain fetching a staggering Rs 3.1 crore.

Museums and galleries abroad have been exhibiting more and more art by Indian artists.

Bengal: Maoists' Second Coming. The resurgence of Maoists marked 2009 in West Bengal with ultras expanding their writ in vast tracts of three districts, targeting political workers at will and abducting policemen while an operation to flush them out could not make much of a dent in their bastion.

The Maoists particularly increased their influence among tribal communities in forest areas of West Midnapore. In Lalgarh in the district, tribals backed by ultras virtually rendered the administration defunct for several months alleging police atrocities and lack of development.

The Maoist frontal organization — People's Committee against Police Atrocities — also laid a daring 10-hour siege to New Delhi-bound Bhubaneswar Rajdhani Express near Jhargram Oct. 27 demanding the release of their arrested leader Chhatradhar Mahato.

The extremists continued to strike at will at 'Jangal Mahal' in southwestern parts of the state, killing a large number of political workers, mostly ruling Communist Party of India-Marxist cadres and abducting several policemen, including officer-in-charge of Sankrail police station in West Midnapore in October.

OC Atindranath Dutta was released after 50 hours in captivity, as the government freed 13 women held for suspected Maoist links. While releasing him, the ultras led by Maoist commander Koteshwar Rao alias "Kishenji" staged an audacious "prisoner of war drama" covered extensively by television channels.