SUBCONTINENT:
Looking Westward: India's Defense Imports


The recent crash of the Russian Sukhoi aircraft in India could well mark a decline in Indo-Russian defense trade as India looks increasingly to the West for defense technology, writes Siddharth Srivastava.

---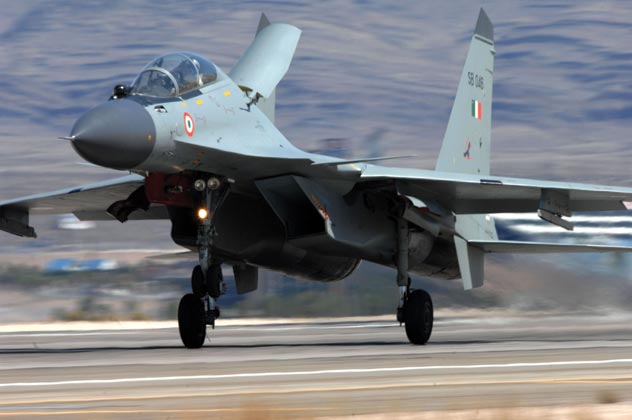 (Above): The Indian Air Force Sukhoi Su-30 MKI fighter jet.
---
The second Sukhoi fighter jet crash this year has raised questions about India's air strike capabilities, given existing arsenals with often hostile neighbors Pakistan and China.

One Russia procured Sukhoi went down in November to follow on crash in April. As a result, the Indian Air Force grounded its entire existing fleet of 100 SU-30 MKI aircrafts.

Officials say the earlier crash was due to defect in the computerized flight control system, whilst the latter was due to fire in the aircraft's engine.

The accidents are being seen as a setback to India's air security, as the powerful long range aircrafts have been deployed for combat from any part of the country in a matter of hours.

Presently, the Sukhois are predominantly stationed along India's western peninsular areas bordering Pakistan to protect industrial states Maharashtra and Gujarat.

Due to recent border tensions with China over territorial rights over north eastern state Arunachal Pradesh, Sukhois have been deployed in adjoining Assam for quicker access to China.

India has five Sukhoi squadrons in operation, which total around 105 aircraft and aims to possess another 280 such fighters in its fleet.

India originally ordered 50 Su-30MKIs from Russia in 1996 and additional 40 fighters in 2007.

India's state owned Hindustan Aeronautics Limited is contracted to build 140 more by 2017.

However, the latest events raise doubts about the ability of Russia to service the Sukhois and supply spare parts, an aspect that has bedeviled India's MiG aircraft.

The Russian MiGs formed the backbone of India's air strike for a long time. However, technical snags, shoddy servicing and non-availability of spares resulted in many MiGs going down, killing pilots and maiming India's air force capabilities.

In a statement in October, the Indian Defense Ministry said: "The (Sukhoi) aircraft are due for overhaul shortly."

Questions are being asked whether the Sukhois are going the MiG way, raising doubts about the efficacy of India's massive defense modernization efforts.

Pakistan, as a former Cold War ally of America and now partner in its war against terror, has meanwhile continued to receive military aid that has included state-of-the-art F-16 fighters. Pakistan is also assisted by China, whose military prowess is far ahead of India.

In response to perceived threats from its neighbors following the Mumbai terror attacks last November, India's defense budget (2009-10) was raised by 34 percent since last year to $30 billion, while defense modernization expenditure should scale over $100 billion over the next decade.

Pakistan is the immediate focus of India's military upgrade as evidenced by the recent success test firing of two nuclear capable short-range Prithvi missiles in quick succession for the first time. The Prithvi missiles are aimed at hitting targets in Pakistan.

Currently, India is in the process of building a fighter jet fleet that will comprise the multi-role combat aircraft that will replace the long-obsolescent, crash prone MiG-21 interceptors and fit between the more powerful Sukhoi-30 and the low-end indigenous Tejas LCA lightweight fighters.

India is also looking at a variety of helicopters, radars and long-range maritime reconnaissance aircraft to secure its air defense preparedness.

---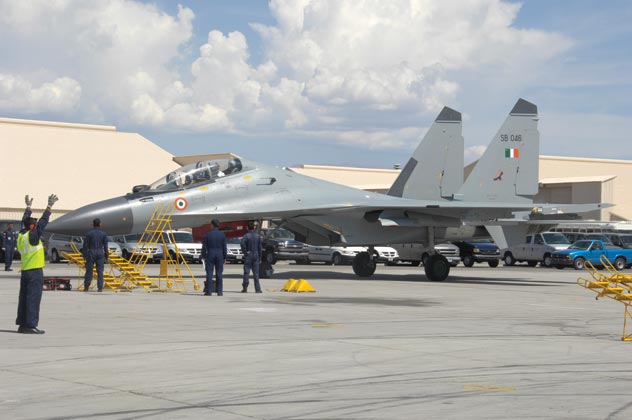 (Above): Indian Air Force SU-30 Sukhoi aircraft during the Red Flag event at the Nellis Air Force Base, Nevada, Aug. 2008.
---
Following the Mumbai strikes, India has put into motion the process of acquiring the MRCA's.

Six global aerospace companies, Lockheed Martin, Boeing (American), Dassault's Rafale (French), Gripen (Sweden), MiG (Russian) and Eurofighter Typhoon (a consortium of British, German, Italian and Spanish companies), are bidding for the big $12 billion deal to supply 126 MRCA jets.

The latest episodes add to the diminishing position of Russia as India's chief defense supplier for long, when the two countries were allies of the Socialist bloc.

India has already suffered severe delays in delivery of aircraft carrier Admiral Gorshkov and at least two nuclear powered submarines from Russia.

India has been making a definitive turn away from Russia to other countries such as Israel and America to procure arms, apart from partners France and U.K.

Ties between India and America follow a strategic shift in the relations between the two countries over the last couple of years that also resulted in the signing of the landmark civilian nuclear deal between the two countries.

America has been promoting India as a counterweight to China in the region, apart from tapping new business opportunities.

Recent American acquisitions by India include, airborne early warning aircraft, Hawkeye E-2D, developed by Northrop Grumman and six P-8I long range maritime reconnaissance aircraft for $2 billion from Boeing to replace India's ageing TU-142s.

U.S. firms are top contenders of the MRCA deal as well.

Even as America emerges as India's new defense partner Israel has become India's biggest supplier of arms (overtaking Russia), accounting for 30 percent of defense imports.

India and Israel have finalized deals for the Barak-8 Naval air-defense system, and the Spyder surface-air-missile system.

India launched an Israeli-made spy satellite from Sriharikota in April 2009 for round-the-clock surveillance on its international borders.

The new satellite will help monitor India's international borders, anticipate any troop build-up or infiltration attempts by armed groups and track incoming ballistic missiles.

Israel has also supplied India with aerostat radars to spot surreptitious guerrilla attacks, such as Mumbai where the terrorists employed dingy boats to infiltrate the city.

Meanwhile, delivery of the Israel Aerospace Industries developed Phalcon Airborne Warning and Control Systems (mounted on Russian-delivered Ilyushin-76 aircraft, have begun.
The Phalcon will boost surveillance capabilities.

The failing Sukhois are a setback to the already flailing Indo-Russian defense relationship.

---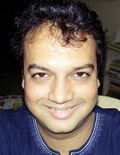 Siddharth Srivastava is India correspondent for Siliconeer. He lives in New Delhi.
---