EDITORIAL: Yesteryear's Unsung Hero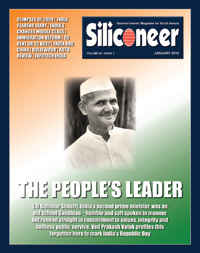 As India approaches Republic Day on Jan. 26, Indians all over the world can take justifiably take pride in its greatest achievement — its steadfast adherence to a democratic form of government.

It has done so while facing many challenges — squabbling coalitions, war, separatist insurgencies and a prime minister who declared an emergency suspending civil rights — and its regular democratic elections are arguably its finest moments.

However, the quality of its politicians — both in terms of probity and commitment to the public good — has sadly not lived up to the promise of the golden moment of its independence in 1947.

It has become fashionable to pooh-pooh the bygone era as a time of woeful bureaucratic red tape and a system of inefficiency and patronage, but it is worth remembering that India's freedom movement also launched into public life a new breed of leaders. Driven by a love of the nation when it was struggling to rid itself of the shackles of British colonialism, these people seem from a different era — austere, selfless men and women of impeccable integrity and committed to public service.

Lal Bahadur Shastri is an archetype of this kind of politician.

India's second prime minister is an almost enigmatic figure in the Indian public consciousness. He lacked Jawaharlal Nehru's charisma and Westernized erudition and Indira Gandhi's imperious personality, but he bears closer scrutiny and far more respect than he has received.

Shastri embodied values that are all but extinct in today's India — and India is worse for it. He brought a sense of utter selflessness and moral integrity that seems all the more remarkable because he made so little fuss about it. He grew up in the age of patriotism during India's freedom movement when Mahatma Gandhi managed to fire up the imagination of idealists with the notion that serving the nation was a precious reward in itself. Try telling that to today's hardboiled money-grubbing politicians.

Poet folklorist Ved Prakash Vatuk draws an affectionate portrait of one of India's unsung leaders, and Siliconeer marks India's Republic Day with a salutary reminder of the values he embodied.

The year 2009 has been eventful in more ways than one. In India, the Congress Party made spectacular electoral gains that even its fervent supporters did not expect, its scientists did the nation proud by discovering water on the moon. India had its share of natural disasters, but its economy has proven remarkably strong as it has weathered the global economic downturn. One has to remember that India faced challenges on two fronts — in addition to dealing with the economic downturn at home it also faced the dire prospect of a return of expatriate workers, particularly from the Gulf countries. Happily, that has not come to pass. To be sure, challenges remain — Andhra Pradesh continues to be roiled over a fierce dispute over a proposed Telangana state, and a sharp rise in food prices has taken the sheen off India's supple economy.

Siliconeer presents a yearend summary that takes stock of the important events and issues that impacted India.

To say that India has changed remarkably in the past few decades is to belabor the obvious. The age of state-directed economic planning, a paternalistic approach to the nation's considerable socioeconomic challenges, the attendant patronage system and in foreign affairs the staunch policy of nonalignment— all of this appears almost as quaint as sepia-toned old photographs in today's globalized world where India's middle class seems in the thrall of all things Western.

In this issue, our India correspondent Siddhartha Srivastava chooses two icons of that era — the Bajaj scooter and the Maruti 800 — to look at how the middle class in India has changed. As the aspirations of India's middle class change, these two icons of an older era are on the way out.

India has changed. Certainly its middle class has. But is it all for the better? That's a more complicated question. It is one of lessons of history that economic growth is not an end it itself. Unless a society's affluence is informed by a humanity that engages the elite in the well-being of its less privileged, the entire edifice, no matter how impressive, can be in jeopardy. That sense of engagement, a belief that progress was meaningful only when its fruits reached far and wide has given way to a fascination with the raw indices of economic indicators as India's middle class appears utterly absorbed in a consumerist rat race today.