RECIPE:
Simple, Spicy: Masala Idli


Sudha Gupta shows how to make a hot snack that's easy on you and goes well with tea, coffee or cocktails.
---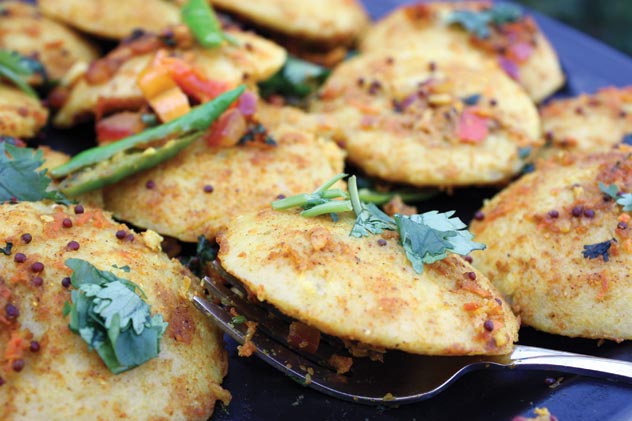 (Above): Masala Idli [Siliconeer photo]

---
Ingredients

1 cup quinoa (avialable at most grocery stores both Indian and mainstream such as Costco, Safeway as TruRoots Organic Quinoa | www.truroots.com)

1½ cup water

½ cup sooji

1 cup yogurt

1½ tsp salt

1 tsp green chili paste

1 tsp ginger paste

1 tsp olive oil

1 tsp baking powder
For garnish:

2 tbsp oil

1 tsp mustard seeds

½ tsp sambher powder

½ cup cilantro, chopped red and yellow bell peppers, grated carrots and finely chopped onions

Method:

Making the idli:
Soak quinoa 1½ cup water for 1 hour. Add quinoa mixture, sooji, yogurt, chili paste, salt, ginger paste, oil and baking powder in blender and blend for 1 minute to make a thick paste or batter for the idli.

Heat 2 cups of water in a pan. Add idli batter into the ghee-greased molds of an idli tray for steaming for 15-20 minutes to make idli.

Making the spicy masala sauce:
Heat oil in a pan, add mustard seeds and sambhar powder. Stir for about one minute. Add idli and mix well.

Garnishing:
Place idli in on a flat plate and garnish with vegetables (bell pepper, onion, grated carrots and cilantro).

Serve hot.