HINDI FILM REVIEW:
Perfect Score: 3 Idiots - Review by Priyanka Bhardwaj


Rating: ****1/2 (Extraordinary)
3 Idiots

Directed by: Rajkumar Hirani
Produced by: Vidhu Vinod Chopra
Written by Screenplay: Abhijat Joshi, Rajkumar Hirani
Based on a Novel 'Five Point Someone' by: Chetan Bhagat
Music: Shantanu Moitra
Starring: Aamir Khan, R. Madhavan, Sharman Joshi, Kareena Kapoor, Boman Irani, Omi Vaidya, Parikshit Sahni, Javed Jaffrey.

---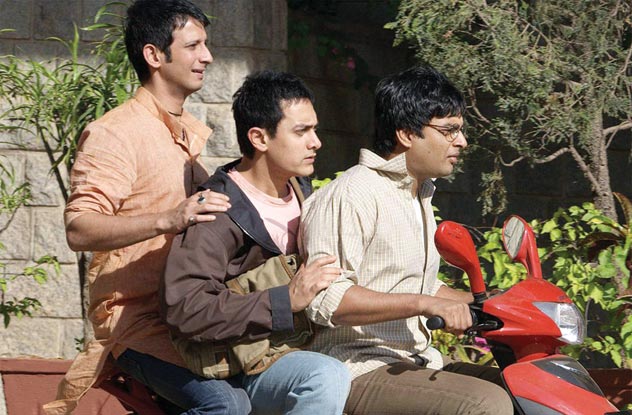 (Above): Sharman Joshi, Aamir Khan and R. Madhavan Khan in "3 Idiots."

---
In this provocatively funny movie director Raj Kumar Hirani pulls off a hat trick post Munnabhai I and II with as much panache, with Aamir Khan (playing the lead character Rancho, one of the three Idiots) at his peerless best.

The movie dwells on living life on one's own terms, while successfully simplifying bombastic concepts of machine and human existence that exposes India's maniacally marks driven education system.

The spirit of the movie is taken from Chetan Bhagat's high selling "Five Point Someone."

The film, however, follows its own trail in the story of Farhaan Qureshi (Madhavan), Raju Rastogi (Sharman Joshi) and Ranncchoddas Shamalaldas Chanchad aka Rancho, studying at a premier engineering college, which anybody's guess is IIT-Delhi.

Hirani's ability to weave melodrama and comical highs without making it heavy-headed makes him a rarity among contemporary Bollywood directors.

---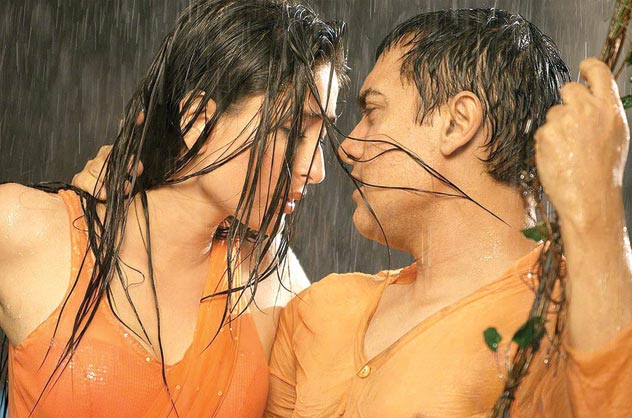 (Above): Aamir Khan and Kareena Kapoor (l) in "3 Idiots."

---
The viewer is a participant without feeling the burden of being the fourth idiot even as Hirani scores without being preachy about the country's skewed examination system, weaving the message via light comedy and dark humor.

The film's subjectivity touches a socio cultural chord with anyone with an Indian upbringing.

The brilliant acting skills of Aamir, with unbelievable boyish looks at forty-four years comes to the fore yet again. Music of Shantanu Moitra (the numbers "Give Me Some Sunshine" and "Zoobi Doobi") is refreshing though not as impressive as Hirani's earlier movies.

Though 3 Idiots is a long movie by today's standards, some portions could have been done away, the fast pace eliminates any boredom settling. The beautiful landscapes of Himachal Pradesh and Ladakh are well captured offering a nostalgic trip to those who have visited them.

For the story, Raju and Farhaan belong to struggling middle class families and ride on huge family expectations. Their focus is good marks even though they end up as 'flunkeys' each year.

---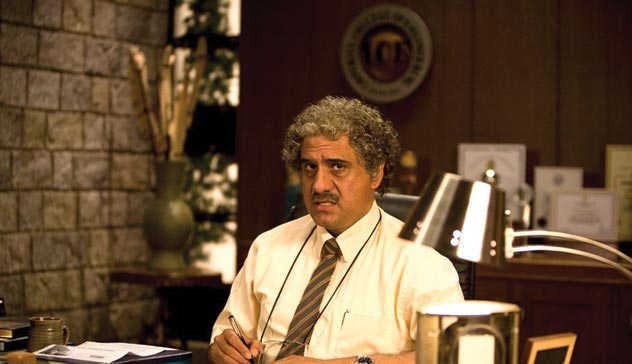 (Above): Boman Irani in "3 Idiots."

---
Rancho is the 'fool,' the ``odd one'' who defies the milieu of 'competition to trample the other to move ahead' and 'learning by rote' which produces brilliant copies but not original thinkers. Yet, he is always ranked first in the class.

One facet well essayed by Rancho is creative 'jugaad', the India style of getting anything done with whatever is at hand or available.

Rancho engages in several live demos (demonstrations) to support his unconventional methods of learning, while his catchphrase '(A)all izz (is) well' to maintain individual calm appeals to all, but one – the exacting college director Viru Sahastrabuddhe aka Virus (Boman Irani), who again plays the role with élan.

Virus is determined to throw Rancho out of college but the efforts are in vain. The director devises 'divide and rule' tricks to move Farhaan and Raju away from Rancho's influence to break the trio.

Yet the mischievous genius Rancho with his Good Samaritan ways manages to woo the director's daughter Pia Sahastrabuddhe (Kareena Kapoor), who plays her small part well and fits in the flow and fun.

---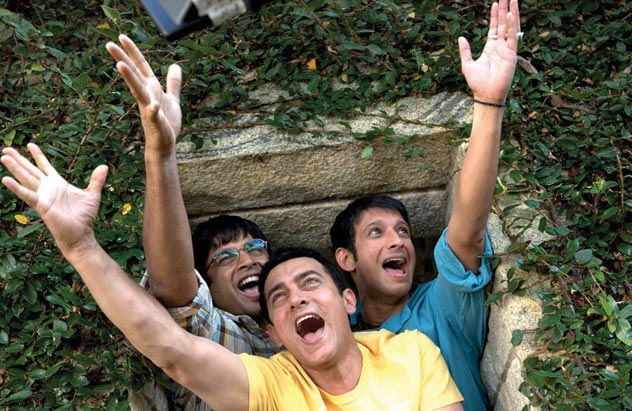 (Above): Sharman Joshi, Aamir Khan and R. Madhavan Khan in "3 Idiots."

---
Ultimately the dreaded grumpy Virus falls for Rancho's wit, intelligence and goodwill.

It is again Rancho's convincing that infuses Raju with confidence to win an on-campus plum job offer, while Farhaan "follows his heart'' and ultimately persuades his zealous father to allow him to make a career switch from engineering to wildlife photography.

Omi Vaidya as Chatur Ramalingam aka "Silencer'' has the audience in splits as the 'gasbag' acidic character. His Hindi speech during the college annual day is perhaps the funniest sequence of the movie.

The film end is unpredictable and yet in keeping with the Indian 'happily every after' finish, even as the other 'two idiots' track Rancho ten years after college in Ladakh with 'Silencer' for funny company.

Despite the movie length, one does not mind it at all. 3 Idiots appeals to all age bracket, boasts an impressive cast, celebrates friendships, jokes are nuanced, dialogues well delivered, vital messages, breezy moments and beautiful landscapes combine to evoke three cheers for 3 Idiots.

Keep them coming Aamir, Hirani… 'A(a)ll izz (is) very Well' for this Vidhu Vinod Chopra-produced movie that has set the box office on fire.