SUBCONTINENT:
Middle Class Change: India for Better and Worse


In an indication of a changing India, two lifestyle products that defined Indian middle class existence and aspiration in the '70s and '80s will soon cease to exist, writes Siddharth Srivastava.

---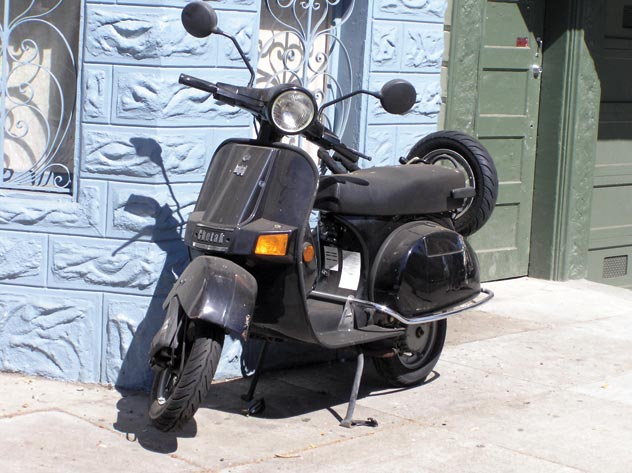 (Above): The Bajaj scooter­, one of India's most favored starter family vehicles — ­has stood the test of times and proven its worth for decades, carrying families of four on the pothole-ridden roads in India — is now on the verge of being phased out.
---
In an indication of a changing India, two lifestyle products that defined Indian middle class existence and aspiration in the '70s and '80s will soon cease to exist.

The decision (by respective firms) to phase out Bajaj scooters entirely from March next year and entry level cars Maruti 800 from metros to begin with, is purely business related — sales have sagged.

But, it also reflects a different mindset, another India and a new era that fancies faster motor cycles and bigger and better cars.

In the 70s Bajaj scooters symbolized middle class stability, although the engine placed on one side, made the machine unstable.

And in the current situation of rashly driven powerful vehicles and 24-hour call center cabs, two-wheelers are very unsafe.

Yet, back then, father on the wheel, mother on the pillion, younger child standing in front with head bobbing out, older sibling squeezed between mother and father, everybody with their arms around each other for balance and protection, epitomized the complete Indian family, "Hum do hamare do." (We two and our two)

It was idyllic. Needless to say, the famous ad tag line ``Hamara Bajaj'' (Our Bajaj) translated into brisk sales.

The strict father, seeped in the idealistic hangover of Mahatma Gandhi or Jawaharlal Nehru, could have typically worked in a government department, or as a university professor or even a trader; the mother, a housewife, dedicated to the family spent hours in the kitchen, cleaning the house and praying for their welfare.

The unified aim of the husband-wife duo was to ensure their children a good education to turn them into engineers (via cracking the joint entrance exam to enter the coveted IITs) or doctor (via the equally difficult MBBS entrance exam) or make it to the IAS, the top government job (via the even more difficult UPSC exam).

With such a focus on education, a big sprinkling of the Bajaj kids did make it and many of them went to America, the land of opportunity, to become software czars, top cardiologists, reproducing kids in turn who today call shots in political stakes as campaign managers, driving big BMWs or Mercedes Benz and collecting bikes for passion that probably cost more than their father's whole lifetime income many times over.

Some of the kids called their parents over from India selling off the Bajaj scooters as junk, while others forgot about the elders, providing endless sob story themes for Hindi movies.

---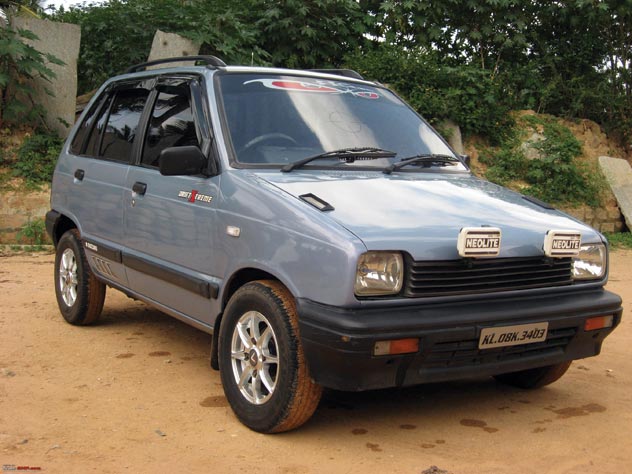 (Above): The second-generation Maruti 800 car that ruled Indian roads for the past two decades is now facing sagging sales in the metropolitan areas in India.
---
Meanwhile, the Maruti 800 was launched in pre-liberalized India in the '80s when the License Raj prevailed to shackle any enterprise, when access to state authority or the ability to grease the wheels of the bureaucracy with money counted for everything — owning a telephone, a passport, a driver's license or a gas connection and a house.

In keeping with authoritative behavior, most marriages were arranged. Gandhi and Nehru were forgotten entities with their pictures framed in every government office, ideals obliterated.

The Babu (read lower government official) was King. Cordless phones a luxury item, compared to over 500 million cell phone users today.

The bulk of youth (everybody could not make it to IIT or IAS or MBBS) aspired to be part of this kingdom and wield the power to dole out telephone connections or hand out nationalized bank loans and progress in life.

In a way the spiffy, quick pick up, not very expensive Maruti 800s that took on the ambling Ambassadors and Fiat cars that dominated Indian roads was the first challenge to the Raj, though there were car quotas still and one needed to bribe a Babu, maybe by offering foreign made liquor bottles.

The Maruti 800, fast, flexible and individualistic, though a tin pot compared to cars of today, indicated the '90s and new millennium.

Today a typical middle class Indian family travels in a snazzier Maruti Swift or a Hyundai I-20, financed out of a quick processing private bank, visits choc a bloc malls during the weekend, watches high priced multiplex movies, while the kids gorge on pizza and burgers, probably from McDonald's, home delivery or take away, resulting in new age problems such as obesity.


---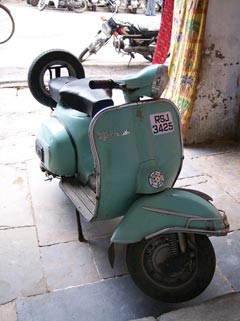 (Right): This Bajaj scooter has been the style and durability icon for mobility for the Indian working class in the '70s and '80s at a time when owning a car was considered a luxury.
---
The parents lead jet setting corporate lives, grapple with deadlines, keep global times; some fight lifestyle related heart problems and hypertension, while others spend time at the gym or spa to de-stress and detoxify.

Telephone connections are not a problem, bank loans are available online, cars can be brought off the shelf like a pair of jeans.

There is freedom to choose. Love marriages are on the rise, so is the visibility of gays and divorce rates.

Discussions center on Nehru's affairs with foreign women, rather than his beliefs and vision. Gandhi is remembered in context of Bollywood masala flicks such as Munnabhai MBBS.

The one's who have made it bigger via the stock market or real estate windfalls, commute in bigger Honda cars or even a BMW and travel abroad for holidays and spend evenings at expensive clubs, discussing art investments.

Mobile phone toting maids connected to roaming parents look after kids who spend time on computer games and TV. The children imbibe social skills in private schools followed by an expensive MBA (in India or abroad).

There are plenty of domestic service sector jobs that need more smooth talking and less thinking — hospitality, banking, insurance tourism, outsourcing or at MNCs such as Coca Cola, Pepsi or Nestle, offering perks and foreign postings.

A lot needs to be improved, such as regular electricity supply and roads without potholes. A well behaved Babu is still a rarity.

To be sure, India still has a huge mass of people who still live in poverty in abysmal socioeconomic circumstances, though that is beginning to change slowly as well. On the other hand, the ranks of the more affluent are beginning to swell, with new entrants in this category keen to enjoy the manifold fruits of a consumerist society. India has changed —- for better and worse. The era of Bajaj Scooters and Maruti 800s is history.