COVER STORY
The People's Prime Minister: A Tribute to Lal Bahadur Shastri

Lal Bahadur Shastri, India's second prime minister, was a leader in the old, Gandhian mold — soft spoken, unassuming and utterly devoid of any personal agenda yet firmly committed to his principles. Poet folklorist Ved Prakash Vatuk offers a fond tribute to mark India's Republic Day Jan. 26.
---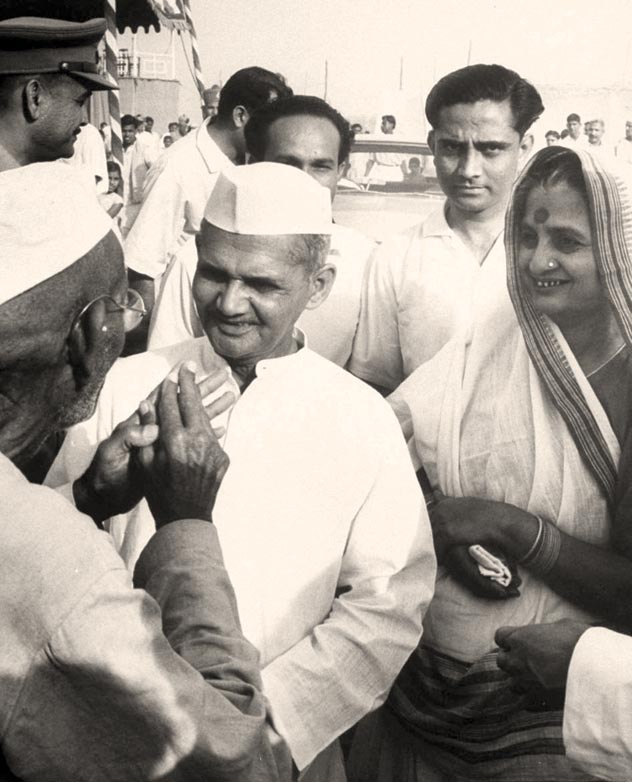 (Above): Lal Bahadur Shastri was a people's leader and a very simple person. (All Photos courtesy: Sanjeev Tulsian)
---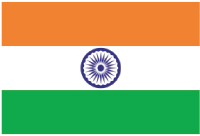 Early 1930s. In a town in western Uttar Pradesh Congress workers dedicated to constructive work, such as promotion of Khadi and improvement of the status of women and dalits — Vichitra Narayan Sharma — who founded the Gandhi Ashram with Acharya Kripalani, and Master Sunder Lal, went to visit their comrade. He had become a life member of Lok Sevak Mandal (Servants of the People Society) which was dedicated to similar causes and lived in a small flat. When they entered the residence, they saw an old widow clad in white in the kitchen. They went to touch her feet as she was the mother of their friend worker. The lady was horrified that they have entered her kitchen. She expressed her horror by telling them that have polluted it. To which one of the visitors replied, "Mataji, we have taken our morning bath, have said our prayers and we polluted your kitchen!! But these dirty rats, which are running around do not." Needless to say Mataji was not amused. But their comrade was. "Oh, yes, mother is the symbol of our religion. We have to live by her commands." She even made the wife of their comrade observe purdah before the strangers. Who was this comrade? Lal Bahadur Shastri. And the stern lady in question was his mother Ram Dulari Devi, who became a widow when Lal Bahadur was not even two year old. Ever since the death of her husband she had led a life of an ascetic.

I am relating this incident to describe various influences that made Lal Bahadur Shastri what he was. Born in Ram Nagar, Mughal Sarai near Varanasi on Oct. 2, 1904, he lost his father when he was only one and half years old. And his mother was forced to live with her own father, taking him and his two sisters to be raised. He never forgot the sacrifices that his mother had to make. He suffered poverty to the extent that several times he had to swim across the river Ganges because he could not afford the little sum needed to pay to the boatman. And it was his mother's deep religious convictions that sustained the family.

---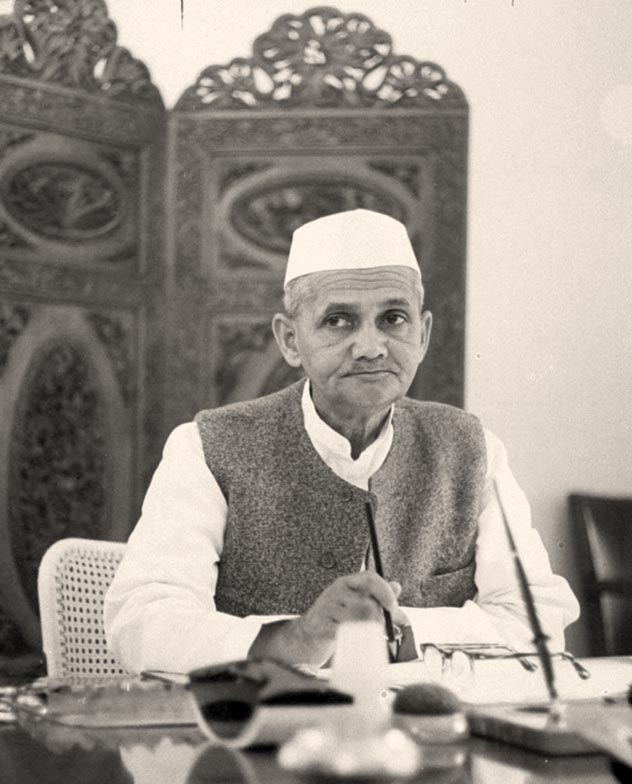 (Above): India's second Prime Minister Lal Bahadur Shastri at his office.
---
Childhood in Varanasi

When he was ten years old he was sent to his mother's brother's house in Varanasi, so he could get his high school education. It was there that at the age of eleven he heard Gandhiji's speech in 1915, and he vowed to dedicate his life to the national cause. He participated in the non-corporation movement in 1921 and was arrested at the age of 16. After he came out of prison he joined Kashi Vidyapith, an institution inaugurated by Gandhiji in 1921 for those students who boycotted the English system. Kashi Vidyapith's first vice-chancellor Bhagwan Das was a great philosopher, thinker, social worker and humanist, who combined Indian spirituality and modern sciences in the education system. He was secular minded. It was here that Lal Bahadur studied works of many great Western philosophers, such as Kant, Hegel, Bertrand Russell, Aldous Huxley , Marx and Engels. He also studied Indian philosophers and was greatly influenced by the works of Vivekananda and Ramakrishna. He translated the biography of Madam Curie in Hindi.

But it was the simple living and high thinking way of life of the vice-chancellor of the institution that influenced Lal Bahadur the most. It was also the spiritual and humanistic elements of the Bhakti movement, so much part of Varanasi's life, that moved Lal Bahadur. He greatly admired Vinaya Patrika of Tulsidas, as well as the rebellious nature of Kabir's poetry. Vinaya Patrika made him humble, while Kabir taught him not to tolerate any kind of bigotry. That is why he always remained far from the ritualism of Varanasi, but lived harmoniously in a home with religious atmosphere, far from sadhus and astrologers.

In 1926 he graduated from Kashi Vidyapith and earned his Shastri degree. In 1927 he got married to Lalita Devi from Mirzapur. Being a Gnadhian, he accepted a charkha and a few yards of Khadi as dowry.

---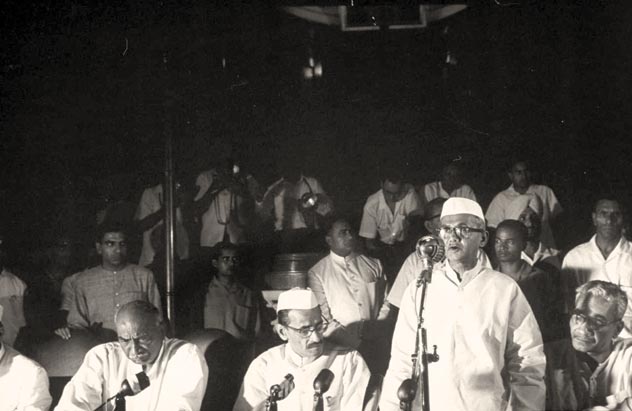 (Above): Lal Bahadur Shastri addressing a meeting.
---
Lok Sevak Mandal

It was in 1925 that Lala Lajpat Rai enlisted him as a life member in Lok Sevak Mandal, which meant to serve society for at least 20 years and not to seek any elective office for at least 10 years. He dutifully fulfilled his pledge. He was paid Rs. 80/- per month for his services. He worked promoting Khadi, carrying bundles of Khadi clothes on his head and selling them from door to door. It was also at this time when they built a huge beautiful hostel, named Kumar Ashram, in Meerut for dalit students, who lived there. Money was also raised to award students fellowships. This Ashram, which is near our house in Meerut, still flourishes. It has also become a symbol of equality and brotherhood for the community, where people of all walks of life gather to celebrate national festivals.

Lal Bahadur Shastri participated in every movement launched for the freedom of India. He was jailed again and again for his participation. in the 1930 salt satyagraha, the 1940 vyaktigat satyagraha, the 1942 "Quit India" movement. All in all he spent more than nine years in jail..

He was elected the president of the Allahabad District Congress Committee in 1930. In 1931 he was appointed the secretary of the U.P. State Congress Committee. He was also chosen a member of All India Congress Committee. In 1951 he became the general secretary of the All India Congress Committee, when he was responsible for organizing the election machinery for the Congress Party.

In 1937, when the first national governments came to power in various states, he worked as an organizing secretary of the Parliamentary Board for the Congress. He was elected to the U.P. Legislative Assembly the same year. He served as a parliamentary secretary to Govind Ballabh Pant who was the first chief minister of U.P. Later he became the minister of police and transport. He appointed the first woman conductor for U.P., roadways. He often traveled by buses. In 1951 he was elected to the upper house of Indian Parliament, the Rajya Sabha. He served as a Minister for Railways and Transport from 1951 to 1956 and again in 1961. After the death of the iron man Govind Ballabh Pant he was appointed home minister in 1961. When Jawaharlal Nehru died on May 27, 1964, Lal Bahadur Shastri was the unanimous choice to become the second prime minister of India. He served in this post from June 9, 1964, till Jan. 11, 1966, when he suddenly died of a heart attack in Tashkent.

---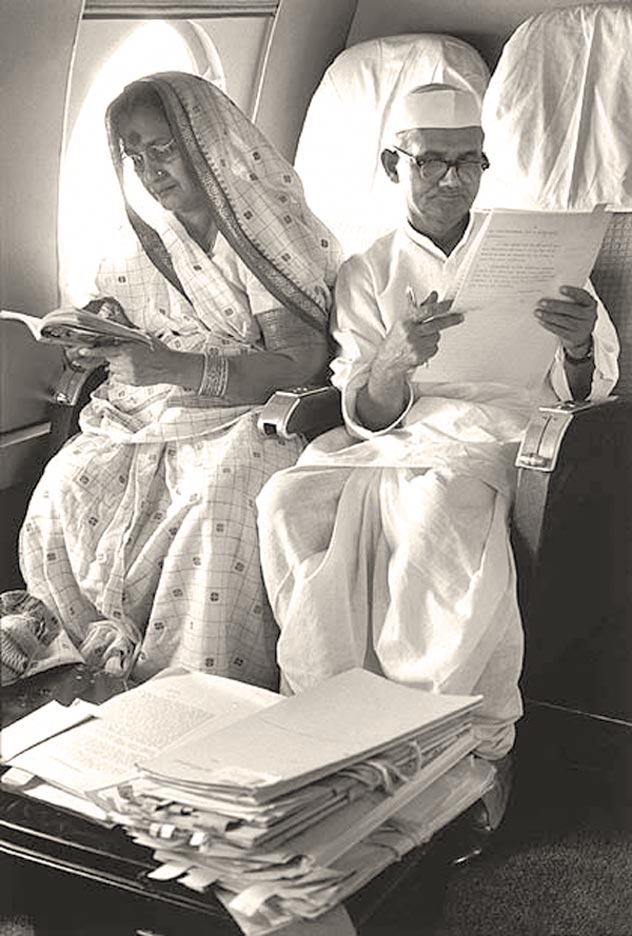 (Above): Lal Bahadur Shastri with his wife in an airplane.
---
Soft, but Never Weak

Lal Bahadur Shastri was not as charismatic as Nehru, nor was he considered an iron man like Sardar Patel or Govind Ballabh Pant as a home minister. He was not very tall. He was slim, did not weigh much. So many people considered him a weak person to be appointed as a home minister or the prime minister. Besides, he spoke softly and never used angry words. He himself said, "Perhaps due to my being small in size and soft of tongue, people are apt to believe that I am not able to be very firm. Though not physically strong I think I am internally not so weak." Indeed, Lal Bahadur Shastri never sought power, never was keen to stick to power. Twice he resigned from his post. Once when a railway accident occurred and he took the moral responsibility, second time to build the party organization. It was his nature of being ajatshatru (a man without an enemy) and his capability to remain friendly to people whose views he opposed such as Nehru and Purushottam Das Tandon meant he was also favored by opposite camps. He never said a word even in jest which could hurt someone. He spoke in simple sentences. It was these qualities that made him dear to all. But when the test came, he never failed.

And they came soon enough. On August 31, 1965, when war broke out between India and Pakistan, and he was woken at 3 a.m. in the morning to be told that Pakistan's army was marching toward Chamb area, it did not take him even five minutes to give the Indian army a free hand to retaliate with full force and open a new front to occupy Lahore. Scholars had their doubts if Nehru would have given orders to cross borders in this case. When after the ceasefire a conference between him and President Ayub Khan of Pakistan was organized in Tashkent, he insisted that a clause should be added in the peace agreement that never again would force be used to settle problems. When Ayub seemed reluctant to agree to that, he replied, "Then you have to find another PM to negotiate with." This clause was added at the last minute, when Ayub wrote that in his own handwriting.Ayub's hand-written assurance is still preserved in Indian archives.

---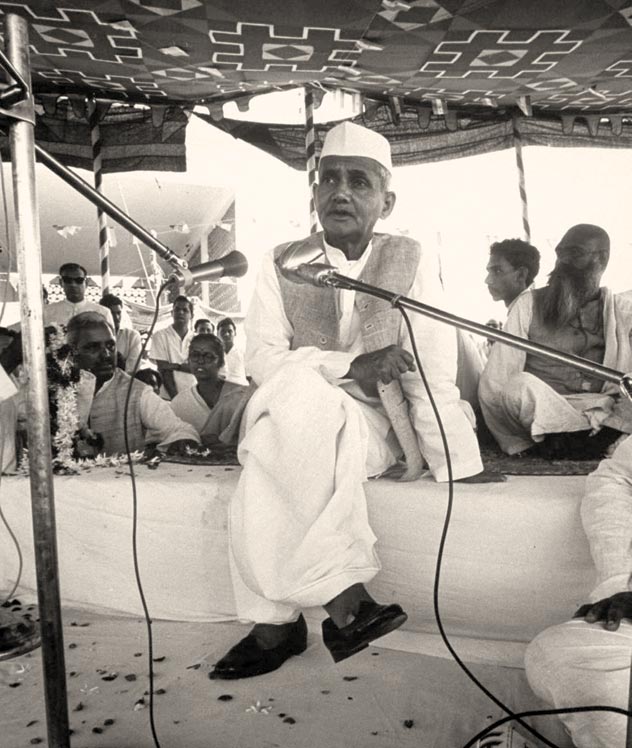 (Above): Shastriji at a public rally.
---
Food Crisis

His other test came in handling India's food crisis in 1965. He was supposed to visit the U.S. The date was fixed, but President Lyndon Johnson decided that he would like Shastri's visit to coincide with Ayub's visit. That Shastri refused. He also refused to cancel his visit to Canada which was scheduled to take place at the same time. He visited Canada, but cancelled his visit to the U.S. He also refused to be pressured to accept wheat of inferior quality under PL 480 that the U.S. was to send to India. Instead he appealed to the nation that all its citizens should have one meal less per day so the poor could be fed. Before announcing that to the nation he asked his wife not to cook the evening meal. He also asked people to grow food even in their houses.

But Shastri's legacy is not in his rule. Shastriji stands for austerity, simplicity and integrity. He never sought power to be rich. There are so many tales told by those who were close to him. Sumangal Prakash, a Gandhian who marched with Gandhiji during the Salt satyagraha, tells us how even as a prime minister he could not afford a decent coat in winter. Once he had to go some event in Bihar and he did not have a coat. He asked a tailor to take four of his old coats — all made of Khadi — and make into one. He could not afford to get new sets of teeth or a new pair of glasses. He never let his children use his name to gain favor from anyone. He never let them use the official car for private use. His son Anil had to use public transportation to go to school.

My brother told me an incident. He went to Lucknow once when Shastriji was a minister in the U.P. Government. He phoned Shastriji. Shastriji invited him but with a warning, "Your bhabhi (sister-in-law) is not at home today, so you will not get a cooked meal. You have to make do with whatever there is." How many ministers are there whose wives cook their own meal? And how many prime ministers are there who washed their own clothes every day and polished their own shoes? Once Shastri was visiting Varanasi to attend an event in the winter. The famous Hindi poet Mahadevi Varma noticed that he had no socks. She asked him, "Don't you feel cold?" He replied, "I have only two pairs of heavy woolen foreign socks, which I wear when I have to go to a cold country like Russia." Nehru had to lend him a mink coat when as a home minister, he was sent to Kashmir in winter.

And yet, he arranged to send a helicopter to shower flowers on a newly wed couple in a village, where the bride was the daughter of one of his poor friends, who spent time with him in prison during the freedom movement. Shastri was the only home minister without a home of his own.

---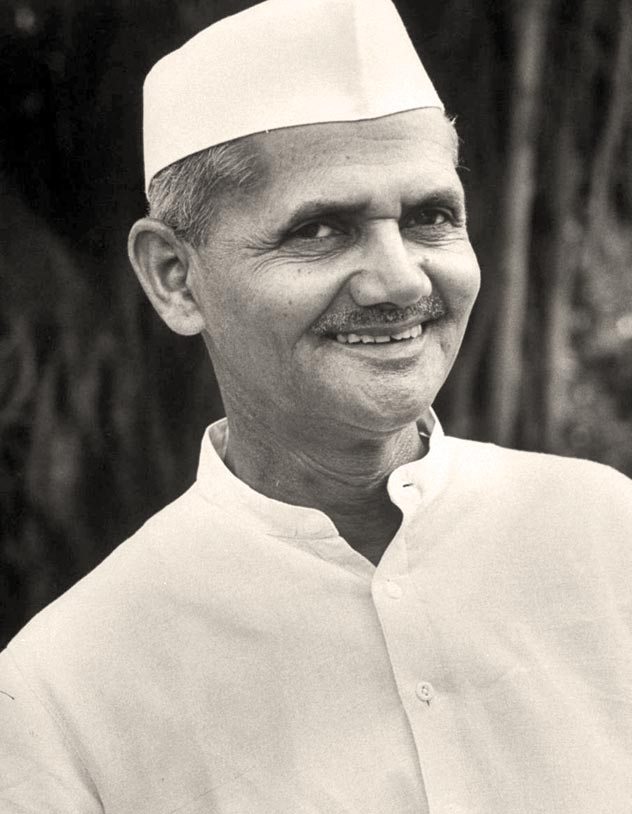 (Above): A very fond portrait of India's second Prime Minister Lal Bahadur Shastri.

---

Shining Beacon

At a time when petty rivalry, greed and a vicious scramble for power characterize Indian politics, Lal Bahadur Shastri represents a refreshingly different set of values from a bygone era — regardless of whether one agrees with his particular political views or ideas, his modesty, integrity and total commitment to public service continue to be a shining beacon for the nation he loved so selflessly.

---

Poet folklorist Ved Prakash Vatuk's many awards include the U.P. government's Pravasi Bharatiya Hindi Sahitya Bhushan. "Essays in Indian Folk Traditions," his collected writings, has just been published by the Folklore Institute, Berkeley, Calif.