SOCIAL WORK:
Celebrating Community: ICC Gala Banquet


The India Community Center's gala banquet and silent auction, held at its brand new state-of-the-art facility, raised $500,000 for programs and community services, writes Sunita Sohrabji.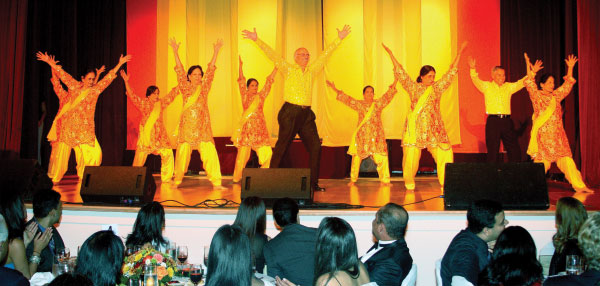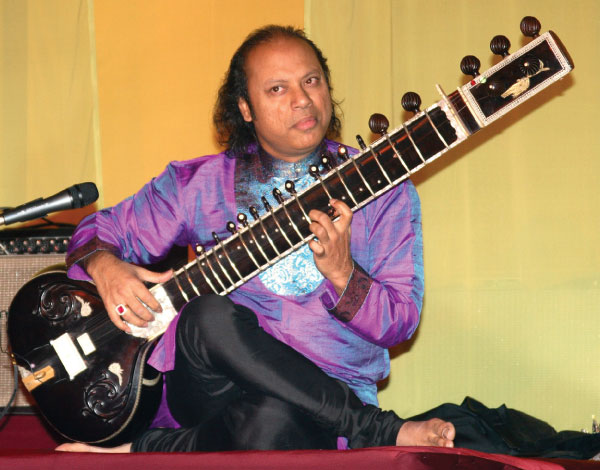 (Above): (Top): The perennially favorite Jollywood Dancers took to the stage to dance to "Ab To Forever" from the movie "Ta Ra Rum Pum." (Bottom): Nishat Khan and his band Dharma performed for an hour, presenting music that featured mystical Eastern sounds fused to classic Western rock, inspired by Led Zeppelin and Jimi Hendrix.

---
A sold-out crowd packed the India Community Center in Milpitas, Calif., for its Fourth Annual Banquet and Auction Oct. 27. The banquet was held — for the first time — in ICC's new 8,000-sq. foot auditorium, named for one of the center's most significant donors, Kumar Malavalli. The evening was emceed by NBC11 sports director Raj Mathai, and raised over $500,000 for ICC programs. ICC moved to a new 40,000 square-foot facility in Milpitas on July 1, 2007. The banquet — subtitled A Dream Come True — celebrated the center's move to its permanent home.

Ticket and table sales for the banquet were brisk: the auditorium was completely sold out two weeks before the event, reported 2007 banquet chair Jayshree Patil, CEO of Nirvana Woman magazine. "It was completely word of mouth sales," said Patil. "All three previous banquets have been such memorable, heartwarming evenings; people really look forward to attending this event, year after year."

The evening began with a silent auction presented throughout the ICC facility. The motif for the room displaying sarees and jewelry was a maharajah's palace, replete with luxurious floor cushions and ornate wall hangings, against a backdrop of a palace courtyard. The theme for the travel room was a tropical holiday: a sandy beach with palms, a mock bar and tiki torches transformed ICC's Community Partners' room.

Silent auction bidders competed for designer sarees; fine jewelry and watches; travel packages, including a trip to Mexico; gift certificates to various Bay Area restaurants; facials; massages; wine and sports memorabilia.

Later in the evening, the competition was ramped up by auctioneer Bill Friedman, who presided over the live auction. Artwork by Smriti Dixit and Ramananda Bandhopadhyay and a Viking River Cruise through Holland and Belgium were among the most coveted items.

ICC's seniors banded together to offer a home-made dinner for 10: their package sold twice, for $2,000 each time. Board members Jag Kapoor and B.V. Jagadeesh also contributed live auction items: Kapoor offered up a private plane journey to Lake Tahoe, while Jagadeesh offered up a South Indian feast for 10.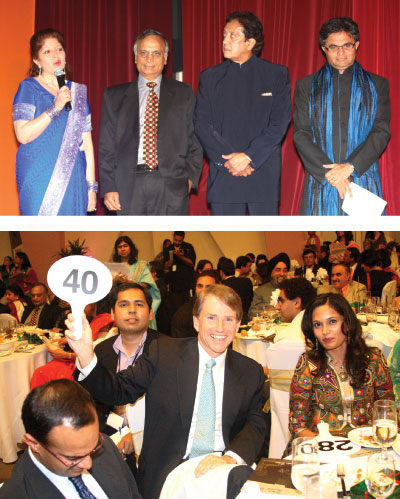 ---
(Right, from top downwards): ICC chair Talat Hasan with supporters Prabhu Goel, Kumar Malavalli and architect Kartik Patel.
Former state controller Steve Westly holds up his live auction paddle to make a bid.
---
The silent and live auctions raised $100,000. Before the live auction began, ICC chair Talat Hasan announced an anonymous donor had pledged to match all donations to ICC until December 31, up to $2 million.

Rahul Roy — one of ICC's first donors — then promptly handed up a $20,000 check from the audience to Hasan, sealing his pledge of $100,000 to the center over the next five years.

"I'm truly amazed by the level of support for ICC from our community," said ICC executive director Chitra Vivek. "We have raised an unprecedented amount of money this evening, and — moreover — a lot of good will."

Vivek added: "We still need more of the community to come forward and financially support the center."

Banquet chair Jayshree Patil said: "ICC's move to its new home represents a milestone in the journey we began 15 years ago: of creating a community center free of religious, political and regional differences," she said. "I'm so pleased to see this dream materialize."

ICC's member children, board members and staff next danced to the theme song from the movie "Chak De India." The perennially favorite Jollywood Dancers — a troupe of seniors all over 65 — got a standing ovation for their rollicking number "Ab To Forever," from the movie Ta Ra Rum Pum.

The evening's headliner, master sitarist Nishat Khan presented fusion music influenced by Led Zeppelin and Jimi Hendrix.


---
Sunita Sohrabji is freelance writer based in the San Francisco Bay Area