ENVIRONMENT:
Town Criers on Global Warming: Role of Ethnic Media


Flex Your Power's ethnic media partners are messaging global warming alerts not only to their audiences in California but to their home countries, writes New America Media's Julie Johnson.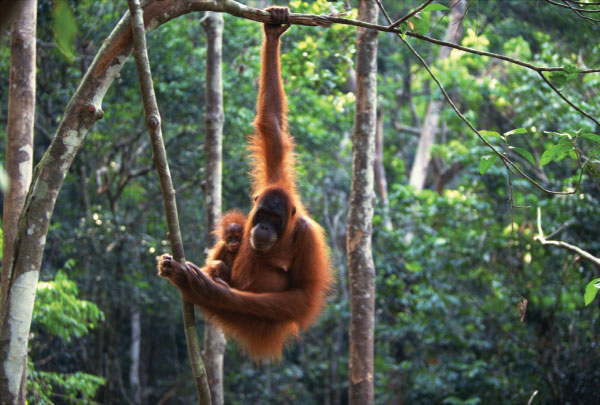 (Above): An orangutan in Sumatra, Indonesia. Indonesia has 10 percent of the world's rainforests, a major source of Earth's oxygen.

---
Fighting global warming begins at home" — a catchphrase for Flex Your Power's energy conservation awareness campaign in ethnic media — has a double meaning for ethnic Californians: Home is not only California, but the home countries they left behind.

South and Central Asia, along with sub-Saharan Africa, are already feeling the brunt of weather changes blamed on global warming — erratic storm patterns, droughts, increasing desertification of once fertile lands. At the same time these regions bear the least responsibility for producing greenhouse gases that cause climate change.

A survey of California's ethnic media leaders reveals that many see themselves as "town criers" in alerting homeland populations as well as audiences here to the urgency of curbing climate change now.

"We who live in the wealthiest regions of the world like California have a special obligation to start raising awareness on how to conserve energy and reduce our carbon footprints — especially as even governments back home are gearing up to sound the warning," says Amardeep Gupta, managing editor of Siliconeer.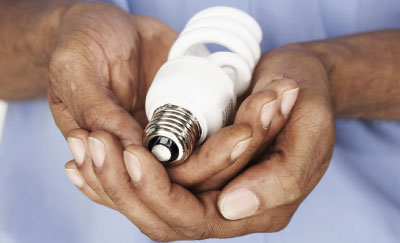 ---
(Right): Fluorescent bulbs can dramatically reduce energy use.
---

Because the Los Angeles area magazine Indonesia Media reaches an international audience, chief editor Dr. Ibrahim Irawan says he covers stories not found in the Indonesian press. He knows that day-to-day survival trumps environmental concerns for people living in Indonesia. But Indonesia has close to 10 percent of the world's rainforests — a major source of the Earth's oxygen — and they are fast disappearing due to illegal logging and farming. For poor farmers, the cheapest way to create farmland is to burn the rainforests. Irawan believes that Indonesians in the United States must take the lead in promoting better environmental practices and create incentives for the Indonesian government to develop alternative job programs.

The United States uses a large portion of the world's energy, "far in excess of our population," says Federico Galindo, general manager for Azteca America's Fresno station. Communities here must take the lead in using energy more efficiently, he says, and then "we can get the rest of the developing world to follow."

Changing light bulbs from incandescent to compact fluorescent and driving less are small ways, he says, that people can make an impact. "We can't all go out and build a solar panel or develop electric cars, but we can all find little things that will help."

Azteca America, Galindo's network, regularly covers global warming and environmental issues, and that work extends beyond the newsroom. Fundación Azteca America gives grant money to environmental preservation programs alongside those fighting drug addiction. It led campaigns to save gray whale habitats along the Mexican Baja coast and preserve a monarch butterfly sanctuary in Michoacán.

International scientists anxiously watch a massive swath of Siberia's permafrost — about the size of France and Germany combined — that has begun to melt for the first time since the last ice age. Unchecked, this melting could release billions of tons of methane, a potent greenhouse gas, and among those attributed to climate change.

Irene Parker, editor in chief of Panorama newspaper, a Russian-language weekly based in Los Angeles, emphasizes that her paper isn't out to tell her readers what's right or wrong. Parker has found that Russians in the United States are far more engaged in environmental issues than are those back in Russia. In fact, her readers include scientists on the front lines of the debate over whether climate change is human-driven or part of a natural cycle, and Panorama's pages reflect that debate.

Though she isn't quite convinced about the direness of global warming, Parker believes efficiency and conservation measures make sense.

China may have already passed the United States as the world's largest contributor of greenhouse gases, based on figures recently released by the Netherlands Environmental Assessment Agency. Joseph Leung, editor in chief of Sing Tao Daily's San Francisco edition, says Chinese media in the United States closely follow environmental stories from China.

Native and African-American media, who have long covered environmental justice stories, are also boosting their coverage of global warming.

Nothing made it as clear that ethnic and low-income communities are the hardest hit by environmental disasters than Hurricane Katrina, says Mary Ratcliff, editor of the San Francisco Bay View, an African American newspaper.

"Poor communities of color are where environmental hazards get dumped," Ratcliff says. "That doesn't just mean refuse, it includes power-generating plants and polluting industries and environmentally vulnerable neighborhoods."

Because many native communities are in rural areas — regions more sensitive to environmental change — they're among the first affected by environmental degradation, says Sundust Martinez, co-anchor of Native Voice TV and co-founder of the Indigenous Peoples Council. That's what drives tribal media's consistent coverage of the environment, he says, adding that people who live "out in the desert or tundra, and one day is hot and one day is cold, they know something's wrong."

---

Julie Johnson is a writer for New America Media.