BOLLYWOOD | GUFTUGU:

Bipasha, Arshad 'Racially Abused' | Pak Director Says Film a Trailblazer | Going Phoren | No Booze! | Comeback Gal? | Free Again | Future of Films | Bully for Goa


---
Bipasha, Arshad 'Racially Abused'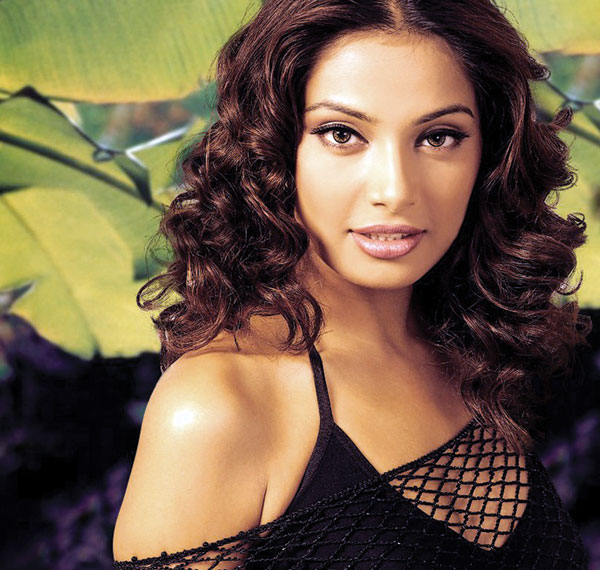 Bipasha Basu

Less than a year after Shilpa Shetty became the victim of racial slurs in Britain, two of Bollywood's leading actors have claimed that they're also racially abused while filming in the country. Bipasha Basu and  Arshad Warsi were verbally roughed up by a group of white men while they had been shooting a scene for their latest film Dhan Dhana Dhan Goal near Glassy Junction, a popular Indian pub in Southall in west London some months back.

"I was shocked. I'm not used to this sort of thing. A car stopped with a couple of white guys. They just lashed out at us. For me it was an alien thing. It was like, do people actually think like that?" said Warsi. Even fellow actor John Abraham, who was also present on the sets of the film at that time, has said he's astonished. "When you come into London and you are shooting, it's the last thing you expect." Basu, Warsi and Abraham are currently in London where their film premiered.

It may be recalled that 31-year-old Shetty became the target of racial abuse in January when she was taunted on the reality TV show Big Brother by fellow contestant Jade Goody who had called her cooking untrustworthy, mocked her Indian accent and complained about her "screeching."

The controversy had even spilled into politics, prompting the then British Prime Minister Tony Blair to condemn racism.

|TOP|

---
Pak Director Says Film a Trailblazer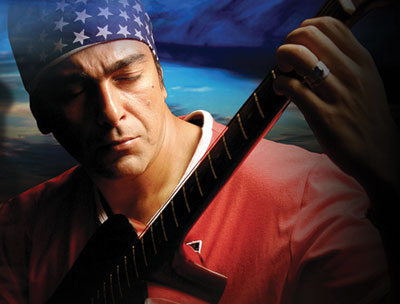 A scene from Khuda Ke Liye.

Breaking from the mould of typical potboiler movies, the overwhelming success of the controversial Pakistani film Khuda Ke Liye has not only been a refreshing change for the audience and filmmakers in that country, but also paved the way for making more meaningful commercial cinema, the film's director Shoaib Mansoor said Nov. 26.

"This movie has created an unbelievable change for audience and filmmakers who have been fed on typical potboiler movies filled with unnecessary song and dance sequences. We had a story which dealt with the lives of all of us and depicted the harsh realities," Mansoor told PTI from Karachi over phone.

Khuda Ke Liye is competing with films from Asia, Africa and Latin American countries at the 38th International Film Festival of India in Goa and is running to packed houses.

It is also Pakistan's first ever entry into IFFI.

"I hate dances and songs in a film which don't add any meaning in the film. In this movie, we had song sequences to establish that the main characters were singers. According to me, a film's story along with its narrative and screenplay are very important. Other ingredients can wait," Mansoor said.

Khuda Ke Liye is the story of a person who goes to the United States for higher education. During his stay there, the tragic events of 9/11 takes place and somehow the young man gets arrested by the American authorities.

His younger brother Sarmad is motivated by his old extremist friend Sher Shah on the "path of God" and to quit all musical activities in favor of the "straight path."

Meanwhile his uncle arrives from U.K. with his only cousin Maryam who wanted to marry her non-Muslim boy-friend back in U.K. against her father's wishes.

Veteran actor Naseeruddin Shah plays the powerful cameo of a Muslim scholar, who clarifies the misunderstood and misinterpreted tenets of Islam during the course of a court case involving the custody of Maryam and Sarmad's baby.

|TOP|

---
Going Phoren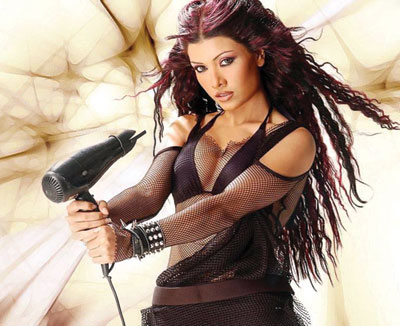 Koena Mitra

Is there more to this sizzling starlet than the eye beholds? If you remember, sexy siren Koena Mitra oozed oomph in her sizzling item song, the aptly titled "Khullam Khulla," in Road, which not surprisingly shot her to fame.

Now it appears she can do more  than show her "talent" a la the late Parveen Babi. Model-turned-actor Koena is all set to share screen space with British actor Orlando Bloom in the English film Karna, which will be produced by Pritish Nandy Communications.

The film, which is scheduled for release next year and is peppered with a lot of fight sequences, will portray the athletic actress as a superwoman. "I have been to Beijing and Hong Kong for the special training," says Koena without revealing much details about the new venture.

Meanwhile, at the home front, Koena is playing a "meaty" role in an Anant Mahadevan directed thriller Anamika," based on the novel "Rebecca."

"I am also working with two new directors and the films are in a nascent stage right now," says Koena.

In the five years since she came under public spotlight, she has tried her hand at acting, modeling, stage shows and public appearances.

Looking back at her years in the glamour industry, Koena believes that she has waited and worked to get big banner films.

"I think big banner names have an added advantage of getting a good response from the audience but one has to work hard also because even such films can fall flat. I have rejected a lot of films and item songs and I think that has been a wise decision," Koena says.

|TOP|

---
No Booze!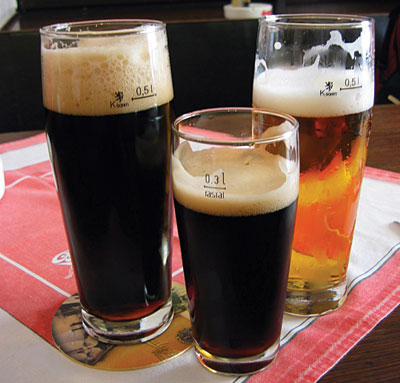 Being teetotal in Goa is like being blind in an art museum. Irreverent Goans like to quip that if you throw a stone in Goa, it will either hit a church or a bar.

Well some women in the state aren't amused, and organizers at the International Film Festival of India are feeling the heat.

A Goa-based women's organization has demanded a ban on serving of liquor at the ongoing International Film Festival of India here, saying it creates a wrong impression about the state all over the world. "It is shameful that the Goa government is projecting the state as a land where people drink day-long even while working," prominent women's organization Bailancho Saad said.

Wrong impression? Excuse me?

Be that as it may, IFFI organizers are not willing to budge.

While the organization has warned of protests at the venue for allowing beer outlets at the venue, the IFFI organizers find nothing wrong in such stalls. "I don't see any reason for protest. It is not that liquor is not sold in Goa. There are so many shops even in the close vicinity of the venue," Entertainment Society of Goa chief executive officer Nandini Paliwal said. She claimed that "required licenses and permissions" were taken to set up the stalls.

"While consumption of alcohol during working hours in offices is an offense and invites disciplinary action, the Goa government is providing free beer through sponsors to journalists who are reporting on IFFI," said Sabina Martins, who heads the women's organization.

Vice President of liquor group UB Govind Tiwari said: "There is sale of liquor everywhere in Goa. In fact, we are providing a decent facility at the venue which is appreciated by delegates."

Touche, dear ladies.

|TOP|

---
Comeback Gal?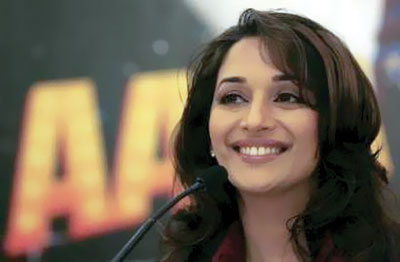 Madhuri Dixit at a press conference to mark the release of Aaja Nachle.

M.F. Husain, a self-confessed admirer of Madhuri Dixit, could not hide his blush when the star's comeback film was premiered Nov. 29 at a popular theatre booked by the eminent painter exclusively for his special guests in Dubai.

The afternoon show for the privileged few at the 194-seat Lamcy Theatre was full as Husain left the imprint of his adulation for the actress even in the tickets which had a sketch of the Bollywood diva besides Husain's autograph.

The premiere has received a lot of media hype with Husain saying it was a "tribute" to the "phenomenon."

Madhuri has marked her return to Bollywood after a six-year break in a musical, where she portrays the character of a choreographer in New York who returns to India after her mentor dies.

Before the screening, Husain told PTI he was very eager to see the film.

The famous painter said the premiere was a tribute to Madhuri, who has remained a "phenomenon despite missing from the entertainment scene for six years."

Though Madhuri had taken the long break from acting after her marriage to U.S.-based surgeon Sriram Nene, Husain still remains an ardent fan of the Bollywood actress.

Before the screening, Husain visited an exhibition of his paintings of Madhuri at the foyer of the theatre.

The film itself, however, has got a lukewarm reception in India, so Madhuri will likely welcome praise from anywhere in the world.

|TOP|

---
Free Again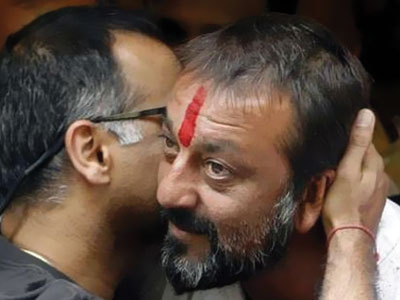 Sanjay after getting out of jail.

Munnabhai fans, you can breath easier. Sanjay Dutt, the Bollywood film star who made that irreverent thug in Munnabhai film, is once again out of jail. On Nov. 29 walked out of the Yerawada prison here after being granted regular bail by the Supreme Court Nov. 27.

The actor, sentenced to six years' rigorous imprisonment under the Arms Act in the 1993 Mumbai bomb blasts case, had spent 37 days behind bars in his second stint this year in jail, from where he had been released earlier on an interim bail by the apex court and re-lodged Oct. 22.

A battery of journalists and cameramen as well as scores of admirers of "Munnabhai" had gathered at the jail gate as Dutt, accompanied by his co-inmate and friend Yusuf Nalwalla, came out with his body language unmistakably conveying the spirit of a freed jailbird.

After waving at the crowd, Dutt, clad in blue jeans and a white kurta, got into a waiting white car. There were no relatives of the actor present except his lawyers.

Dutt drove straight to Pune airport where a private plane owned by Pune-based Venkateshwara Hatcheries waited for the actor to take him to Mumbai. Dutt was not seen exchanging any pleasantries with the prison staff this time, apparently keeping in mind the controversy triggered by his handshake with policemen during his release on interim bail a few months ago.

Sporting a "tilak" on his forehead, the actor chose not to interact with journalists who greeted him with shouts of "Sanju Baba."

Earlier, Dutt's lawyer Satish Maneshinde complied with the prison regulations and dropped the Supreme Court bail order, routed through the Terrorist and Disruptive Activities (Prevention) Act court, into a box outside the jail gate in the morning to complete legal formalities.

Dutt had carried on with his assigned cane furniture work as part of the mandatory manual labor for convicts during his stay in jail.

|TOP|

---
Future of Films

India may brag about being the highest film producing nation but it has a poor record when it comes to film preservation.

"India is the largest producer of cinema. But when it comes to the question of preserving we have to shamefully admit that (the) percentage of survival of cinema is very low," Pune-based National Film Archives of India director K.S. Sasidharan told reporters during the ongoing International Film Festival of India 2007 here.

NFAI has teamed up with the Thomson Foundation for Film and TV heritage to produce a special section — IFFI Goa Film Treasures.

Sasidharan said that hardly 20-25 percent of films produced in India are preserved. Sasidharan, who heads India's only agency for film restoration, said it was necessary to sensitize the film industry and producers who are unaware that their products are susceptible to decay. "For most filmmakers, cinema is entertainment and glamour, not an art form," he alleged.

The NFAI, which has 17,000 films in its collection, is falling short of its target as none of the private firms are interested in film preservation.

Seeking the media's help in their goal, Sasidharan said filmmakers should not forget about their product after it is produced.

He said the average life of a black and white film is 100 years while for color films it is shorter. Ideal storage conditions and low humidity levels are important for film material, the NFAI director said, adding that the European climate is more film-friendly compared to India.

He said, "Without preservation we will not be able to save our rich film heritage. We have not been able to save a single print of Alam Ara, a film which was produced 18 years after the first film was produced in India."

|TOP|

---
Bully for Goa

Union Information and Broadcasting Minister P.R. Dasmunshi's announcement to continue Goa as the permanent International Film Festival of India venue has evoked mostly positive reaction from filmmakers.

While a few still maintain their viewpoint that Goa is not suitable to host such an international festival, many feel that infrastructure upgradation has made it a right choice.

Dasmunshi, while inaugurating IFFI 2007, had declared that Goa will continue to be IFFI venue while the central government plans for various film festivals across the country.

"Goa is the best place as long as two issues environment and economy are looked into," eminent director Shekhar Kapoor said.

He said that in places like Cannes, the film festival has helped to bolster the economy of the state. "I think Goa can do that and it should help the state's economy and people."

The state, which has been hosting the festival since 2004, has added 50 percent additional infrastructure for IFFI 2007 compared to its edition last year. Instead of five screens last time, this year the films are being screened on nine screens at three different venues.

"It is really a good decision to have Goa as a permanent venue. The state should be allowed to continue and grow," Bollywood filmmaker Ketan Mehta said.

Mehta, who actively participated in National Film Division Corporation's film bazaar during IFFI, opined that Goa should be given time to grow as a film festival venue.

International filmmakers like Mario Stefans, representing German production company fieber.film, said Goa is a perfect venue for the festival as it is also the preferred destination for travelers visiting India.

Malayalee director Lenin Rajendran, however, prefers Delhi and Bangalore to Goa as IFFI venue.

"I am not against a permanent venue but the best thing would be to standardize it. They let (an) event management company handle it and the worst part of that arrangement is that event management people don't know the film personalities," said Rajendran, whose film Ratri Maza is in IFFI 2007 competition section.

"Goa is a place for tourists . At the most, you can have tourism film festival here," Rajendran said.

|TOP|

---
---