AUTO REVIEW:
For All Ages: 2008 Honda Element SC


The new Honda Element is not just a fun car to drive, its popularity crosses generational lines, writes Sally Miller Wyatt.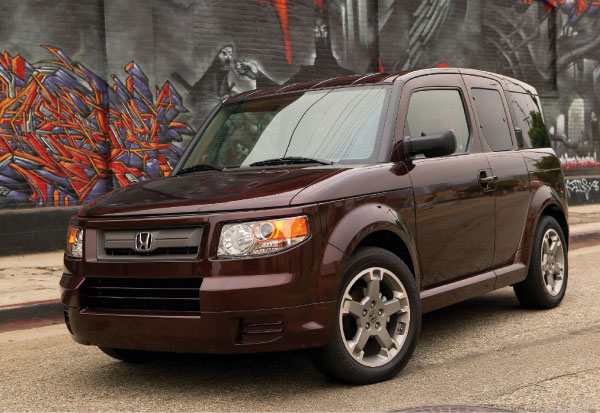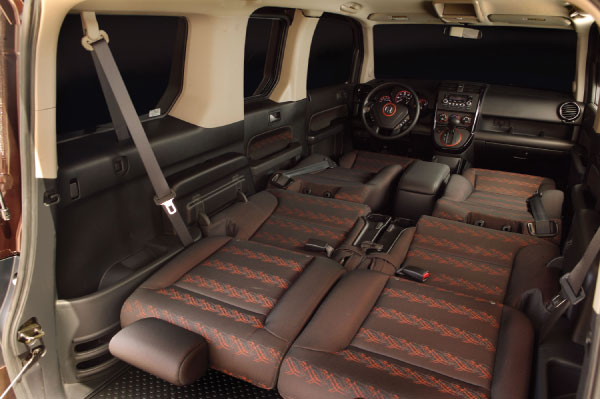 (Above): Exterior (top) and interior (bottom) views of the 2008 Honda Element SC.

---
I bet when Honda came up with the concept for its boxy, versatile Element, they were thinking they had created a vehicle just for snowboarders, surfboarders or musicians. I also bet they didn't figure the Element would be such a hit with the gray-haired crowd, either. I think the Element's popularity crosses generational lines because it fits the bill for Gen Xers and all the activities in which they are involved. It also appeals to those Baby Boomers who refuse to drive a minivan but want — and need — the flexibility that the Element offers.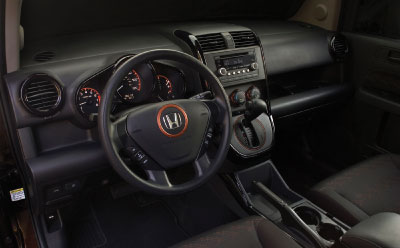 I knew I was in for a fun ride when the Element SC that arrived for our test drive was decked out in "Root Beer Metallic" exterior paint and accented on the interior with copper-colored dials and knobs. The copper theme was also inter-woven into the cloth seat fabric. Some might say the car looked "brown," but I sure like the sound of Root Beer better.

Honda offers an Element, which starts at $18,980, and an Element SC, which starts at $22,775. The SC is the low-to-the-ground version, and it has low-ride height suspension and low-profile tires, among other things, as well as that Root Beer Metallic paint.

A quick walk around all Elements and you'll see they have a "clamshell" tailgate that opens up and out. Here in the cargo area you will find a 12-volt outlet, which could be nice to have if you're tailgating or camping.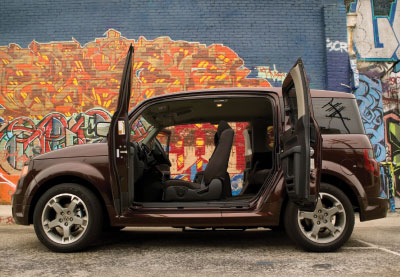 Elements have "suicide" side doors that open wide enough to just about fit a piano through them. The Element's rear seats fold in as many as 64 configurations, including flat and up onto the side walls. Again, this leaves a space roomy enough for a piano — or surfboards, snowboards, speakers, amps and keyboards. Or, that terrific find you discovered while out antique shopping.

From a family perspective, the Element only seats four, so that does limit the number of children you can tote around. But the rear seats are generous in their size, both for hips and shoulders. There is a large amount of foot room here for your rear seat passengers, too.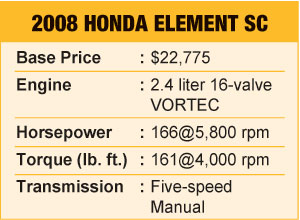 Safety features are key, and the Element has them from the ground up. It has side-impact door beams and six air bags, including side curtain air bags with a rollover sensor. Vehicle Stability Assist helps senses oversteer or under-steer in emergency situations, and when it does detect these actions, it adjusts brake pressure at each wheel and/or reduces engine power to help restore driver control and keep you on the road. The car also has four-wheel anti-lock disc brakes with Brake Assist, which allows for full braking force. Also on board is Electronic Brake Distribution, which helps balance braking force. Together this represents top-drawer braking technology and makes it to the top of my list for safety features. The Element also earned five stars from the National Highway Transportation Safety Administration for its performance during crash tests, putting it at the top of their safety list as well.

On the road, you'll find the Element is a lot of fun to drive. Its 16-valve, 2.4-liter engine was certainly powerful enough when you needed the boost to get up and onto freeway on ramps without being a gas-guzzling hog. It handles well and is quite maneuverable. Its boxy framework does make it a bit harder to handle on windy days, however.

Rear seats are elevated a bit, which gives your rear passengers even better visibility.

Overall, we found the Honda Element to be a very fun car to drive. Its wide-opening rear doors and incredibly flexible seating makes it versatile enough to haul the band's gear from gig to gig, or you from store to store.

---
Sally Miller Wyatt is a freelance writer who writes family-oriented auto reviews for newspapers, magazines and the Web.