COVER STORY:
The Art Of Kashmir: Asia Society Exhibit


The Asia Society is hosting the first-ever major exhibition in New York devoted to the art of Kashmir. This landmark exhibition presents 130 objects of exemplary quality, dating from the 2nd to the 20th centuries.
A Siliconeer report.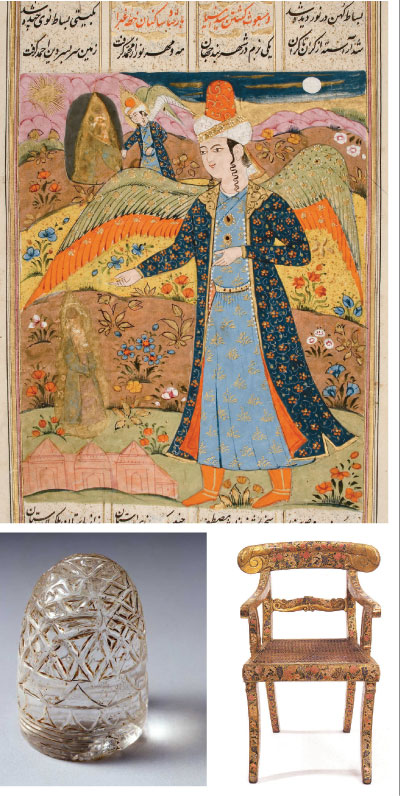 (Top, left): The Archangel Gabriel [unidentified poetic chronicle]
Kashmir, 18th century
Opaque watercolor and gold on paper
H. 9 17/32 x 5 21/32 in. (24.3 x 14.4 cm)
San Diego Museum of Art (Edwin Binney 3rd Collection), 1990:1467
[SAN DIEGO MUSEUM OF ART (EDWIN BINNEY 3RD COLLECTION) photo]

(Bottom, left): Sri yantra
Kashmir, 12th–15th century
Rock crystal
H. 2 3/4 x W. 1 11/16 in. (6.9 x 4.3 cm)
Anthony d'Offay, London
[ANTHONY D'OFFAY photo]

(Bottom, right): Armchair
Kashmir, about 1870
Painted and varnished wood with carved seat
H. 35 x W. 24 in. (89 x 61 cm)
Victoria & Albert Museum, IS. 98-1871
[V&A IMAGES/VICTORIA AND ALBERT MUSEUM photo]

The Asia Society is presenting the first-ever major exhibition devoted to the rich artistic tradition of Kashmir. The exhibit is on view between October 3, 2007 and January 6, 008 at the Asia Society, New York.

"An important cultural bridge between the Indian subcontinent and regions to the west and east for over two millennia, the Kashmir Valley was a vibrant hub of intellectual activity for its Buddhist, Hindu, and Muslim populations," the Asia Society said in an announcement. "Multiple cultural influences have fostered a unique artistic environment of diverse aesthetics, witnessed in this landmark exhibition of 130 sumptuous objects of exemplary quality, dating from the 2nd to the 20th centuries."

It took Asia Society and guest curator Dr. Pratapaditya Pal six years to assemble the 138 objects from 41 lenders. There are 14 works on loan from the government museum in the Kashmiri capital of Srinagar — most of which have never been seen outside of India

Pal, the world's leading authority on the subject, comments that the exhibition "tells the story of generations of Kashmiris who excelled in producing art in a wide variety of media, not only the shawls that have become almost synonymous with Kashmir."

The exhibit comprises works of Buddhist, Hindu, and Islamic art, including sculpture, painting, and calligraphy loaned from collections in the U.S., Europe, and India. Many of the objects have never been seen outside of India; in some cases they have never been exhibited or published anywhere.

Pal has been engaged with the art of Kashmir for more than thirty years. The author of more than 50 books and numerous major exhibitions, Pal has conducted pioneering research on the arts of Tibet, Nepal, and India. A fully illustrated, 224-page scholarly book edited and authored by Pal accompanies the exhibition.


---
(Left): Dragon shawl
Kashmir, Dogra period, about 1860
Woven Wool
L. 74 13/16 x W, 65 in. (190 x 165 cm)
Private collection, courtesy of Simon Ray, London
[SIMON RAY photo]

---

"It's all here, and with it a sense of Kashmir, not just as a luxury destination or a battlefield but as the lived-in, loved-in, worshipped-in, created-in, dreamed-in land it was, and is.... There are glimpses of heaven here," said The New York Times.

The exhibition is organized chronologically, with works dating from Kashmir's beginnings as an important center for Hindu and Buddhist practice and philosophical development. One of the earliest pieces in the exhibition is a 4th-century terra-cotta tile depicting crouching ascetics and birds from Harwan, a site associated with Buddhism.

Later works show further refinement of the Kashmiri sculptural aesthetic, such as a remarkable and elaborately wrought 9th-century bronze Mandala of Vishnu.

The exhibition also includes a stunning array of bronze Buddhist sculptures, including a 10th-century brass Buddha, on loan from the Cleveland Museum of Art, with delicate and nuanced modeling, demonstrating Kashmiri mastery of metal casting.


---
(Left): Maharajah Gulab Singh
Kashmir, about 1846
Opaque watercolor and gold on paper
H. 11 11/16 x W. 9 3/16 in. (29.7 x 23.4 cm)
Victoria & Albert Museum
[V&A PICTURE LIBRARY/VICTORIA AND ALBERT MUSEUM photo]
(Right): Tile with crouching ascetics.
Kashmir, 3rd–4th century
Red terra-cotta
H. 20 3/4 x W. 11 3/4 x D. 2 1/4 in. (52.7 x 28.89 x 5.71 cm)
Los Angeles County Museum of Art, Given in memory of Christian Humann by Robert Hatfield Ellsworth, M.82.152 [MUSEUM ASSOCIATES/LACMA photo]

The subsequent arrival and spread of Islam, beginning with the early Sultanate period in the mid-14th century and reaching its height during the later Mughal era, witnessed an extraordinary patronage of arts, architecture, literature, and music. A stele with a Persian inscription of its Sultanate patron is one of the early Islamic pieces. During the Mughal period of the 16th to 18th centuries, enchantment with the valley's beautiful landscape and royal usage of the area as a retreat fostered romantic images of the Kashmir Valley. Mughal paintings from this period depict the rich courtly scenes and celebrations typical of the Mughal narrative tradition, while featuring distinctive local Kashmiri scenery and topographical features.

The Asia Society has presented a number of lectures by scholars who are involved with The Arts of Kashmir to coincide with the exhibition. Curator Pratapaditya Pal discussed the artistic heritage of ancient Kashmir at a lecture preceding the members' opening Oct. 2. John W. Seyller discussed "Kashmiri Elements in Mughal Painting" Nov. 2. Frank Ames' lecture is titled "From Mughal Whimsicality to Sikh Flamboyancy: The Kashmir Shawl Style" and was held Dec. 6.

---
(Cover photo): Buddha with bodhisattvas and royal attendants
Kashmir or Gilgit (present-day Pakistan), 715 (dated)
Brass with silver
H. 14 1/2 in. (36.8 cm)
Pritzker Collection [HUGHES DUBOIS photo]
(Editorial Page): The Buddhist deity Chakrasamvara
Kashmir, about 725
Brass inlaid with copper and silver
H. 8 1/4 x W. 5 1/2 x D. 2 1/8 in. (20.95 x 13.97 x 5.39 cm)
Los Angles Museum of Art, From the Nasli and Alice Heeramaneck Collection, purchased with funds provided by Mr. and Mrs. Allan C. Balch, M.85.2.4
[MUSEUM ASSOCIATES/LACMA photo]