PROTEST:
Crisis in Pakistan: South Asians Protest in the U.S.


The global protest against the imposition of emergency in Pakistan is not to bring specific politicians to power; it is to insist that the institutions of the judiciary and the media be restored to a position where they can play their role as a check on government excess, write Girish Agarwal and Sabahat Ashraf.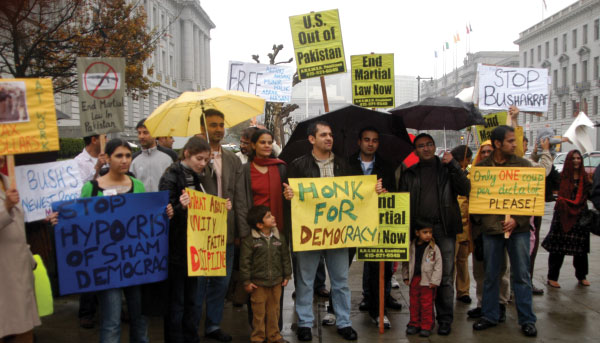 (Above): A wet and bedraggled but defiant crowd of protesters on Van Ness Blvd in front of the San Francisco City Hall. [SHARAT LIN photo]

---
Your tax dollars at work!" read the sign with a photograph of Pakistani police mercilessly beating an old protestor.

The place was San Francisco. The sign was meant for U.S. tax-payers. On a drizzly, cold afternoon, about a hundred people braved the weather to protest in front of City Hall a week after Gen. Pervez Musharraf declared emergency in Pakistan. The mood was angry. And the chants full-throated.

Protesters demands included: An immediate end to martial law in Pakistan; An end to US support of the military dictatorship; The restoration of the judiciary; The unconditional release of all political prisoners; The reinstatement of the constitution; and an end to all curbs on the news media.

Similar demands have been made by the protesters in Lahore, or listed on Web sites like Pakvoices.net, run by a coalition of activists and civil society organizations in Karachi, and on the petitions circulated by international peace groups like Avaaz.org

Our group, Friends of South Asia (FOSA), one of the organizers of this protest, has been in touch with a range of civil society groups both in Pakistan and in the San Francisco Bay Area since Musharraf declared a state of emergency in Pakistan Nov. 3. Although Pakistan has gone through similar crises in the past, the reaction of the civil society this time has been unprecedented — a wave of spontaneous protests by individuals and widespread mobilization by civil and human rights organizations, and political parties. And leading the charge are members of the legal profession.


---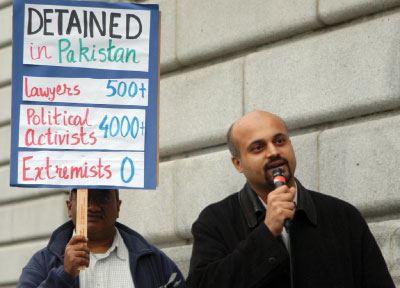 (Right): Pakistani American activist Khurram Mahmood addressing a rally in front of San Francisco City Hall Nov 10 organized to protest the recent emergency imposed in Pakistan. Girish Agrawal holds a poster in the background. [SHARAT LIN photo]
---

However, the protesters are not without detractors. A common critique is that replacing General Musharraf with an elected government will only lead to Benazir Bhutto, or Nawaz Sharif, or another similar corrupt politician coming to power. But this argument misses the point that the current movement is not to bring specific politicians to power; it is to insist that the institutions of the judiciary and the media be restored to a position where they can play their rightful role as a check on government and on the ills in society. As one FOSA member said, "It is true that we might only get Benazir at the end of all this — but it would be a Benazir with judges and civil society watching over her shoulder."

To be sure, the judges in the eye of the storm have often played footsie with the military in the past, including acquiescing to earlier constitutional modifications by Musharraf himself. But this has now changed. This time, by refusing to buckle under the demand by Musharraf to provide a cloak of legality to his actions, they have kick-started an unprecedented democracy movement across the country — amongst lawyers, young people, media workers, and other parts of civil society.



Internet: Pamphleteer of the New Age

The role of the Internet in organizing resistance to the emergency in Pakistan has been significant. Facebook, the current favorite platform for social networking amongst the young and connected has become a primary means of communication. Vigils and protests are being coordinated on that site, and photos and weblinks exchanged.

Reminiscent of the central role it played in collating and disseminating information about the Kashmir earthquake in 2005, WikiPakistan is documenting the situation in the country even as emergency measures are being rolled out. Lists of blogs with information on the situation, where to turn for live and archived TV news, statements from around the world, up-to-date lists of detainees and where they are, what events are being held around Pakistan and around the world in relation to the situation, and on and on, are all collated at the site.

So, while the business world obsesses about what the Web 2.0 phenomenon, the Wikis and the blogs, will do for the enterprise and the all-important bottom line, activists are using these tools to defy the barricades of censorship. The role that pamphlets and newsletters, often printed on makeshift printing presses, played for earlier generations, is today being played by these new media tools.


— Sabahat Ashraf


Sabahat Ashraf is a former Pakistani journalist and blogger known as iFaqeer who makes his living as a technical writer in the Silicon Valley. His blog can be read at
http://iFaqeer.blogspot.com



Critics also dismiss these protests as being limited to the upper-crust of society, and point out that there is no mass uprising. It is true that most Pakistanis have become progressively frustrated, disillusioned, and yes, apathetic to the way their country is governed. But this is because they feel powerless to change it. They see corrupt and inept civilian leaders on one hand, and a military establishment which has usurped almost all state institutions on the other.

However, it is the protesters today who, by demanding an independent judiciary and a free press, are promising a re-engagement of the people with the structures of the state.

But wouldn't Pakistan be overrun with fanatical mullahs if Musharraf gave up power? Do we really need to point out that fanatic militants have been most active during Musharraf's regime? It was the silencing of moderate, mainstream voices — political, social and religious — by Musharraf and by previous military dictators in Pakistan that resulted in the explosive growth of groups espousing a violent, militant religious ideology.



Musings: Personal Reflections of an Expatriate Pakistani

Going to bed yesterday I counted the nights my father has spent in Karachi Central Jail so far. I tallied 14, for it had been 14 days since General Pervez Musharraf proclaimed emergency in Pakistan. My father was not the only vocal opponent of Pervez Musharraf's illegal rule; in the wake of emergency thousands of other lawyers and political activists were preemptively detained by the Pakistani government.

After imposition of "emergency," Musharraf government removed independent-minded judges, and shut down gutsy private television channels. Many political leaders have either been put in jail or put under house arrest.

However, there isn't a unified mass movement in Pakistan ready to take on Musharraf's government. Why?

In Pakistan the largest, most organized special interest group has guns and tanks, it is the Pakistan Army. The army believes it can do a better job of governance than the Pakistani politicians. And not too long ago this conviction was widely shared by the common man in Pakistan.

In October 1999 when Gen. Pervez Musharraf overthrew the democratically elected government of Nawaz Sharif, jubilant crowds came out on the streets. Pakistanis were truly happy to see the corruption-riddled Nawaz Sharif government go. Before Nawaz Sharif, the credibility of erstwhile Prime Minister Benazir Bhutto was also eroded by financial scandals.

Unlike the Nawaz Sharif and Benazir Bhutto regime, Musharraf's rule saw business booming, an influx of foreign investment, among other positive developments. Who cares if these developments were largely a result of the post-9/11 geopolitical situation? Ordinary Pakistanis believed Musharraf to be the savior. External support from the U.S. cemented the general's grip on power.

Musharraf 's guise of democracy included elections; assemblies where political parties of all hues were present and an active opposition debated issues. But it all happened under the watchful eyes of a dictator who was both the president and the chief of army staff.

How can Pakistanis claim back their country from their army, especially when the country lacks credible political leadership? This question baffles the Pakistani intelligentsia.

In 1971, in a bloody showdown between the general population and the army, the largely unarmed population prevailed over the army with external help from India. This time around getting help from India is not an option.

Many Silicon Valley Pakistanis live with a guilty feeling. After getting an almost free engineering and science education in Pakistan, they are uncomfortable about leaving their country to its own devices and coming to the U.S. and making a fortune in Silicon Valley.

To make amends, some have opened up call centers and technology backend offices in Pakistan. But the emergency is changing things. A fear is creeping in. If Pakistan does not turn towards a truly democratic government, Silicon Valley Pakistanis, setting aside their love for their country of origin, will definitely question the wisdom of investing in a police state.


— Ali Hasan Cemendtaur


Ali Hasan Cemendtaur is a fiction and travel writer based in the Silicon Valley. His father, Abrar Hasan, president of the Sindh Bar Association, was detained in the wake of Emergency but has since been released.



Finally, we have to remember that the current struggle is not restricted to Pakistanis alone. Anti-war groups in the U.S. have organized a string of protests against the imposition of emergency in Pakistan because they see this as a manifestation of the militarization of global society, driven by the U.S. state. Lawyers' groups around the world, including the American Bar Association, have issued strongly worded statements because they see the independence of the judiciary and the rule of law as the basic foundation for a free and just society. A number of Indian groups are in the forefront of the protests, not simply because a free and democratic Pakistan is a necessary condition for a peaceful and prosperous South Asia, but also because of the shared memory of the nightmare of some thirty years ago when Indira Gandhi, like General Musharraf today, imposed emergency rule and suspended civil rights simply to get out of a political bind.

This is the moment for all of us to join the resistance movement in Pakistan, in whatever small way we can. The principles at stake are universal..

---
Sabahat Ashraf and Girish Agrawal are members of Friends of South Asia (www.friendsofsouthasia.org), a San Francisco Bay Area that promotes understanding and dialogue among South Asian Americans.
---
---