SUBCONTINENT:
Season to Spend: Diwali and Weddings in India


Diwali is the time when Indians like to gift, purchase, gamble, splurge and spread joy, and with the wedding season on top of it, India's affluent are on a spending binge, writes Siddharth Srivastava.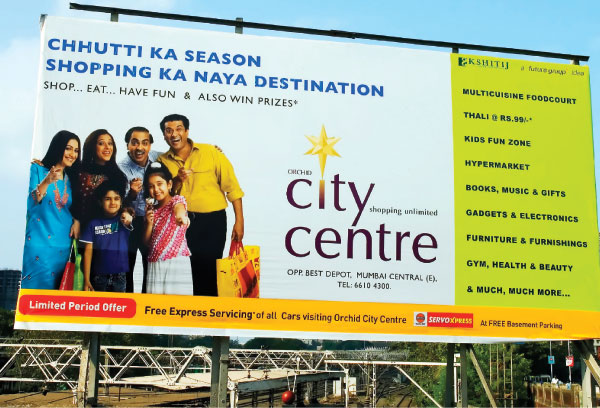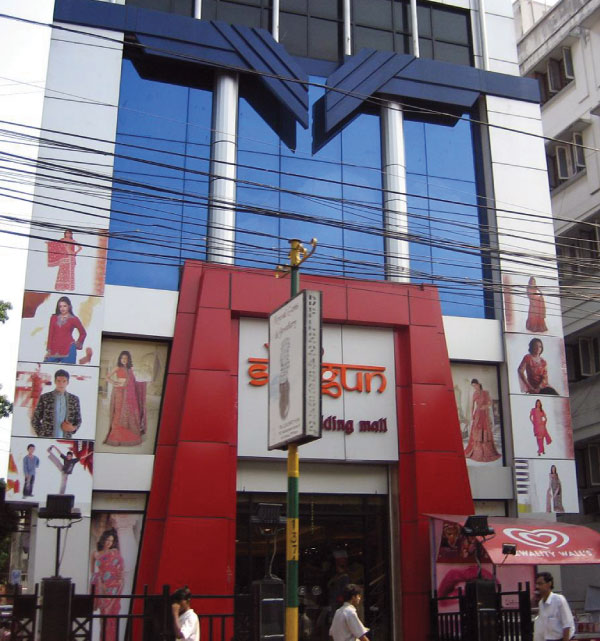 (Above): (Top): Billboard of a mall in Mumbai. [HUMAYUNN N A PEERZAADA photo] (Bottom): Shagun Wedding Mall, Kolkata.

---
It's the big Indian spending season. The wedding-festival season is underway in India, with Diwali, the festival of lights celebrated Nov. 9.

Now is the time when Indians like to gift, purchase, gamble, splurge and spread joy, also creating the most nightmarish traffic jams across cities, from morning till night.

It is estimated that the peak Hindu festival period of October-November (Dussehra-Diwali) witnesses retail purchases valued almost $15 billion comprising white goods, cars, gold, silver, gadgets, diamonds, sweets, crackers, dry fruits, garments and more.

The festival season also overlaps the wedding season from November to March, with expenditures calculated to be over $12 billion that cuts across hospitality, travel, jewelry, electronic goods and more.

It is the biggest business opportunity that India, Inc., plans for well in advance, via special discounts, interest waivers and freebies such as free gifts and holiday vouchers that are aggressively marketed on TV, billboards and elsewhere.

Though Indians celebrate other festivals such as Holi usually in March or the week leading to the new year with gusto, nothing matches the current buying frenzy.

There is a cash back offer on every credit card and despite the runaway international crude oil price, the government has decided to postpone a hike in gas and diesel prices in order not to dampen spirits.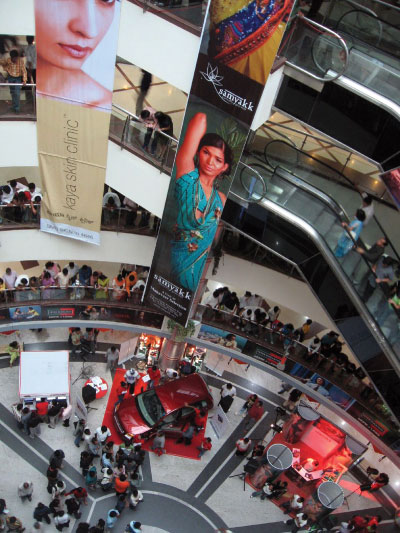 ---
(Right): Garuda Mall, Bangalore.
---

Needless to say, corporate annual performances are based on sales figures of the winter months.

Almost 20-25 percent of India's total auto sales (1 million, including two-wheelers) happen during this period. Most carmakers launch their newest models now.

Electronic items and home appliances such as TVs, washing machines, music systems, DVD players, air conditioners, microwaves, clock almost 30 percent of annual sales in these two months.

Companies in the fray include big names such as Samsung, LG, Hitachi, Dabur, Nokia, PepsiCo, Philips, Hyundai, Honda, Ford, General Motors, Mitsubishi and many more.

According to Samsung India deputy managing director R. Zutshi, "Our special offering for the festival season this year comprises of an exciting, new array of innovative products and assured gifts across all our products.'' Samsung is expecting to sell over half a million TV sets during this period.

Most of the country's top organized retail outlets like Spencer's, Big Bazaar, Shopper's Stop are reporting sales bursts ranging from 50 to 200 percent.

Almost an estimated $250 million is expected to be spent on flowers, candles, fruits, dry fruits and sweets that are the most common gift items during Diwali. Special greeting cards produced by companies such as Hallmark are selling big.

Last year, on Oct. 19, an auspicious day to make new purchases (called Dhanteras), Finnish cell phone maker Nokia reportedly sold over 400,000 handsets in India, a number not achieved anywhere else, including the fastest growing market China.

The average monthly sales of 6 million cell phones in India are far overtaken in these months.

Cashing in on the three-day festival weekend is India's huge film industry, Bollywood that has lined up two of its biggest releases Om Shanti Om featuring superstar Shah Rukh Khan and Saawariya, made by one of the country's top directors.

Then, of course, there are weddings. Indians are known to liberally loosen their purse strings and exhaust lifetime savings for two expenditures: education and marriage of their children.

Around 30-40 percent of India's annual gold sales take place in the period up to December, by which time most marriages are already planned.

This time gold has surged to a two-year high, which is driving the demand for diamonds that is expected to clock a 100 percent rise in sales over last year during this period. India is one of the biggest markets for jewelry and precious stones.

The budget of an average Indian wedding can range from $4,000 to $400,000.

According to some calculations, the minimum a middle-income family in India will spend on a wedding is almost $35,000, compared with $25,000 a similar American family spends.

Richer business families think nothing of hiring top Bollywood stars such as Shah Rukh or Kareena Kapoor to make a special appearance, do a dance performance and bless the couple.

Sometime back, steel baron Lakshmi Mittal specially flew Shah Rukh to London for his daughter's wedding. He reportedly spent more than $50 million to celebrate the occasion.

Some stars have gone on record to say that the money they make out of dancing in weddings gives them the cushion to experiment with their acting skills in low-budget movies.

At this time, hotel or airline reservations to exotic destinations ranging from Goa to Kerala are near impossible to find, booked by entourages of relatives and friends celebrating a marriage.

Rack rates can be ten times normal prices. Most airlines, facing the heat of intense competition, rely on this quarter to shore up their yearlong revenues.

Indeed, apart from tradition and religious beliefs, the reason for such high expenditures is undoubtedly rapidly rising-income for a part of the population and the resulting feel good factor.

It is estimated that there are over a 100,000 high net-worth Indians with liquid assets of over $1 million. Their total wealth is predicted to touch $500 billion by 2010.

Close to two million Indian households are estimated to earn more than $100,000 dollars a year, with this number expected to rise to over 5-7 million soon.

For them, the vast swath of poverty around the metropolitan areas are somebody else's problem. As far as they are concerned, it's spend like there's no tomorrow, and Indian retailers are only too happy to oblige.

---

Siddharth Srivastava is India correspondent for Siliconeer.
He lives in New Delhi.