BOLLYWOOD:
Romancing with Dev: Book Launch in Bay Area


Actor, director, producer Dev Anand launched his autobiography 'Romancing With life' in the San Francisco Bay Area recently, writes Pravin Desai.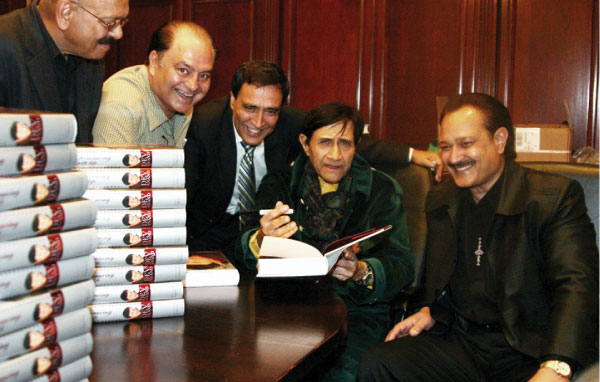 (Above): Dev Anand signing his autobiography at the residence of cardiologist Romesh Japra, M.D. (r), in Fremont, Calif. [PRAVIN DESAI photos]

---
Bollywood actor, director and producer Dev Anand's autobiography "Romancing with Life" was launched Nov. 2 at the residence of cardiologist Romesh Japra, M.D.

At the age of 84, he still has a youthfulness that would be the envy of people half his age. Revealing the secret of his youthfulness, he said, "Never look back, always look forward, for something new, something challenging, I love what I do."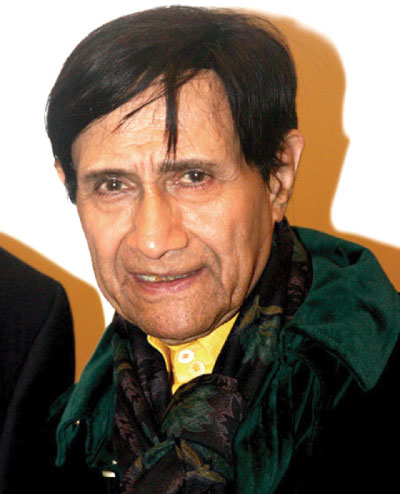 ---
(Right): Dev Anand — Still young at 84.
---
The book "Romancing With Life" is about Devsaab's 62-year journey that started in undivided India, looking back at his life when he moved from Lahore to Mumbai in the urge to become an actor.

Dev Anand said that the book had taken a lot of his time. "I have scripted it by hand, no computer was used, my only condition to the publisher was nothing should be changed. They agreed and now 'Romancing With Life' is in front of you, which mentions details of the book even my family does not know," he said.

Dev Anand born Sept. 26, 1923, in Punjab's Gurdaspur as Devdutt Pishorimal Anand. He came to Mumbai to join his elder brother Chetan Anand who was already in the film industry.

In 1950 he launched his own Navketan banner with his first film Afsar, which was followed with Taxi Driver, C.I.D., Kala Pani, Guide and Jewel Thief among many others. Dev Anand has acted in over 110 films and has directed several of them. He made India's first Indo-American co-production film Guide in Hindi and later in English version. Guide was well received in India.

Dev Anand is a recipient of the Padma Bhushan for his contribution to Indian cinema. He has received several awards in his career including the prestigious Dada Saheb Phalke award in 2001.

---

Pravin Desai is a freelance journalist and photographer based
in the San Francisco Bay Area.