TRAVEL:
Through Swiss Eyes: Americans Abroad


The ignorant, shallow American tourist is still not quite a thing of the past, but a generation of young American backpackers are charming Europeans with their warmth, curiosity and good manners, writes Al Auger.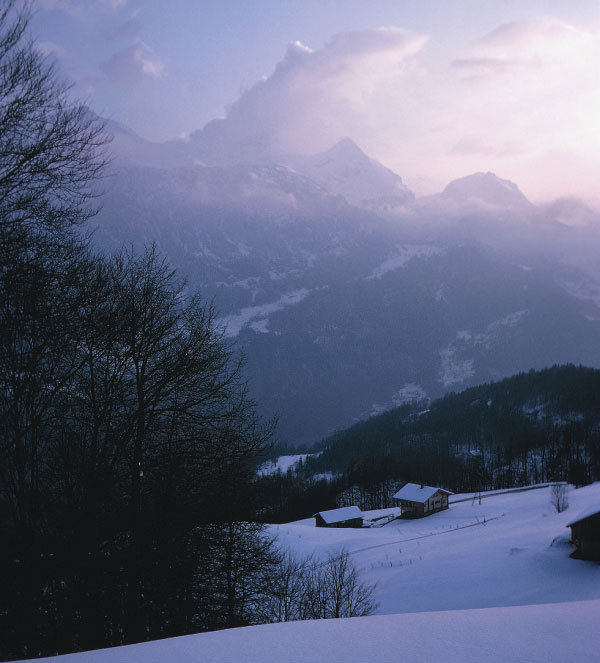 (Above): The Swiss Alps abound in undulating stretches covered in snow, providing perfect conditions for skiing.

---
Many a pundit has said that foreigners observe American culture in many ways that no American can. Our dream work/vacation trip of traversing Europe in a VW camper for a year proved this point nearly every day. By the end of the year I was looking at America through the eyes and minds of a European.

It began with skiing in the Swiss Alps. After we had settled in our first campground at Chur, Switzerland, my first target was to find out if the Europeans still found the so-called "ugly Americans" among the tourists. It seemed almost serendipitous when we met Gustave, our first friendship in Europe. Gustave, a skier, is a doctor from Lake Constance in Germany. He was also a businessman who traveled considerably.

My wife and I were skiing in Sauvignon one day and, as was our usual practice, we would retire to our van after the last run to relieve ourselves of our boots, prop our feet up on the shelf and leisurely sip a refreshing glass of chilled pear or apple schnapps. This day was the kind you find in ski resort brochures: blue sky, puffy clouds scudding by, warm spring sun shining down on just a cover of ego powder snow. Our side door was open and two men appeared at the car parked next to us. "Guten Tag," they greeted us. "Haben kaum Schnaps, bitte?" I asked, totally fracturing my minimal German. So we met Gustave and his friend, Kurt, a retired gym teacher and neighbor. They were both jolly companions and the next hour flew by.

After saying our goodbyes, we headed back to our base camp at Chur. The next morning was a carbon copy of the day before so we set our breakfast up outside. Much to our surprise we spied Gustave coming out of the caravan three spaces away. What a wonderful and great opportunity it turned out to be, for Gustave was a font of knowledge and opinions.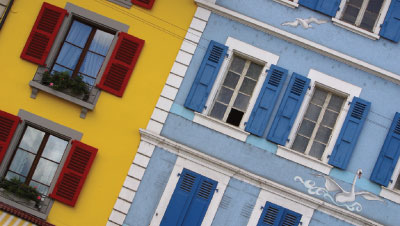 ---
(Right): Apartment buildings in pastel shades add its own dash of color to beautiful surroundings

We spent the next few weeks skiing in the Swiss Alps with Gustave and Kurt, and Gustave proceeded to educate me on the good, the bad and the ugly when it came to Americans in Europe. In doing so, he also elevated, to my cynical and innocent mind, the young American traveler on to a much higher plane.

---

In answer to my first question, Gustave laid the foundation for the rest of the conversation. "The best travelers I have met are the young Americans at campsites such as this one. (note: the majority of Europeans use campgrounds in many ways. The most popular is to leave their "caravan" [trailer] at a campground and use it as we use cabins and country homes.)

"They are not only curious, they try to speak the language of the country — and many are quite fluent, they are interested in the people and environment and are not afraid to eat the local food. But, most importantly, they realize they are a guest of that country and act accordingly. At least, most of them do. I have found them wonderful."

But, what about the American tourist, I pressed. "Ah, well, they do exist. I find them everywhere I go on business. Grouped with their English-speaking guide; spending five minutes at this church, 10 minutes at this monument.

"But, understand they are here for probably only one time, they have never encountered foreigners straight on. They are nervous and unsure of themselves. I have to admit, they are much better than they were a few years ago, but there are still pockets of the innocent travelers."

The good doctor pointed out that while the European is virtually surrounded by people, cultures and environments different than theirs, Americans can travel 3,000 miles east and west and 2,000 miles north and south and never encounter a foreign language or be without familiar food and accommodations. I quoted Edward Newman's statement that America is the one place you can get on a freeway and travel clear across the continent and never see a thing. "Yes," he admitted with a sigh, "that is a tragedy."

With that echo of his advice always in the back of my mind as we covered Europe over the next 12 months, I found the good doctor's feelings to be the way most Europeans thought of any American who really tried to fit themselves into the particular environment they found themselves in.

And this attitude was most prevalent where the young people flocked. In Amsterdam, where we were shopping for a used VW camper, I met many American and foreign travelers also looking for cheap transportation or filling the pensions. They were vital and alive and fun to be around. They even made an old, married couple feel young.

---

Al Auger is a freelance writer.
He lives in Redding, Calif.