EDUCATION:
Bad for Teachers, Bad for Students: The Federal NCLB Act


David Sanchez, the first Latino president of the California Teachers Association and a former bilingual teacher, was scathing about the failure of the No Child Left Behind law at a recent meeting with the press, writes New America Media's Amanda Martinez.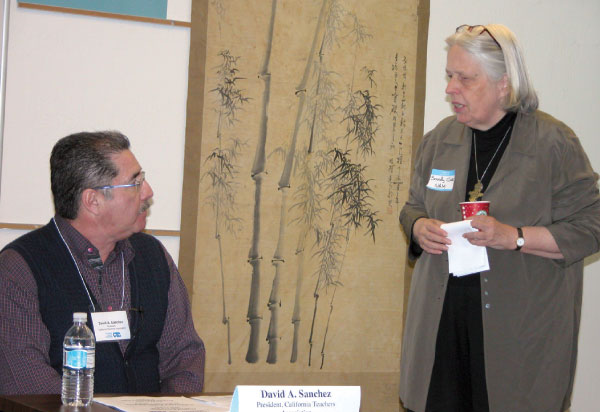 (Above): California Teachers Association president David A. Sanchez (l) and New Amercia Media executive director Sandy Close at a media briefing, Nov. 13, at the NAM headquarters in San Francisco. [Siliconeer photo]

---
California Teachers Association president David Sanchez lambasted the federal No Child Left Behind law, calling it demoralizing to students, teachers and schools.

Sanchez spoke about his concerns Nov. 13 at a media briefing sponsored by New America Media, the country's first and largest national collaboration of ethnic news organizations.

Signed into effect by President Bush in 2002, the No Child Left Behind Act expanded the role of the federal government in holding states and public schools more accountable to students' progress. The government mandated that schools hold a standardized test to gauge students' proficiency.

Sanchez noted that because the standards of student proficiency, which are determined individually by the states, are high in California, it puts an enormous strain on the state's public school teachers and students.

The No Child Left Behind law requires schools to make "adequate yearly progress," and is pushing for 100 percent proficiency by 2014.

Since starting his presidency last June, Sanchez said, his biggest concern has been slowing down the process of the Act's reauthorization.

He is concerned that the Act directs too much of teachers' and students' attention to test taking. "The goal of schools should not be to pass a damn test, but to do well in school," asserted Sanchez.

Currently, 48 percent of the student body in California's public schools is Latino and 25 percent of students are English language learners. Sanchez, who is the first Latino president of the CTA, observed that he was very aware of the needs of non-English speaking students from his own experiences as a bilingual teacher.

"It is criminal to test children in languages they don't read, write, or speak," he said.

Sanchez said he has been advocating for a re-evaluation of how schools test students. He believes that it would take multiple measurements to truly understand how students are performing academically.

The CTA president criticized the NCLB for not being able to close the achievement gap between Latino and African American students on one side and white and Asian students on the other. "It is the biggest failure of No Child Left Behind," said Sanchez.

---

Amanda Martinez covers education for
New America Media.