EDITORIAL:
Kashmir's Artistic Tradition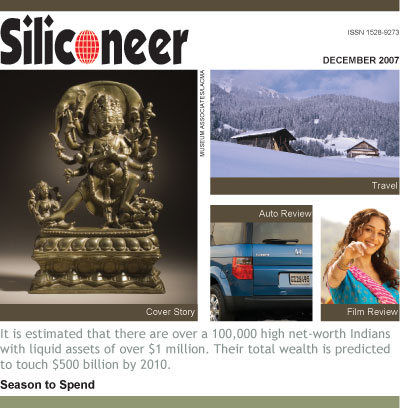 India's increasing global visibility has surely gladdened the hearts of its far-flung diaspora. After decades of having to bear the burden of coming from a country which was a byword for poverty and corruption, it is a pleasant surprise to be regarded with respect and even wariness as India's economy seems to continue to grow at a blistering pace.

Indo-U.S. relations have not only undergone a sea change, the perception of India has also changed in the mainstream U.S. media and population.
From being a niche interest of the tie-dye crowd and New Age devotees, India now commands widespread respect and attention.

This month's cover story is a reflection of that. The New York-based Asia Society is hosting a remarkable exhibit on the artistic tradition of Kashmir

"The Arts of Kashmir comprises works of Buddhist, Hindu, and Islamic art, including sculpture, painting, and calligraphy loaned from collections in the U.S., Europe, and India. Many of the objects have never been seen outside of India; in some cases they have never been exhibited or published anywhere," the Asia Society said in an announcement.

"Multiple cultural influences have fostered a unique artistic environment of diverse aesthetics, witnessed in this landmark exhibition of 130 sumptuous objects of exemplary quality, dating from the 2nd to the 20th centuries."

Meanwhile, Harvard University, arguably one of the most prestigious universities in the world, has launched a new program to pursue scholarship on South Asia with renewed vigor. The university itself calls it "the most ambitious expansion of research and education related to South Asia in the University's history." Guided by a distinguished steering committee of named professors that include world-renowned Indian scholars like Nobel laureate economist Amartya Sen, historian Sugata Bose and literary critic Homi Bhabha, this marks the first region-wide international initiative of Harvard president Drew Gilpin Faust. Faust said that accountability to the future requires that Harvard increasingly leap geographic as well as intellectual boundaries.

"One of my priorities as president is the University's engagement with societies throughout the world," she said. "Our unprecedented expansion of scholarly engagement with the people, cultures, institutions, and economies of South Asia will enable us to contribute to the continued development of this critically important region while simultaneously learning from its rich past."

Pakistan's recent descent into emergency has not only caused concern but outrage among many South Asians. It's the same old tired tale: A uniformed strongman takes over power, all in the name of good governance, then refuses to go after he has overstayed his welcome. Unfortunately, Pakistan's experience with democracy has been intermittent and not always pleasant. In its troubled short history, it simply has not had the opportunity to develop either democratic institutions or a democratic ethos that gives its polity the space to exercise its will.

The South Asian nation's latest autocrat, the glib tongued Gen. Pervez Musharraf, is showing a familiar reluctance to leave the nation's top office, accompanied by dubious protestations of doing it all for the sake of the nation. What's more disquieting, however, is an apparent lack of a mass movement for democracy which likely masks a depressing crisis of faith among the Pakistani people.

South Asian activists in the San Francisco Bay Area, as elsewhere, have risen in protest. In this month's issue we discuss their demands and assessment of what's happening in that nation.

India's spectacular economic growth in recent times is too well known to belabor repeating. What's less well known, particularly among expatriates too keen to celebrate news of its progress, is that the growth does not go that far. Step a few miles outside the glitz of its shiny metropolises, and you are in a sea of rural poverty with appalling human development indices.

All of this is not entirely due to government apathy or neglect. Corruption plays a big role, too. An Indian American doctor and his associate have done a study in some villages in Uttar Pradesh, whose findings have been subsequently published in the Journal of the American Medical Association.

As they say in the U.S., there's good news and bad news. The bad news is that not only are services poor, but a lot of people are unaware of what services they are entitled to. The good news is that if people are made aware of their rights, the delivery of government-paid services improves.

Hold the applause, though. The study shows that even with improved information, there is still a long, long way to go.

The study is an eye opener in terms of how underserved Indian numerous poor are. This month's issue carries a detailed article by the main author of the JAMA study, who stresses the need for public awareness.

Do drop us a line with ideas and comments about how we can make Siliconeer better serve you.