EDUCATION:
Harvard Initiative: Focus on South Asia


Harvard University has unveiled what it calls "the most ambitious expansion of research and education related to South Asia in the university's history." The project includes a host of new programs related to South Asia developed by senior scholars and administrators from across the University and leaders from the public and private sectors around the world. A Siliconeer report.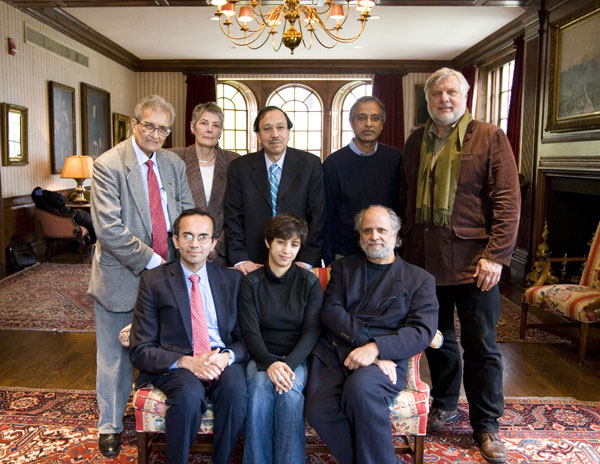 (Above): The South Asia Initiative Steering Committee met at the Harvard Faculty Club Nov. 19, 2007 at Harvard University.
(Front row, from l): Tarun Khanna, Rohini Pande, and Homi K. Bhabha. (Back row, from l): Amartya Sen, Jennifer Leaning, Sugata Bose, Krishna G. Palepu and Leonard van der Kuijp. [ROSE LINCOLN/HARVARD UNIVERSITY photo]

---
Spurred by exceptionally keen interest shown by Harvard president Drew Gilpin Faust, Harvard University has launched an unprecedented initiative to expand its intellectual pursuits on South Asia.

"One of my priorities as president is the university's engagement with societies throughout the world," Faust said recently. "Our unprecedented expansion of scholarly engagement with the people, cultures, institutions, and economies of South Asia will enable us to contribute to the continued development of this critically important region while simultaneously learning from its rich past."

Other Harvard scholars supported Faust's emphasis on South Asia.

"India may well be seen, in today's public discussion, merely as China's alter-ego, but South Asia's long history and rich traditions deserve serious study, for which Harvard can be a wonderful base," said Amartya Sen, Lamont University Professor and winner of the Nobel Prize for economics.

The initial objectives of Harvard's approach to South Asia are to:

Increase the number of professors whose focus includes research related to the region;

Expand financial support and scholarships for students from South Asia accepted at Harvard;

Accelerate research related to South Asia by Harvard scholars;

Facilitate travel to and from South Asia for students and scholars from Harvard;

Increase the number of researchers, scholars, and students from South Asia who come to study, teach, and learn at Harvard;

Further partnerships with universities and other organizations in South Asia with whom Harvard may partner; and

Strengthen the South Asian community on the Harvard campus.

The implementation of Harvard's plans related to South Asia will be guided by a steering committee comprised of eight scholars from across the university. These are some of the most distinguished scholars in their fields, and include world renowned Indian scholars like economist Amartya Sen, historian Sugata Bose and literary critic Homi Bhabha.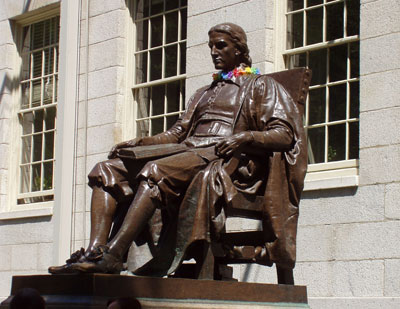 (Right): Statue of John Harvard at Harvard University.

Chaired by Bose, director of the South Asia Initiative and the Gardiner Professor of Oceanic History and Affairs at the Faculty of Arts & Sciences, the committee includes Homi K. Bhabha, Anne F. Rothenberg Professor of the Humanities and Director of the Humanities Center at the Faculty of Arts & Sciences; Tarun Khanna, Jorge Paulo Lemann Professor at the Harvard Business School; Jennifer Leaning, professor of the Practice of International Health at the School of Public Health; Krishna G. Palepu, Ross Graham Walker Professor of Business Administration and Senior Associate Dean for International Development at the Harvard Business School; Rohini Pande, Mohamed Kamal Professor of Public Policy at the Kennedy School of Government; Amartya Sen, Thomas W. Lamont University Professor; and Leonard van der Kuijp, Professor of Tibetan and Himalayan Studies at the Faculty of Arts and Sciences.

"Today we embark on a multi-year undertaking to increase Harvard's research and learning related to South Asia," said Professor Jorge I. Dominguez, vice provost for international affairs and one of the architects of the South Asia project. "Harvard's approach to South Asia is one of mutual respect and collaboration. We have built and continue to build partnerships and relationships with students and scholars from organizations in South Asia."

"I am pleased that Harvard was able to benefit from the expertise and input from so many of our faculty, alumni, and friends during our planning process," added Dominguez. "I am particularly appreciative of the early investments made by a number of specific individuals and organizations which will help launch and support these efforts."

Harvard has received a number of major gifts of $1 million or more to support its expansion of activity related to South Asia. These include a gift from Sanjeev K. and Karen Petersen Mehra to endow the "Mehra Family Professorship of South Asian Studies," and gifts from Arvind Raghunathan, Anand Mahindra, Mala Gaonkar Haarmann, Victor J. Menezes, Vikram Gandhi, and Eshwar Das.