NEWS DIARY | MARCH:

Bangladesh Honors Indian 1971 War Veterans | Democracy with a Difference in Bhutan | U.S.: Clock Ticking | 'Eat Potatoes' | Case Withdrawn | Royalist Threat | Heavy Fighting | Body Flown Back


---
Bangladesh Honors Indian 1971 War Veterans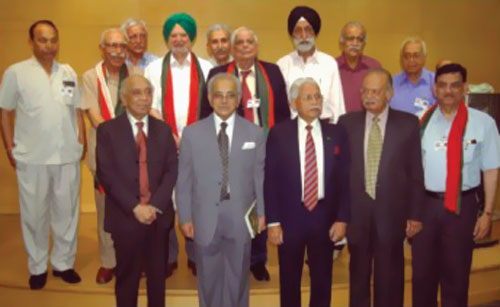 Visiting 1971 war veterans of the Indian Army pose with the leaders of the Sector Commanders' Forum at a reception in Dhaka.

At an emotional gathering at Dhaka's Bangladesh-China Friendship Conference Centre, India's former Army chief of general staff reaffirmed the close ties with muktijoddhas (freedom fighters) forged during Bangladesh's 1971 liberation war.

"We were comrades in arms, we fought together shoulder to shoulder," said Lt. Gen. (Retd.) J.F.R. Jacob, former chief of general staff of eastern command of India.

An 11-member delegation of Indian war veterans lead by Jacob visited Bangladesh at the invitation of Bangladesh Chief of Army Staff Gen, Moeen U. Ahmed.

The Sector Commanders Forum in Bangladesh organized the reception in honor of visiting 1971 Liberation War  veterans of the Indian Army.

"In the last phase of the Liberation War for Bangladesh in 1971, liberation forces of Bangladesh and the Indian army joined forces to annihilate the occupying Pakistan forces in battlefields," reported the Dhaka daily Daily Star. "After 37 years of their victory, the wartime friends of the Liberation War gathered under the same roof . . . in the capital of Bangladesh."

The visiting Indian ex-army veterans and their Bangladeshi comrades turned nostalgic in remembrance of their victory over the Pakistan occupation army in 1971. The war heroes embraced each other.

"The gallant warriors were joined by a large number of politicians, lawyers, cultural activists, businessman, retired armed forces officials and human rights activists — who also took part in the War of Independence directly or indirectly," wrote The Daily Star.

After entering at the reception hall, Jacob embraced deputy chief of the liberation forces Air Vice Marshal (Retd.) A.K. Khandker amid cheering and from an ecstatic crowd.

During a brief ceremony, Jacob said, "You cannot understand what I feel. My heart bleeds... I am so touched....

"How can I express my gratitude, I can only say God bless you and God bless Bangladesh," he said.

Khandker, in his welcome address, said their visit should have taken place much earlier, adding that the people of Bangladesh will always welcome them with open arms.

|TOP|

---
Democracy with a Difference in Bhutan

Voters outside a polling station in Thimpu, Bhutan.

Schoolchildren in Bhutan are warned — one word of disrespect against their teacher, and they will be reborn as a dog, for the next 500 lives.

Respect for authority is inculcated from an early age in the secluded Himalayan kingdom.

Yet democracy came to Bhutan last month on the insistence of its much-loved fourth king, Jigme Singye Wangchuck, who decided people should choose their leaders, whether they wanted to or not, Simon Denyer said in a Reuters report.

As campaigning got underway, the two contesting parties turned voters off in droves with personal attacks during TV debates and in the newspapers.

Candidates wised up and began genteelly knocking on doors in search of votes.

"We don't tell people which party to vote for," one of those who won told me. "We just try to educate voters."

Something strange happened. If the king in his divine wisdom had given them a democratic choice, the people decided to grasp it.

After a century of royal rule, they would use this strange new tool to deliver a rebuke to a section of their own elite.

The landslide victor, winning 45 out of 47 constituencies, was Jigmi Thinley, twice prime minister under royal rule and one of the fourth king's closest advisers.

Yet the shock loser was the brother of the same king's four wives. Sangay Ngedup was even defeated in his own constituency, by a schoolteacher.

The election revealed that the king's relatives by marriage are not remotely as popular as the king himself.

The biggest winner in this bizarre election could have been the monarchy. By defusing any resentment that could have attached itself to the palace at a time of social change, the country's very first election kept the monarchy's reputation intact.

|TOP|

---
U.S.: Clock Ticking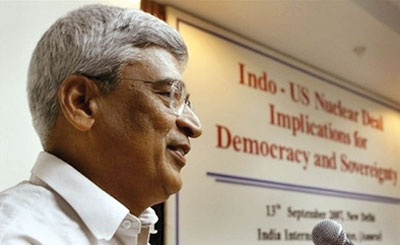 Indian Communist leader Prakash Karat. The Indian government's communist allies warned  they may bring down the government if it goes ahead with a contentious nuclear accord with the United States.

The United States said April 3 that time is running out to complete the nuclear deal with India under the Bush administration and signaled the issue may have to be revisited by the next U.S. president.

U.S. State Department deputy spokesman Tom Casey said the window for the U.S. Congress to consider the deal by the end of this year was narrowing because of the political deadlock in India, but said the Bush administration remained committed to seeing the deal through.

"Time is running out to be able to give this current Congress the opportunity to consider this arrangement," Casey said.

"Obviously, though, there would be opportunities in future Congresses and with the future administration to move forward on this, but certainly we can only talk for ourselves and this administration in terms of this arrangement," he added.

President George W. Bush and Indian Prime Minister Manmohan Singh inked the agreement in 2006 that allows the United States to sell nuclear technology and material to India for nuclear energy, and the two sides have since worked through complex negotiations to implement the deal.

But the communist members of Singh's governing coalition have threatened to scuttle the deal, arguing that India's sovereignty will be compromised because the agreement requires India to open its civilian nuclear program to international inspections.

"We do, though, respect the fact that there are still issues that the Indian political system needs to work through," Casey said. "And that's been the case for a while. But we certainly hope we can get there."

|TOP|

---
'Eat Potatoes'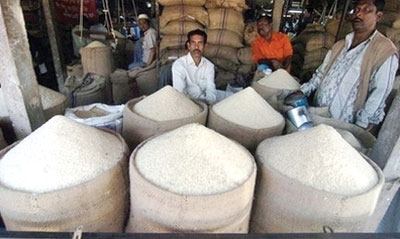 Rice vendors at a market in Dhaka.

Bangladesh Army chief, General Moin U. Ahmed, has advised his countrymen to "make a habit" of eating potato with rice to fight food shortage, media reports said April 3.

There has been a bumper harvest of potato, while rice is being imported from India to tide over the serious shortages caused by last November's cyclone. The New Age newspaper reported that the price of rice has gone up by Taka two to three in the last two days.

There has been panic buying by consumers at shops specially set up by the Bangladesh Rifles, the border security force assigned the additional task of procuring and distributing rice.

With the armed forces widely perceived as backing the present caretaker government of chief advisor Fakhruddin Ahmed, the Army chief has been taking pro-active measures and making suggestions in his public statements to help the government tide over domestic problems.

His advice came while addressing an army-supervised farmers' market at Bogra in northern Bangladesh, United News of Bangladesh news agency reported.

"Eating potato with rice will reduce its (rice) demand alongside fulfilling nutrition requirement. So, a habit of eating potato should be developed," he said.

With rice as the staple diet, the price rise has added to the inflation. But the government says it will tide over inflation once the new crop enters the foodgrain market next month.

|TOP|

---
Case Withdrawn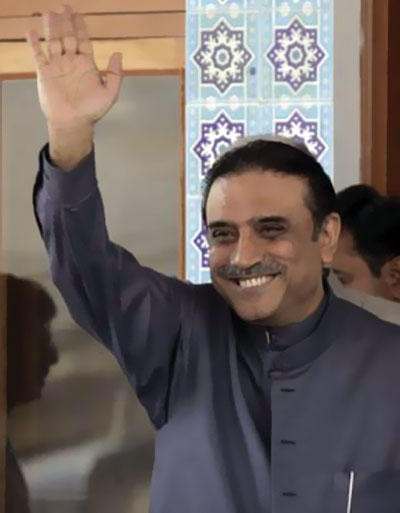 Asif Ali Zardari

Pakistan has dropped out of a 60 million Swiss franc ($59.6 million) Swiss money-laundering case against the widower of assassinated former Prime Minister Benazir Bhutto, its lawyers said yesterday.

A Pakistani court quashed the last of seven corruption cases against Asif Ali Zardari last month, clearing the way for him to hold office, and ordered the government to withdraw all legal action against him abroad.

He has been charged with aggravated money laundering by a Swiss court and the Pakistani government had joined the case as a civil party.

Swiss lawyers said the lack of a criminal prosecution against Zardari in Pakistan and the government's withdrawal as a civil party in the Swiss case had greatly weakened the chances of convicting Zardari under Swiss law.

Geneva judicial authorities have spent more than a decade investigating allegations that Bhutto and Zardari took kickbacks from Swiss cargo inspection companies and stashed the proceeds in Swiss bank accounts. The couple always denied the charges, calling them politically motivated.

The case against Bhutto ended with her assassination last December while campaigning in Pakistan's election.

Dominique Henchoz, a lawyer for Pakistan, confirmed its withdrawal as a civil party in remarks to the daily Le Temps. "Just because there has been an amnesty for the good of the country doesn't mean that no crime was committed," she added.

|TOP|

---
Royalist Threat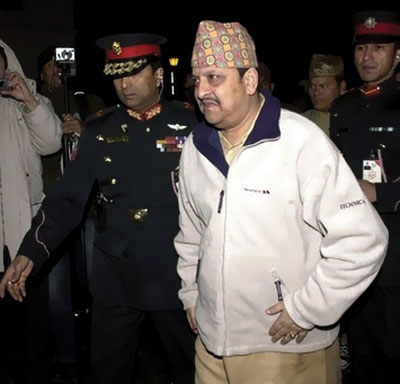 Nepal's King Gyanendra.

Allies of Nepal's embattled king have warned that the Himalayan nation could slide back into civil war if landmark elections next month lead to abolition of the monarchy.

Several prominent royalists insisted many people in the deeply traditional Hindu-majority nation wanted the 239-year-old institution to stay and were opposed to the rise of former Maoist rebels, in interviews with AFP.

The April 10 polls will be a culmination of a peace deal between the republican Maoists and mainstream secular parties that ended a decade-long insurgency aimed at toppling the monarchy that claimed 13,000 lives.

The ex-rebels and the parties have already agreed King Gyanendra will have to go after the polls to elect a body that will rewrite Nepal's constitution.

But Major General Bharat Keshwer Simha, a long-time royal aide, forecast a violent backlash. "If the Maoists can take up arms and come to power, Hindus will also take up arms. It will be worse than the Maoists' war and many people will be killed," he said.

Kunda Dixit, editor of the English language weekly Nepali Times, agreed the king would not take the abolition of his dynasty lying down.

"Given the personality of the king, he's not the type that is going to step down quietly," Dixit said.

But he saw the monarchists' dire warnings as a last-ditch bid to try to derail the elections that will lead to the abolition of the institution.

King Gyanendra, 60, was vaulted to the throne in 2001 after the massacre of his popular brother Birendra and most of the rest of the royal family by a drink-and-drug fuelled crown prince.

Conspiracy theories linking Gyanendra and his unpopular son Prince Paras to the massacre have made the king "the most unpopular man in Nepal," said Dixit.

|TOP|

---
Heavy Fighting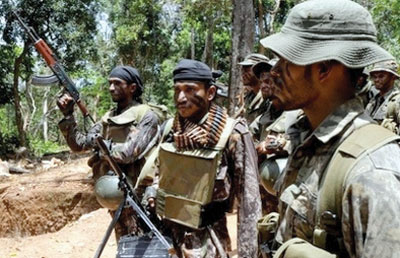 Sri Lanka army soldiers in Weli Oya.

Strong fighting broke out in northern Sri Lanka April 1 as government troops launched a fresh offensive against Tiger rebels, with both sides claiming heavy losses against the other.

Sri Lanka's military also accused Tamil Tiger separatists of shelling a state-run hospital April 1 in the coastal district of Mannar, where the intense battles were concentrated.

The hospital was partially damaged by heavy artillery from the Liberation Tigers of Tamil Eelam, the Defense Ministry said, adding that a few shells had also fallen close to a nearby state-run school.

"The explosions had caused panic and trauma among patients and civilians who were immediately evacuated by troops into safer shelters," the ministry said in a statement. It was not immediately clear if there were casualties.

Government troops exchanged fire with guerrillas in Mannar April 1, killing 12 rebels, while separate clashes March 31 killed at least 35 more rebels, the ministry said, putting its own losses at six soldiers wounded.

The pro-rebel Puthinam.com Web site said the Tigers had resisted the military's latest two-pronged offensive in Mannar and they had killed 15 government troops and wounded more than 25 in fighting April 1.

The guerrillas did not say if they suffered any casualties in what they called a six-hour firefight.

The LTTE's armed struggle since 1972 for an independent state for minority Tamils in the majority Sinhalese nation has left more than 60,000 dead.

|TOP|

---
Body Flown Back

The mother of murdered British teenager Scarlett Keeling has arrived back in the U.K. with her daughter's body, reports the BBC.

Fiona MacKeown flew into Heathrow from Mumbai six weeks after her daughter was found raped and murdered on a beach in Goa, India.

She has said she wants to bury Scarlett, 15, on her land near Bideford, north Devon.

MacKeown has also said she wants to arrange more forensic tests as she is unhappy with the Indian investigation.

She has alleged that links between police officials, politicians and the drugs mafia are hampering the probe into her daughter's death.

Speaking to reporters, MacKeown said she wanted justice on two counts: "One, that my daughter was raped and murdered, and the police who tried to cover up should be treated as criminals. "

When asked if she still would visit India, she said she loved the country and the death of her daughter could have happened anywhere.

She added that she wanted further forensic examinations of the body carried out for her "peace of mind" and that she intended to return to India to prevent the case being brushed aside.

MacKeown had been "moving her location" prior to her return over fears for her safety in the wake of her allegations, her lawyer Vikram Varma has said.

Scarlett had been staying at the resort with a friend while the rest of her family travelled further afield.

Initially, police said she had accidentally drowned but later opened a murder investigation under pressure from MacKeown.

Two men have been arrested over the death of the teenager, whose body was found semi-naked on Anjuna beach in February.
.

|TOP|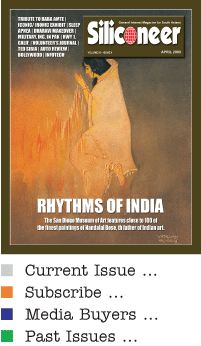 CURRENT ISSUE IN PDF
Click here to read in PDF format
COVER STORY
A Painter's Worldview: Nandalal Bose
Artist Nandalal Bose combined patriotic affection with a broader sense of kinship with Asia, writes Sugata Bose.
TRIBUTE
A Hero in Our Time: Farewell, Baba Amte
For grassroots human rights activist Baba Amte, life flowed like poetry and for the time that you were with him you flowed with it, writes Sandeep Pandey.
SUBCONTINENT
Overstaying Its Welcome: Pakistan's Military
Dr. Ayesha Siddiqa Agha, an expert of the Pakistani military, has this advice for her country's army: 'Stay out of politics, it is good for you, good for us,' writes Ali Hasan Cementdaur.
OTHER STORIES
EDITORIAL: Artist Nandalal Bose
NEWS DIARY: March
EXHIBIT: Painting Desi Icons
DIARY: Goodbye India, Hello Ghana
SUBCONTINENT: China: Dark Horse?
HEALTH: Treating Sleep Apnea
TRAVEL: Hwy 1, Northern Calfornia
OBITUARY: Tejinder Sibia
SUBCONTINENT: Makeover for Dharavi
FESTIVAL: Rang Barse!
BUSINESS: News Briefs
COMMUNITY: News in Brief
INFOTECH INDIA: Round-up
AUTO: 2007 Toyota FJ Cruiser
BOLLYWOOD: Review: Race
BOLLYWOOD: Guftugu
TAMIL CINEMA: Pazhani
RECIPE: Chinese Bhel
HOROSCOPE: April
HEALTH: Caring for Your Teeth