TAMIL CINEMA:
Insipid, Illogical Script: Pazhani


Director: Perarasu
Cast: Bharat, Kajal Agarwal, Khushboo, Biju Menon, Aishwaria, Chitti Babu, Ravi Maria, Raj Kapur

---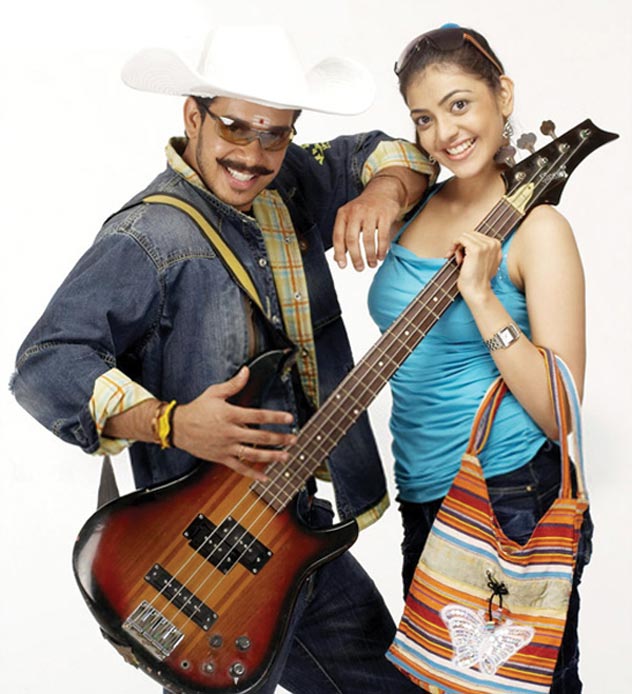 (Above): A scene from "Pazhani."

---
With an insipid script, scenes that have no logical continuity, sense or sensibility; confused narration, and the waste of talented actors, Pazhani turns out to be a total fiasco.

It's Bharat's first full-fledged action role, and the actor makes a desperate but futile attempt to play an action hero. Spontaneous and natural otherwise, his boyish frame taking on single handedly a dozen or more armed hardened criminals, is a bit hard to digest. Added to that are the numerous, unsuitable punch lines he's been given. The director should have known the capabilities and limitations of his hero, or at least should have tried to project him in a more convincing and acceptable way.

Bharat plays Pazhani who at the age of ten had been sentenced to fifteen years in jail for a murder. (Juvenile homes seem to have been unheard of here!) Pazhani comes out of jail and changes his name to Vellaiah. Not revealing his identity, he takes a job at the house of his sister Karpagambal (Khushboo), who by now was married to Jeeva (Biju Menon), a wealthy two- timing charlatan. How Pazhani came to know of his sister's whereabouts is a mystery unexplained. Pazhani takes on his detractors, foils their plans, and tries to set things right for his sister. With the scenes of sibling bonding lacking in depth, the sentiment factor, too, doesn't work out here.

Khushboo goes about her role with earnest sincerity, unmindful of the contradictions in it, and the silliness of some of the scenes. But it's not so with Biju Menon, who understandably looks confused, not quite sure if Jeeva is a bad man or a gullible one. Aishwaria plays his mistress Durga, her character having to talk a lot! Durga's hoarse voice puts you off after a while. There is debutant Kajal for the love angle, cutting a pretty picture, trying hard to lip sync her lines.

Keeping the names of places as film titles, and making dramatic cameo appearances in his films have been the trademark of director Perarasu. He follows it here too. The director who had begun promisingly enough with Tirupachi and Sivakasi had taken a downward slide with his subsequent films Thirupathi and Dharmapuri. With Pazhani, he has plumbed the depth.


— Malini Mannath/Chennai Online.