TRAVEL:
Charms of the Pacific Coast: Highway 1, Northern California


Travel a bit north up Highway 1 from San Francisco, and you will discover some of the most charming oceanfront scenery, bucolic settings and bed and breakfasts to die for, writes Al Auger.

---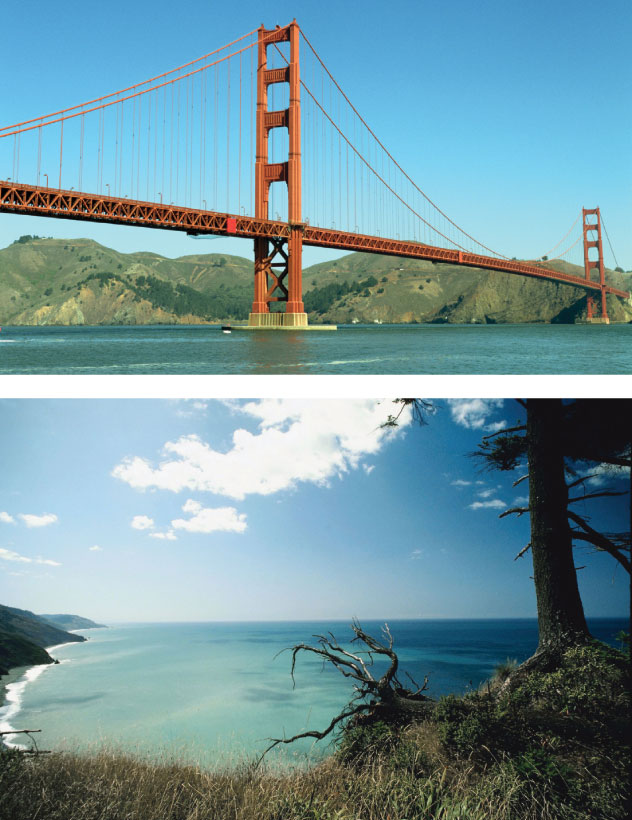 (Top): The majestic Golden Gate bridge. (Bottom): AMendocino county offers breathtaking vistas of the Pacific Ocean.
---
We left San Francisco on one of those lush beautiful winter days, under sparkling blue skies and a benevolent warm sun shining down. We crossed the Golden Gate bridge into Marin County and found ourselves on a strangely, but gloriously, empty Highway 1.

For those who have never enjoyed the delightful curves, bends, dips and scenery of this world famous byway, a description is necessary. Approximately 5 miles north of the Golden Gate Bridge we exited highway 101 at Mill Valley. Almost immediately the road becomes a snake, heading up towards Mt. Talmapais and the sleeping maiden. A short jaunt and we veered West towards Muir Beach and Muir Woods.

It was also lunch time, a perfect time to stop at the Pelican Inn by Muir Beach for some fish 'n chips and a Guinness. The Pelican Inn is hidden away in a corner of Highway 1 on the verge of the majestic redwoods of Muir Woods and the solitude of Muir Beach, built to replicate a half-timber English pub. The Pelican Inn offers both lodgings and fine dining are available for the trail weary.

The seven rooms are a testament to the English love of quiet elegance. The rooms feature either a half tester canopy queen-size bed or four poster queen-size bed with tapestry drapes. Each room has a bath with shower, free TV and VCR. The rooms are simply designated by number with Room Seven being truly continental with its hand-held shower.

Off again, and the last of the urban communities of Marin are behind. Ahead stretches the sinuous asphalt as it winds through the picturesque and bucolic villages of upper Marin. On our left the sparkling blue waters of Tomales Bay went skimming by, commercial fishing boats bobbing with the waves. On our return trip, we would stop for a cache of succulent oysters from one of the many oyster farms that rim Tomales Bay.

From this point, Highway 1 becomes a serpentine carousel of undulating asphalt. The North Sea ambience is replaced by the green waves of farmland and contented cows munching the grass with lazy insouciance. The inland portion of Highway 1 takes through the villages of Point Reyes, Marshall, Tomales and Valley Ford, where time seems to have stopped. On weekends these hamlets are hurly-burly with tourists, hikers, and bicyclists, but weekdays the serenity is palpable. Locals stretch on the store porches, dressed in the ubiquitous bib coveralls and straw hat or pony tail, tie-dye shirt and boots; women shop and gather to pass on the latest news. Upper Marin County is a way of life unchanged, a lifestyle fast disappearing everywhere else in the U.S.



(Above): A panoramic view of Point Reyes in Northern California.
---
Less than three hours out of San Francisco we cross the line into Mendocino County and the burg of Gualala. Next stop the posh Whale Watch Inn, five miles north at Anchor Bay. A left turn into the entry and we're greeted by a vibrant swatch of floral color, the smell of the salty ocean lapping at the deeply rock-carved cliffs and a thick forest of trees. In the middle is a curve of buildings befitting the surroundings.

In winter you play weather roulette in the upper regions of the coast, but if you are as lucky as we were, fall and winter are the most exciting times to visit. There is electricity in the air, sharp and clean on your skin. The cold steel of the sky highlights the scudding clouds and the brisk breezes that bring each day a palpable experience.

Standing in the approximate center of the Whale Watch Inn complex is the Pacific Edge main structure, flanked by the other four, together housing a total of 18 rooms and suites. The Pacific Edge is your entry port and holds eight rooms of delectably varied design and ambience. The reception area is awash with fresh flowers, artwork and, streaming through the large windows the fading afternoon glow. All this and soft classical music immediately lulls us into the easygoing attraction of the Whale Watch.

The soft-spoken innkeeper greets us with a warm "hello" and glasses of chilled chablis. Which was gratefully quaffed after the intensive, but thoroughly agreeable, cruise from San Francisco. After relaxing with the wine, we were given a tour of the eight rooms that constituted Pacific Edge. Each room features its own theme and most have a view of the ocean and dramatic coastline.

The entire accommodation feature the finest in furnishings, huge comfortable beds with down comforters you literally sink into, tubs with whirlpools and a working fireplace. The most fetching room was the split-level Bath Suite with its entrancing 2-person tub and whirlpool that overlooked the magnificent ocean view framed by giant cypress and pine trees. There are no TVs and no phones unless specifically requested.

The innkeeper asked of our beverage choices and if we had any food allergies or special dietary needs and what time we would like breakfast delivered to our room. With an 8 o'clock time requested we retired to our aptly named Showcase Suite with its' almost Zen-like atmosphere of soft lilac hues, lavish Oriental rug and furnishings purchased from a Santa Rosa Symphony League Showcase home. Large windows framed the ocean vista, and the fireplace was laid with logs and ready to be fired up. A queen-size bed piled with exquisite linens and down comforter reposes beneath a skylight from which a towering cypress presides.

Outside on one of the two decks, the world is redolent with the embracing essence of clean salt air. Anchor Bay lies below, accessible by a narrow private staircase. At the discovery of the whirlpool bath and accompanying Egyptian cotton towels and fluffy robes, my partner began devising a scheme to turn a two-day stay into weeks.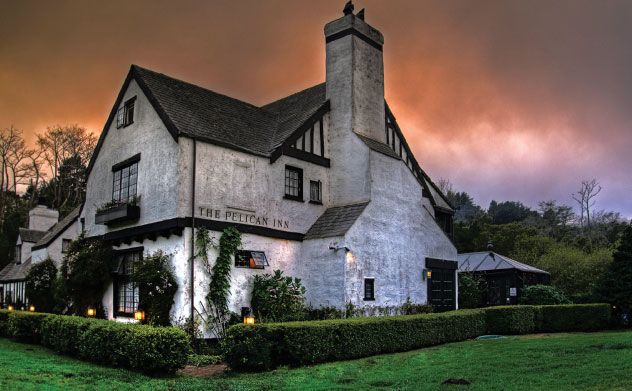 (Above): Pelican Inn by Muir Beach is hidden away in a corner of Highway 1 on the verge of the majestic redwoods of Muir Woods and the solitude of Muir Beach, built to replicate a half-timber English pub.
---
At 8:05 a.m. a discreet knock announced our breakfast had arrived via a large wicker basket. As we spread the goodies over the coffee table before the crackling fire, we filled ourselves with a fragrant quiche in its own ramekin, orange juice, in-season fruit smothered in sweet cream sauce and oven-warm muffins that destroyed any dietary vows. A graceful touch was soft linen, good silverware and fine china.

After breakfast, we planned our day over cups of darkly delicious coffee. We grabbed our cameras and set off on an early morning prowl. First we visited the Whale Watch room that features a full-view windowed deck, fresh coffee and tea, hundreds of books and a powerful telescope. The room is also used for special events and select wines and champagnes are available. Since the whales weren't traveling, we headed down the steep staircase to the beach and discovered a wonderland of sparsely populated beaches, tide pools and exotic wildlife viewing. A later picnic on the beach that day was duly noted with food from the Food Company just down Highway 1 towards Gualala.

While the Whale Watch Inn's kitchen is only used for breakfast and events such as weddings, conferences, etc., dining is easily found close by in Point Arena to the north or Gualala to the south. A friend who has a weekend home in Gualala recommended two restaurants to us. On Port Road in Point Arena is the Galley Restaurant, our favorite by unanimous vote. Don't let the funky, no-nonsense ambience throw you, for the seafood food is straight-ahead delicious at nominal prices — what San Francisco's Fisherman's Wharf used to be famous for instead of T-shirts entrepreneurs and wax museums. First, though, stop by the huge ornate bar that once graced the one-of-a-kind Tommy's Joint in San Francisco.

The next night we dined at Pangaea in Point Arena on Main Street. Unfortunately, the food was both overpriced and overly spicy for most palates. Fortunately, from Gualala to Point Arena there are a host of fine dining spots to fit all budgets as well as delicatessens and the ubiquitous pizza joints.

Entertainment, for the most part, is a do-it-yourself effort. The coastline along the bluffs of Anchor Bay is called the "banana belt" by locals as it is seldom visited by the fog so prevalent to the surrounding area. The beaches provide wonderful distractions for long walks during the day or romantic strolls in the crisp night air and brilliant moonlight. During November-December and February-March, the whales parade on their way south to Baja California and back again to home in the north. A few miles south is Sea Ranch and its Scottish-style Golf links.

Camera buffs will find a wide range of photo opportunities from wild game, birds and whale watching cruises. The Whale Watch Inn is as lovely a destination bed-and- breakfast spa you will find anywhere, be it for relaxation, a romantic liaison or honeymoon. A private get-away with superb service, exuberant environment. and the seduction of traveling Highway 1.

---

Al Auger is a freelance writer. He lives in Redding, Calif.
---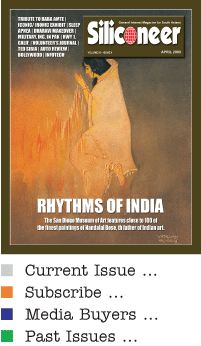 CURRENT ISSUE IN PDF
Click here to read in PDF format
COVER STORY
A Painter's Worldview: Nandalal Bose
Artist Nandalal Bose combined patriotic affection with a broader sense of kinship with Asia, writes Sugata Bose.
TRIBUTE
A Hero in Our Time: Farewell, Baba Amte
For grassroots human rights activist Baba Amte, life flowed like poetry and for the time that you were with him you flowed with it, writes Sandeep Pandey.
SUBCONTINENT
Overstaying Its Welcome: Pakistan's Military
Dr. Ayesha Siddiqa Agha, an expert of the Pakistani military, has this advice for her country's army: 'Stay out of politics, it is good for you, good for us,' writes Ali Hasan Cementdaur.
OTHER STORIES
EDITORIAL: Artist Nandalal Bose
NEWS DIARY: March
EXHIBIT: Painting Desi Icons
DIARY: Goodbye India, Hello Ghana
SUBCONTINENT: China: Dark Horse?
HEALTH: Treating Sleep Apnea
TRAVEL: Hwy 1, Northern Calfornia
OBITUARY: Tejinder Sibia
SUBCONTINENT: Makeover for Dharavi
FESTIVAL: Rang Barse!
BUSINESS: News Briefs
COMMUNITY: News in Brief
INFOTECH INDIA: Round-up
AUTO: 2007 Toyota FJ Cruiser
BOLLYWOOD: Review: Race
BOLLYWOOD: Guftugu
TAMIL CINEMA: Pazhani
RECIPE: Chinese Bhel
HOROSCOPE: April
HEALTH: Caring for Your Teeth