DIARY:
Goodbye India, Hello Ghana:
A Volunteer's Journal


Even if all she managed to do in India was to give one child a few hours of hope, then she did accomplish something, writes Preeti Tijoriwal, who has now gone to volunteer in Ghana.
---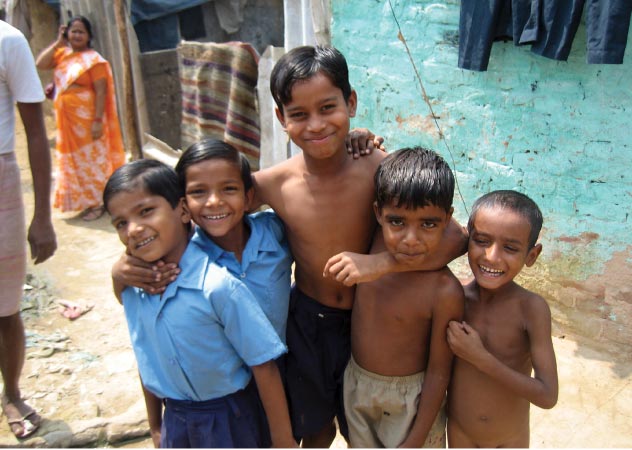 (Above): Children, even from underprivileged backgrounds, are remarkably vivacious in India. [Preeti Tijoriwal photo]
---
Learning Experience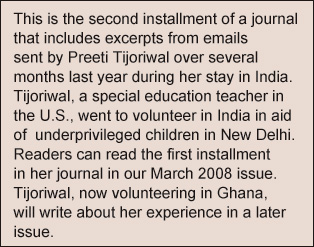 I am continuing to learn a lot from my experience at Deepalaya — for example, how incredibly inefficient NGOs can be. Let alone creating an entire Special Education program — I have hardly been able to convince the teachers that it is a good idea to plan their lessons in advance or set some goals for their student. Change is a very slow process. I have found that people have good intentions but not everyone knows how to effectively act on them. Deepalaya, for example, is a very large organization with a noble cause — to help the less fortunate people of India receive an education and health care. Unfortunately, their mission seems to have shifted from service to fundraising and networking. Deepalaya seems to be going through the motions rather than performing a service. The question I keep asking myself is how can I help break the habit and actually make some sort of small dent in the quest for progress. I have recently gotten involved with another NGO called Sshristi. They have a similar mission of educating less fortunate children. About a month ago they began a new program for the street children in the area. During the day these kids hang out at the traffic light begging for money. Every afternoon for two hours we invite them to school to learn some basic math and Hindi. These kids are about as tough as they get, at least on the exterior. They have seen and experienced more "life" in their youthful years than most of us have. Right now they are wild, and they mostly come to school for the free food that they get. But they also enjoy the feeling of safety and comfort. Most importantly, they keep coming back, and that's two hours out of their day that they are not on the streets. To me this is bigger than a small dent — this is a fist-size hole in the pursuit of progress. This is seva.

One of my friends asked me the other day, how I am liking India. When I said that I am loving it, he proceeded to ask me why. I said that was a good question and I am not sure what the answer is. I know part of the reason why I am enjoying my time here is because I have been lucky enough to make some wonderful friends. Even the middle of nowhere (i.e. Winchester, Va.) can be enjoyable if you have the right people around. But I think the main reason why I am having such a wonderful time is because I know this is an invaluable experience and a time in my life I will always cherish. Not to sound too preachy/sentimental/spiritual but if you have not already done so, I strongly encourage everyone to take a step out of your comfort zone and do something you thought you'd never do — even if it is something small and seemingly insignificant. I am sure it will make a huge impact on you.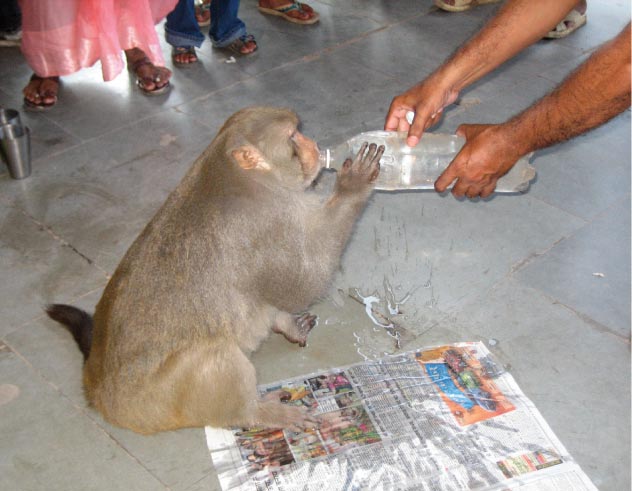 (Above): A monkey being offered a drink. Monkeys are frequently tamed and used to amuse crowds in India. [Preeti Tijoriwal photo]
---
Gandhigiri in Action?

At the end of my day at SShristi today, I caught an auto to take me home. As I mentioned before, these auto drivers are quite badmash, and this one definitely tried to take me for a ride — both literally and figuratively. I had to do some haggling but I talked him down from 50 rupees to 35 rupees (about $1). When we got to the intersection, a few of the kids I work with came running up to me to say hi. I playfully scolded them for not coming to school today and told them I hope to see them on Monday. As we were driving away the driver asked me if I knew those kids. I told him I teach them at a school down the street. He was shocked! He could not figure out why I would want to "waste my time" with such kids. He didn't mean it in a rude way — he was just curious. I told him that my hope is that these kids will learn something and then maybe someday they won't be begging on the street corner anymore. After all, they are the future of this country! We continued to talk the whole way about why I wanted to help these kids, and I could see his interest growing. When we got to my destination, I handed the driver his money. He just looked at me and gave me 5 rupees back. Now it was my turn to be surprised! Of course I let him keep the 5 rupees, but his little gesture brought a huge smile to my face. A glimmer of hope that one person can make a difference…

Next Stop Ghana

I arrived back in the U.S. a few weeks ago and have begun preparing for my next adventure. I am about to embark on a three-month journey in Ghana. I'm sure I will have many wonderful things to share with you about this completely new and unfamiliar place once I get there! For now I would like to share some closing thoughts about my time in India.

The quality of life in India, as I am sure is the case with many developing nations, depends largely on a person's wealth. India is a great place to live if you have the resources, and it can be unforgiving to those who don't. After four months of staring poverty in the face, the hardest part of my day was saying no. When an 8-9 year old child comes up to you wearing nothing but a raggedy thin sweater, pants that barely reach his ankles, and no shoes in 47 degree weather, it is hard to walk away. It is hard to say no to a young, frail mother holding two children, one on each side, and another child hanging on her sari. Sure, I know beggars in India know how to put on a show — kids carrying kids, mothers with multiple children, people with limps or limbs cut off — but I can't imagine that this is a show they enjoy performing every single day for a meager buck. The government of India counts about 26 percent of the population below the poverty line. Officially, that means these people make less than about $0.20 a day. A report conducted in 2007 found that another 50 percent of Indians live off of less than $0.50 a day. Although there is a growing middle class, there is still a gaping disparity between the wealthy and the poor, and this fact is visible almost everywhere you go. It's hard to ignore a young girl asking for a couple rupees ($0.05) from a lady walking toward her four-story home with marble flooring and a jacuzzi on the terrace. It's even harder to look away from a young rag picker searching for recyclable items and eating disposed food straight out of a garbage can in front of a Lacoste store. I don't mean to sound so grim and discouraging, but this is reality in India, and for me it has been important to genuinely recognize it.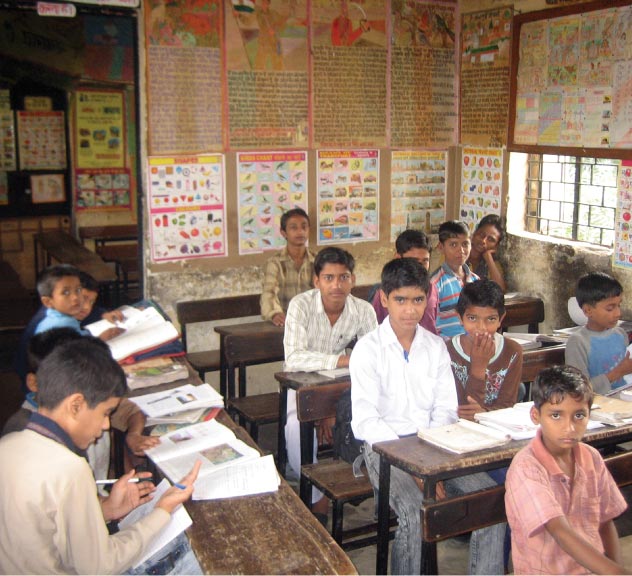 (Above): A classroom for a school that provides education to underprivileged children in New Delhi. [Preeti Tijoriwal photo]
---
After four months of staring poverty in the face and shamefully saying no to hundreds of people, I still find myself hopeful that things can and will change for the better. Everyday people across India are working to make a difference, and although progress is slow, very slow, change is evident. At Sshrishti, kids who have only been attending school 2-3 years have already far surpassed the educational level of their parents. They can read and write in Hindi and can even read and write basic English! Certainly, right now it is hard to say what their futures hold for them, but I can say with confidence that it will be better than their present. They have already gained so many valuable life skills that put them ahead of so many children who come from similar backgrounds — heck, even children who come from much more stable backgrounds. They know how to be prompt and appropriately dressed. They are respectful and attentive to teachers/leaders. They know how to ask questions. And they have the desire to be successful. These kids have the ability to provide better lives for their families and cross the poverty line. Education is a tool that once you have it, it cannot be taken away, and it is a very powerful tool. I continue to struggle with the quality of education people in India receive. Imperfections always tend to stick out like a pimple in the middle of your forehead. But I'm beginning to understand the impact even these seemingly small steps toward advancement can make on a person's quality of life.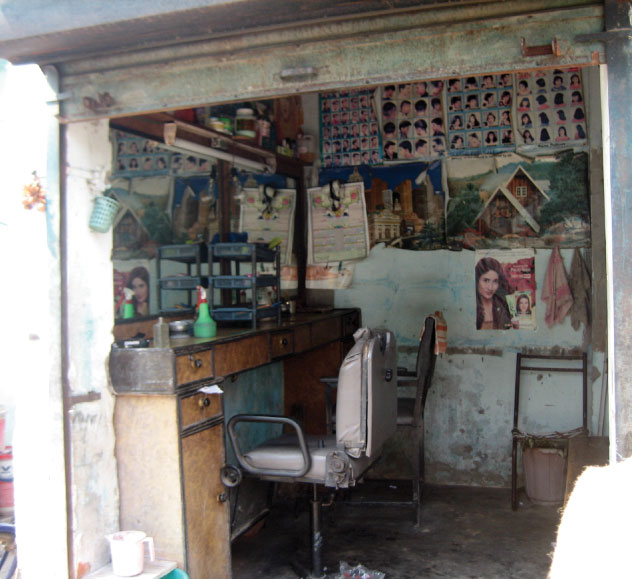 (Above): A barber shop that serves a lower middle class clientle in an Indian town. With its walls plastered with gaudy Bollywood posters and numerous photographs of highly distinctive haircuts, its floor strewn with leftover hair, and the entire place reeking of cheap aftershave, these places are hard to miss. [Preeti Tijoriwal photo]
---

When anyone asks me how my experience was, I always answer, "It was great! I loved it." Yet, I still have a hard time articulating why. In India I found myself doing things that I never had time for or never made time for here. I joined a classical dance class. I went out and explored many different parts of my city. I hung out with friends. But really what made living in India such an invaluable experience was having the opportunity to be somewhere where I was not always comfortable and I was not always confident in what I was doing. I quoted Gandhiji earlier. He said, "The best way to find yourself is to lose yourself in the service of others." I did not go to India with the intention of finding myself, but it seems like I rediscovered parts of me that had been lost in the daily grind. I learned about my own flexibility and ability to adjust to my surroundings. To be honest, I am not sure if I accomplished anything concrete. I did not create a brand new Special Education program from curriculum to daily lesson plans. But I did realize that even if I couldn't fix everyone's problems, I could show them that I care and am there for them. More than anything else, I discovered how truly fortunate I am.

When people ask me what I am going to do in Ghana, I often respond that I am going to change the world… one child at a time. It's easy to be an idealist, and it's even easier to be a cynic. But it's important to keep things in perspective. Don't forget that there are people in this world who live off of $0.50 a day or less. There are children and seniors without anyone to take care of them. And there are people who work day in and day out of hard labor just to provide one small meal to their families. Even if all you can give is an hour of your time to these people, you have given them a whole hour of love, care, and support that they so desperately need. Even if all I managed to do in India was give one child a few hours of hope, then I did accomplish something. And all I can hope now is that I can do the same in Ghana. If you ask me why I am going, it is to perform seva, "selfless service."