AUTO REVIEW:
For Families on the Go: 2007 Toyota FJ Cruiser


TThe 2007 Toyota FJ Cruiser Toyota is a sharp-looking, go-anywhere vehicle for on-the-go-go-go families, writes Sally Miller Wyatt.
---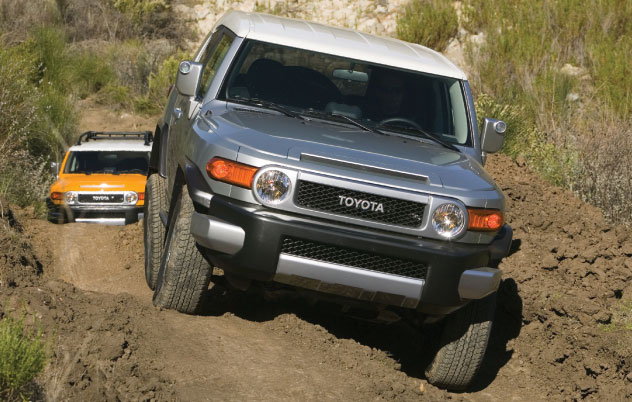 (Above): Exterior view of the 2007 Toyota FJ Cruiser.

---
As a parent to three active children, we had days when their commitments had me running around like I was on safari, bumping around from one event to the next. I recall one weekend where we were on a minute-by-minute schedule, shuttling kids between swimming lessons and two different Little League games on fields at opposite ends of town. It was so tightly timed, and yet everyone got to where they needed to be on time. I was actually feeling a bit smug about my logistical prowess, until I realized I forgot the post-Little League game snacks. Trust me, parents, this is not a good thing. Hungry, thirsty Little Leaguers can get ugly.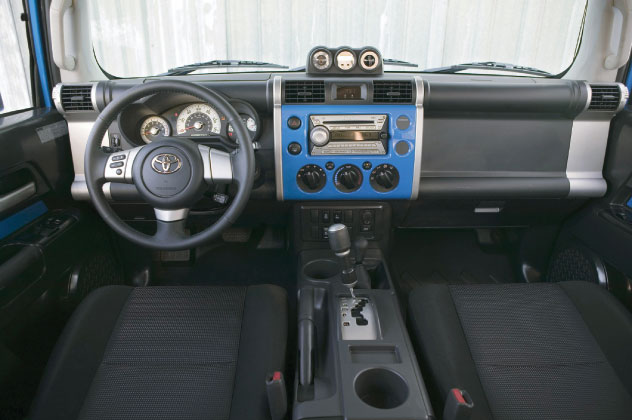 (Above): Interior view of the 2007 Toyota FJ Cruiser.

---
Suburban safaris are elevated to a whole new plane when they're conducted in a Toyota FJ Cruiser. The FJ Cruiser is a newly introduced off-road vehicle modeled after Toyota's FJ40 4x4, an expedition vehicle of the 1960s and '70s. The FJ Cruiser is a five-passenger vehicle and was designed, Toyota's press materials say, to be durable, youthful, affordable, aggressive and fun to drive.

Today's version has upscale looks wrapped in a practical, everyday package. The interior, for example, offers seating material that is water-repellant and ventilated. Muddy, wet, dusty environments are no problem for seats covered in a fabric that can repel liquids. These seats even have stitching that has been treated with sealant to prevent water from seeping in when they are washed down. The FJ Cruiser's floor surfaces have also been covered in a rubber-like material that can repel the dirt from such things as cleats and hiking boots.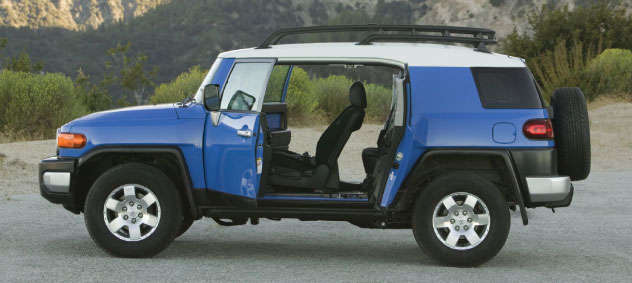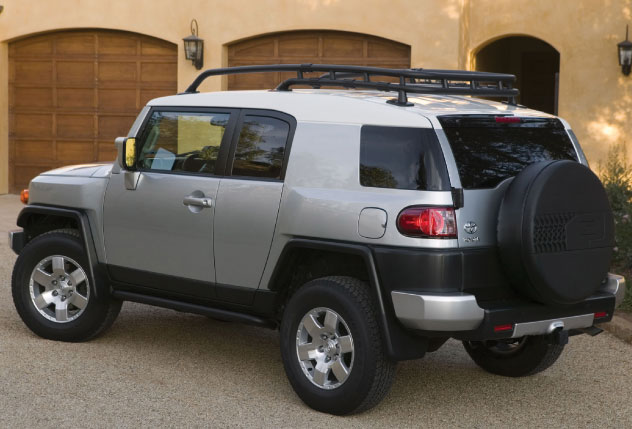 (Above): Exterior views of the 2007 Toyota FJ Cruiser.

---
The FJ Cruiser has been built on a wide, ladder-based frame and has a suspension well-suited for rock climbing, with such things as tubular shock absorbers, an anti-sway bar, coil-spring suspension system, an advanced traction control system and hydraulically assisted rack-and-pinion steering. Ground clearance is 9.6 inches.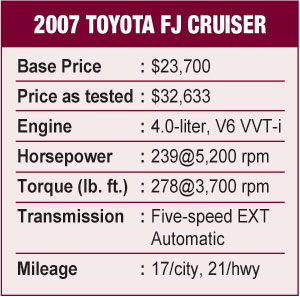 Lose your way on the trail? A dashboard-mounted compass, inclinometer and temperature gauge are available as part of an optional package. Other "hit-the-trail" design elements include a windshield wiper system that includes three blades to offer near-complete coverage of the wide and flat windshield, and floorboards for front passengers that are angled at 33 degrees "to help those in the front seats to maintain proper seating position," the press materials explain, presumably while going up or down steep hills.

In fact, the FJ Cruiser's entire interior reflects a trail-seeking design. The dashboard has tubular elements and brushed aluminum accents, and control knobs are large and easy to grip. The rear side doors open out 90 degrees in a "clamshell" fashion, to make getting into and out of the rear seat easier. The rear seat can fold in a 60/40 split, and the bottom and back cushions can be removed to reveal a flat floor.

On the road you'll immediately be impressed with the FJ Cruiser's maneuverability and lithe handling. Its 4.0-liter V6 engine is powerful yet quiet. Visibility is reduced somewhat by the low, rectangular-shaped windows, and yet the cabin space feels wide and generous. There is plenty of leg, hip and foot room throughout.

Toyota's promise to deliver a durable, affordable and fun-to-drive vehicle is accomplished in the 2007 FJ Cruiser. It's a sharp-looking, go-anywhere vehicle for on-the-go-go-go families.

---
Sally Miller Wyatt is a freelance writer who writes family-oriented auto reviews for newspapers, magazines and the Web.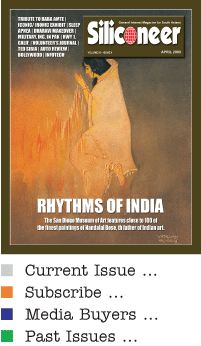 CURRENT ISSUE IN PDF
Click here to read in PDF format
COVER STORY
A Painter's Worldview: Nandalal Bose
Artist Nandalal Bose combined patriotic affection with a broader sense of kinship with Asia, writes Sugata Bose.
TRIBUTE
A Hero in Our Time: Farewell, Baba Amte
For grassroots human rights activist Baba Amte, life flowed like poetry and for the time that you were with him you flowed with it, writes Sandeep Pandey.
SUBCONTINENT
Overstaying Its Welcome: Pakistan's Military
Dr. Ayesha Siddiqa Agha, an expert of the Pakistani military, has this advice for her country's army: 'Stay out of politics, it is good for you, good for us,' writes Ali Hasan Cementdaur.
OTHER STORIES
EDITORIAL: Artist Nandalal Bose
NEWS DIARY: March
EXHIBIT: Painting Desi Icons
DIARY: Goodbye India, Hello Ghana
SUBCONTINENT: China: Dark Horse?
HEALTH: Treating Sleep Apnea
TRAVEL: Hwy 1, Northern Calfornia
OBITUARY: Tejinder Sibia
SUBCONTINENT: Makeover for Dharavi
FESTIVAL: Rang Barse!
BUSINESS: News Briefs
COMMUNITY: News in Brief
INFOTECH INDIA: Round-up
AUTO: 2007 Toyota FJ Cruiser
BOLLYWOOD: Review: Race
BOLLYWOOD: Guftugu
TAMIL CINEMA: Pazhani
RECIPE: Chinese Bhel
HOROSCOPE: April
HEALTH: Caring for Your Teeth