SUBCONTINENT:
China: Dark Horse?
New Player in Gas Pipeline from Iran


As the U.S. casts a jaundiced eye on the Iran-Pakistan-India gas pipeline, China is casting a covetous eye, writes Siddharth Srivastava.
---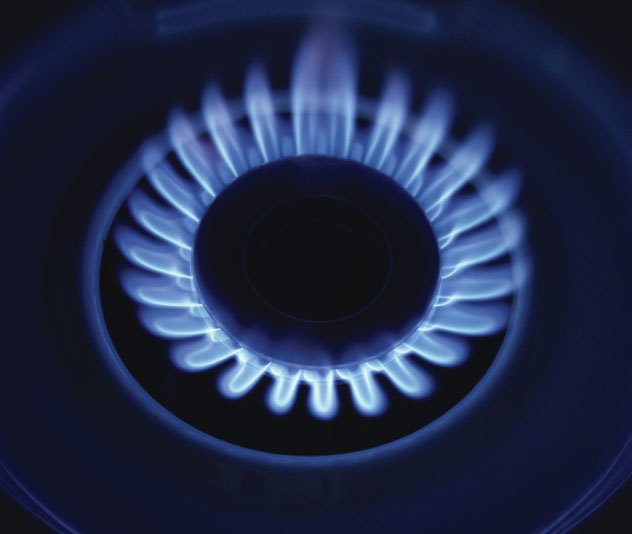 ---
Could the proposed multi-billion dollar, 2,700 km-long Iran-Pakistan-India gas pipeline project be India's loss and China's gain?

Washington has been hostile to the $7.5 billion IPI pipeline due to its perceptions about Iran's independent nuclear weapons aspirations and has been impressing upon India, now considered a strategic south Asian ally, not to go ahead with the project.

However, even as U.S. pressure is telling on New Delhi that is deliberately going slow on IPI, China, always on the lookout for new energy sources, has been making some moves.

Reports say that China has conveyed to Pakistan that it would be willing to import 1.05 billion cubic feet of gas per day if India opts out of the project. Pakistan, which is smarting under Washington's pro-India tilt, is planning to import 2.2 bcf of gas a day from Iran through the pipeline.

Earlier this month, a Pakistan foreign office spokesman said, "If there are prospects of China joining the IPI project with or without India, we will welcome it. Pakistan is committed to the pipeline because of its desire to achieve energy security."

In a similar vein, Iran's foreign ministry spokesperson said in Tehran, "Other countries are eager for implementation of the project. China is putting pressure that she wants to join the project. We don't have a lot of time. It is time to expedite the decision-making."

New Delhi, meanwhile, is not taking the "China threat" very seriously, at least for now. An Indian official at the federal Petroleum Ministry said: "Going by China's past record, it is unlikely that Beijing will pay as much as Iran is likely to get out of India."

The official said that Iran and Pakistan have "deliberately" introduced China as a possible party in IPI in order to "pressurize" India as it would be "politically unwise for India to let China walk away with the extra gas as has happened in Myanmar."

Indeed, Pakistan and Iran remain keen to move ahead with the project, and it does seem that Tehran and perhaps even Islamabad would prefer India rather than China on board.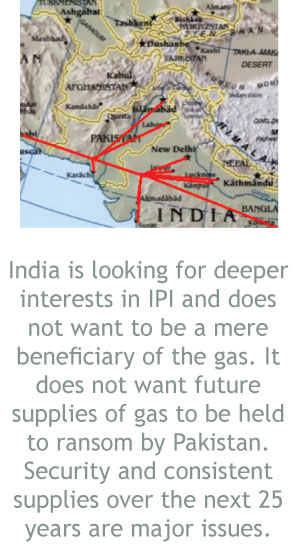 This is because Beijing is known to be a tough negotiator and unlikely to pay the kind of price that India should agree for the gas.

Iran's Foreign Ministry has, thus, denied reports that the tripartite talks have collapsed. "All three countries (India, Iran and Pakistan) believe that this project will provide stability and security to the region. There is a serious will and determination to realize this project as," a ministry statement recently said.

A gas purchase agreement has been finalized by Islamabad and Tehran that will be formally signed this month, while India has kept away from the recent tri-partite talks.

India, Pakistan and Iran have mutually agreed to a price of $4.93 per million British thermal unit for the gas from Iran, which many observers feel is not the kind of money that Beijing will settle for.

India will have to pay an extra transit and transportation fee to Pakistan, which should raise the price at the India-Pakistan border to about $7 per mBtu.

A final agreement on this is yet to be sorted and is the main cause for India not joining the IPI.

Iran has completed nearly 20 percent of the work for the pipeline, which will supply gas from South Pars fields up to the Iran-Pakistan border. Pakistan is yet to begin on a 1,000-km stretch of the pipeline to link Iran with India.

It is likely that if China joins the project, the pipeline passes via Gilgit in Pakistan's Northern Area, which is very difficult terrain.

Pakistan has already approved the Karakoram highway project in the same location. Pakistan is also looking to extend a railway link to China to connect to Gwadar port in Baluchistan.

Iran possesses the world's second-largest gas reserves after Russia.

New Delhi has been concerned about issues related to safety, commercial viability and security and has thus been promoting the involvement of independent monitors as well as Russian firm Gazprom investing in the IPI project.

Given the suspicions, India does not want Pakistan to be the only stake holder.

According to some Indian analysts, India is looking for deeper interests in IPI and does not want to be a mere beneficiary of the gas. It does not want future supplies of gas to be held to ransom by Pakistan. Security and consistent supplies over the next 25 years are major issues.

It is also apparent that New Delhi is keen not to annoy Washington, in the immediate future. Indian officials have been saying that it is political instability in Pakistan (elections were held this month and followed the recent assassination of former Prime Minister Benazir Bhutto) that is causing delays in IPI.

Analysts, however, have said that this is just an alibi to bide time till matters with Washington are sorted out, though how the recent China factor is going to influence Indian thinking remains to be seen.

New Delhi's aim has been to push the civilian Indo-U.S. nuclear deal that promises access to foreign technology to generate nuclear power, before finalizing the IPI project. Plus, with the Krishna-Godavari gas fields in eastern India set to be productive this year onwards, there are no acute shortages estimated in the near future.

Indeed, fulfilling the IPI pipeline, already in discussion for a decade, will not be easy, given difficult matters related to sanctions, politics, geo strategy and security and construction problems.

Some analysts say Iran is unlikely to become a major exporter for more than a decade, given the tough attitude of Western countries, especially U.S., which has threatened sanctions against any nation dealing with Tehran.

---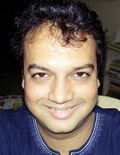 Siddharth Srivastava is India correspondent for Siliconeer. He lives in New Delhi.

---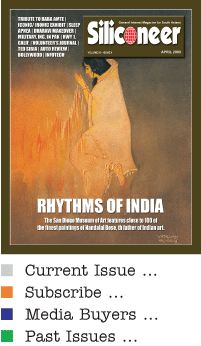 CURRENT ISSUE IN PDF
Click here to read in PDF format
COVER STORY
A Painter's Worldview: Nandalal Bose
Artist Nandalal Bose combined patriotic affection with a broader sense of kinship with Asia, writes Sugata Bose.
TRIBUTE
A Hero in Our Time: Farewell, Baba Amte
For grassroots human rights activist Baba Amte, life flowed like poetry and for the time that you were with him you flowed with it, writes Sandeep Pandey.
SUBCONTINENT
Overstaying Its Welcome: Pakistan's Military
Dr. Ayesha Siddiqa Agha, an expert of the Pakistani military, has this advice for her country's army: 'Stay out of politics, it is good for you, good for us,' writes Ali Hasan Cementdaur.
OTHER STORIES
EDITORIAL: Artist Nandalal Bose
NEWS DIARY: March
EXHIBIT: Painting Desi Icons
DIARY: Goodbye India, Hello Ghana
SUBCONTINENT: China: Dark Horse?
HEALTH: Treating Sleep Apnea
TRAVEL: Hwy 1, Northern Calfornia
OBITUARY: Tejinder Sibia
SUBCONTINENT: Makeover for Dharavi
FESTIVAL: Rang Barse!
BUSINESS: News Briefs
COMMUNITY: News in Brief
INFOTECH INDIA: Round-up
AUTO: 2007 Toyota FJ Cruiser
BOLLYWOOD: Review: Race
BOLLYWOOD: Guftugu
TAMIL CINEMA: Pazhani
RECIPE: Chinese Bhel
HOROSCOPE: April
HEALTH: Caring for Your Teeth