BOLLYWOOD | Hindi Film Review

Lipstick on a Pig: Race


Kumar S. Taurani and Ramesh S. Taurani's
Race

Directed by: Abbas-Mustan
Music: Pritam, Salim-Sulaiman (background score)
Starring: Saif Ali Khan, Akshaye Khanna, Anil Kapoor, Bipasha Basu, Katrina Kaif, Sameera Reddy and Johny Lever.

---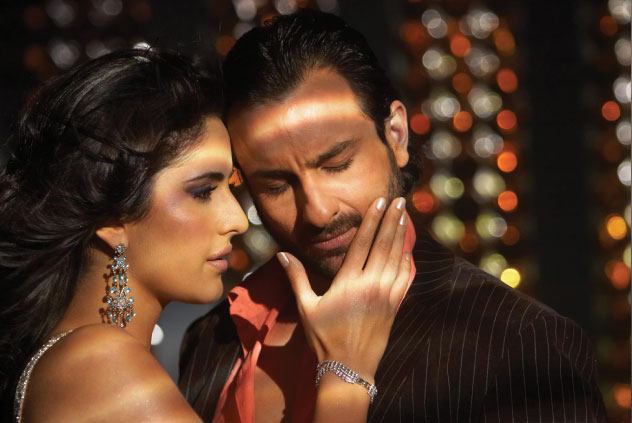 (Above): Katrina Kaif and Saif Ali Khan, and (inset, below): Anil Kapoor in "Race."

---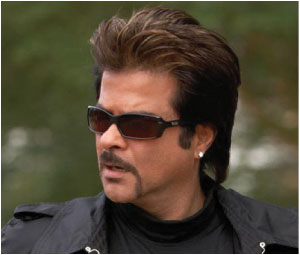 This film brings to mind a common cliché in American politics to describe a facelift for bad legislation: If you put lipstick on a pig, it's still a pig.

Ambitious technical values of the film include swooping aerial shots augmented by snazzy thriller music that appear to be borrowed right from Hollywood hits like Mission Impossible (if truth be told, Hollywood thrillers also don't always make an awful lot of sense), but what of substance?

Cynics may raise an eyebrow and tell us we get what we deserve. Looking for logic in a Bollywood film is apt to be as futile as the search for intelligent life in Mars.

The filmmakers Abbas-Mustan cling on to the fond hope — doubtless engendered by the success of earlier blockbuster hits that are just as mindless — that if you throw in enough style and breakneck action, your typical Bollywood fan — one of the most forgiving species on God's earth — will ignore the fact that beneath all the hoopla, there's no there there. Or to use some other American locutions — It's all sizzle and no steak. Or as they say in Texas, all hat and no cattle.

This flashy, dark thriller is set in Durban, South Africa — but one can say with confidence that this not a town the good people of Durban would recognize. This Durban belongs to a parallel universe where desis rule the roost. The two top players in the race course are desis, even if you are a total buffoon you can end up being the registrar of marriages in Cape Town (Johny Lever, his usual insufferable self), and I have no doubt the good folks of Durban will be surprised (and not a little chagrined) to learn that you can be a top cop in Durban while being a complete crook (Anil Kapoor, hamming outrageously) and the job includes such perks as an airhead assistant whose physical endowments — on ample display — are scarcely matched by any discernible intelligence in the mental department.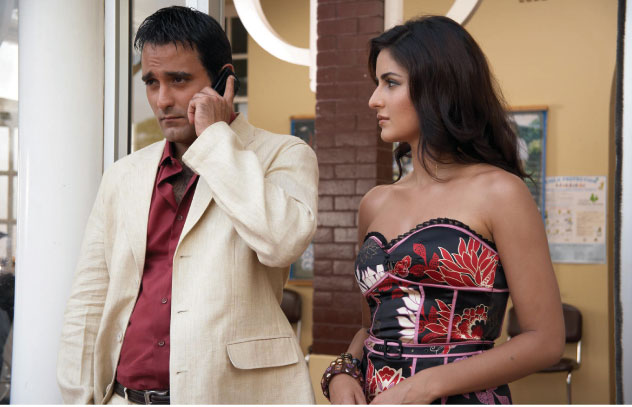 (Above): Akshaye Khanna and Katrina Kaif in "Race."

---
Such is the make believe world where Ranvir (Saif Ali Khan) reigns. He owns a stable of thoroughbred horses and has inherited an inordinate amount of money from his deceased father (So what's new?). He adores his brother Rajiv (Akshaye Khanna). His secretary Sophia (Katrina Kaif) adores him, and but he is keen on a svelte friend, Sonia (Bipasha Basu).

The film opens with a scene where Ranvir is driving a sportscar. (We are not told whether Ranvir owns the roads in South Africa. He probably does, because there are hardly any vehicles on the road when he drives.) In any case, the opening scene ends in a terrible car crash with a huge truck, and Ranvir is apparently fatally wounded.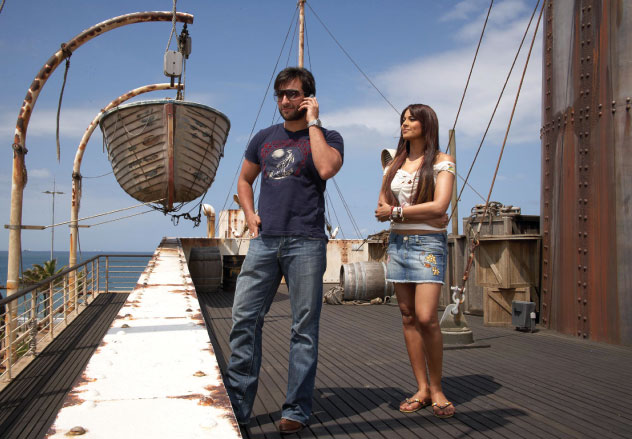 (Above): Saif Ali Khan and Bipasha Basu in "Race."

---
Apparently. That's the key word. Because nothing in the film is what it seems. There are wheels within wheels, everybody appears to be two-timing everybody else until your head reels as you try to keep track.

You get the sneaky feeling that this is exactly the state of mind that the filmmakers would want — the more you are disoriented, the less likelihood that you are going to figure out that like the film's characters, the filmmakers are also involved in a monumental shell game. Even by the infinitely elastic standards of Bollywood, the storyline simply defies credulity.

Or maybe one gives too much credit where credit is not due. Perhaps, after years of churning out mindless potboiler masala movies, the intellect of the filmmakers dulls to the point where logic, reason and deduction fall by the wayside while ishtyle reigns supreme.

Be that as it may, don't insult the viewers' intelligence with this fluff.


— Rating: 1 1/2 Stars | Mediocre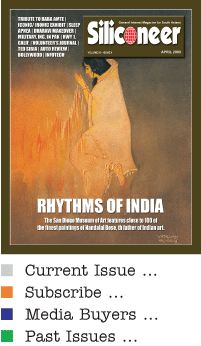 CURRENT ISSUE IN PDF
Click here to read in PDF format
COVER STORY
A Painter's Worldview: Nandalal Bose
Artist Nandalal Bose combined patriotic affection with a broader sense of kinship with Asia, writes Sugata Bose.
TRIBUTE
A Hero in Our Time: Farewell, Baba Amte
For grassroots human rights activist Baba Amte, life flowed like poetry and for the time that you were with him you flowed with it, writes Sandeep Pandey.
SUBCONTINENT
Overstaying Its Welcome: Pakistan's Military
Dr. Ayesha Siddiqa Agha, an expert of the Pakistani military, has this advice for her country's army: 'Stay out of politics, it is good for you, good for us,' writes Ali Hasan Cementdaur.
OTHER STORIES
EDITORIAL: Artist Nandalal Bose
NEWS DIARY: March
EXHIBIT: Painting Desi Icons
DIARY: Goodbye India, Hello Ghana
SUBCONTINENT: China: Dark Horse?
HEALTH: Treating Sleep Apnea
TRAVEL: Hwy 1, Northern Calfornia
OBITUARY: Tejinder Sibia
SUBCONTINENT: Makeover for Dharavi
FESTIVAL: Rang Barse!
BUSINESS: News Briefs
COMMUNITY: News in Brief
INFOTECH INDIA: Round-up
AUTO: 2007 Toyota FJ Cruiser
BOLLYWOOD: Review: Race
BOLLYWOOD: Guftugu
TAMIL CINEMA: Pazhani
RECIPE: Chinese Bhel
HOROSCOPE: April
HEALTH: Caring for Your Teeth