RECIPE:
Fusion Snack: Chinese Bhel


Chef Sanjay Patel adds a dash of desi style to a Chinese dish to create a delicious, tangy snack.
---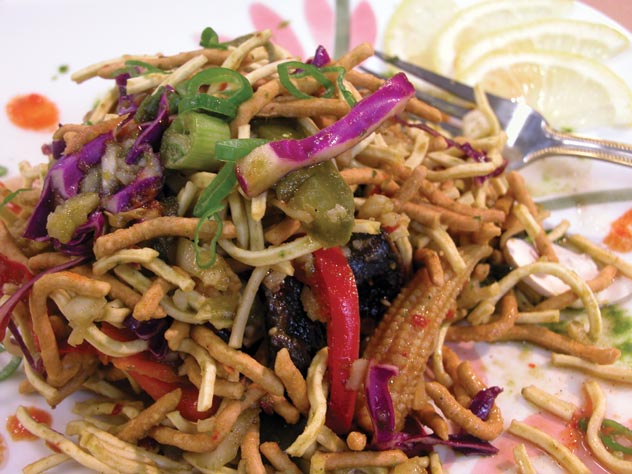 (Above): Chinese Bhel [SILICONEER photo]

---
Ingredients

For the tikkas:
100 gm noodles

Salt to taste

Oil for frying

½ cup chopped button mushrooms

½ cup sliced baby corn

1 bell pepper, sliced in thin, long strips

2-3 tbsp finely chopped green onions

¼ chopped green and red cabbage

¼ cup water chestnut

¼ cup grated carrots

2 tbsp roasted peanuts

2 tbsp green chutney

1 tsp soy sauce

1 tbsp Szechwan sauce

1 tbsp Chinese chilli sauce

2-3 tbsp tomato ketchup

3 tbsp chopped cilantro

Method:

Boil noodles in plenty of salted water till tender. Drain well. Heat oil for deep frying and deep fry noodles in batches till golden. Drain well. In very little oil, sauté the mushrooms and baby corn till tender-crisp. If desired, sauté bell pepper as well, or leave raw.

In a large bowl, mix the noodles (break if they are sticking together), mushroom, corn, bell pepper, onions, cabbage, carrots, water chestnuts and roasted peanuts. Add soy sauce, Szechwan sauce, chilli sauce, tomato ketchup, green chutney and cilantro.

If desired, add a tsp of vinegar.

Serve immediately.

Serves four.