TRIBUTE:
A Hero in our Time: Farewell, Baba Amte


For Baba Amte, life flowed like poetry and for the time that you were with him you flowed with it, writes Sandeep Pandey in an affectionate tribute.
---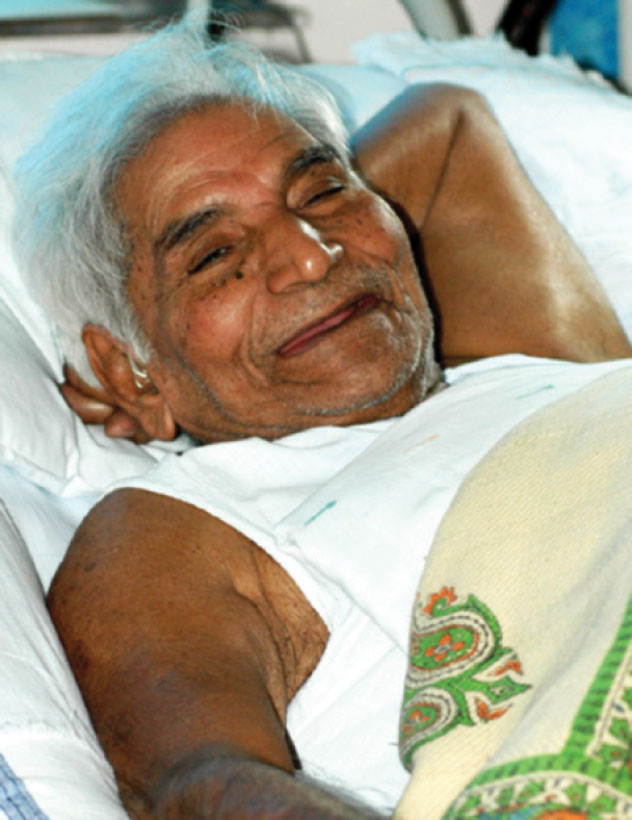 (Above, top):
Baba Amte.

---
In the loss of Baba Amte we have lost one of the most sensitive human beings of our times. A lot of us encounter very poor, destitute, devastated and ill people in our everyday lives. But except for expressing pity on their condition if not completely ignoring them, sometimes sparing miniscule percentage of our income or time, how many of us go back to these people to enquire about their well being and do something to lift them out of their desperate condition and help them cope with life? Most of us would like to walk away from such people in crisis and would like to forget about them as soon as possible. But Baba had the courage to go back to one such leprosy patient. And that defining moment changed his life and that of thousands if not hundreds of thousands of others.

Baba Amte's Anandwan is true to its name. Every person that you meet here, and most of them are leprosy patients, radiate a smile and are found to be doing some part of their daily chores. The industrious leprosy patients — condition for any leprosy patient to stay at Anandwan is that s(he) will have to put in 6 hours of daily work — put even normal healthy people to shame. After coming to Anandwan the leprosy patients are able to find a meaning in their lives. Baba has taught them that there is dignity in labor not in charity.

The Anandwan community of leprosy patients can serve to be the model of an ideal human society. There are no public places of worship. Each person is free to follow her/his religion but only inside their homes. After death everybody, is buried underneath the earth with a tree planted on top of it, which is certainly the most environment friendly way of disposal of a dead body. It not only saves trees from being cut and wood being burnt, but also an additional tree is planted for loss of every human being. Baba's younger son Prakash, who has an independent set up among tribals in Hemalkasa, Gadhchiroli district, has gone a step further and even established harmony with beasts like lions and leopards. Every member of the Amte family is more versatile than the other. It is no mean achievement that Baba has been successful in convincing his wife, two sons and two daughters-in-law to be all part of his mission. Not many social activists are able to do this. Gandhi certainly didn't succeed in this.

One of the various inspirational sayings on the walls of Anandwan is: "I sought my God, I could find him, I sought my soul, I couldn't find it, I sought my fellow human being and I found all the three." This is the essence of Baba's work. Human being is at the centre and they matter more than anything else. Entire effort at Anandwan is to make the lives of human being happy, especially the ones who had no hope left.

Baba has been able to set up one of the finest models of social work. But Baba was not limited to only constructive work. When he realized that projects like big dams are detrimental and against the interests of people as well as environment, he initiated the movement against big dams. In 1988, a meeting was organized at Anandwan of environmental activists from around the country who voiced their concerns in the form of a "assertion of collective will against big dams," also known as the Anandwan Declaration. Baba Amte left Anandwan for several years to be with the Narmada Bachao Andolan, living on the banks of river Narmada at Kasravad in a makeshift residence. He had vowed to be submerged with the villages when the dam would be constructed. Baba returned the Padma Shree and Padma Vibhushan awards that he had received to the Government of India for ignoring the plight of people displaced by the Sardar Sarovar dam.

Baba was troubled by the sectarian politics in Punjab and made several visits there to address the problem. He organized two cycle rallies through the length and breadth of the country for national integration which were called Bharat Jodo Yatras. Baba also wanted to visit Pakistan, but without any security, to which the governments did not agree and therefore the plan did not materialize. He was the kind of person who believed that arms do not provide security, human relationships do. It is unfortunate that Baba could not play the role he could have in forging peace and friendship between India and Pakistan.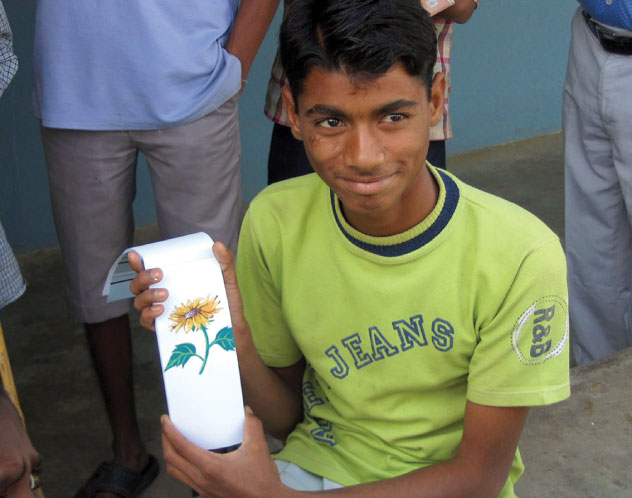 (Above): A resident of Anandwan, Baba Amte's most famous refuge for leprosy patients, proudly displays his artwork.
---
Thus Baba was a complete human being contributing both to constructive activities as well as people's struggles. Baba was suffering from severe cervical spondylitis and had to live in a very difficult situation with not being able to sit. He could only either lie down or stand up. But he never made anybody conscious of this. He was hardly ever seen in anything other than an upbeat mood. He always offered sweets to children and words of wisdom, usually in the form of poetry, to the adults who would go to see him. For Baba life flowed like poetry and for the time that you were with him you flowed with it.

People like Baba Amte appear rarely. These are people who are visionaries and have the courage to realize what they dream about. It is a pity that in a country obsessed with politics and politicians, Baba Amte fails to become a role model. Society would be so much better if more people decided to follow into his footsteps. Baba Amte was Mother Teresa, Medha Patkar, Mahashweta Devi and Nirmala Deshpande, all rolled into one.

Baba Amte (Dec. 26, 1914 - Feb. 9, 2008) was born Murlidhar Devidas Amte. He was the founder of several ashrams and communities for the service of leprosy patients and other marginalized people that were shunned by society. Anandwan (literally, "Forest of Joy"), located in the remote and economically less privileged district of Chandrapur, Maharashtra, is the most well-known amongst them and was his home.

---

Sandeep Pandey, a Magsaysay award-winning activist, is India editorial consultant for Siliconeer.

---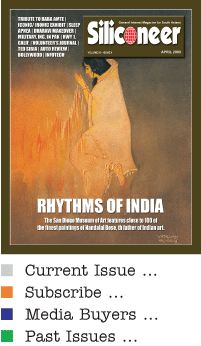 CURRENT ISSUE IN PDF
Click here to read in PDF format
COVER STORY
A Painter's Worldview: Nandalal Bose
Artist Nandalal Bose combined patriotic affection with a broader sense of kinship with Asia, writes Sugata Bose.
TRIBUTE
A Hero in Our Time: Farewell, Baba Amte
For grassroots human rights activist Baba Amte, life flowed like poetry and for the time that you were with him you flowed with it, writes Sandeep Pandey.
SUBCONTINENT
Overstaying Its Welcome: Pakistan's Military
Dr. Ayesha Siddiqa Agha, an expert of the Pakistani military, has this advice for her country's army: 'Stay out of politics, it is good for you, good for us,' writes Ali Hasan Cementdaur.
OTHER STORIES
EDITORIAL: Artist Nandalal Bose
NEWS DIARY: March
EXHIBIT: Painting Desi Icons
DIARY: Goodbye India, Hello Ghana
SUBCONTINENT: China: Dark Horse?
HEALTH: Treating Sleep Apnea
TRAVEL: Hwy 1, Northern Calfornia
OBITUARY: Tejinder Sibia
SUBCONTINENT: Makeover for Dharavi
FESTIVAL: Rang Barse!
BUSINESS: News Briefs
COMMUNITY: News in Brief
INFOTECH INDIA: Round-up
AUTO: 2007 Toyota FJ Cruiser
BOLLYWOOD: Review: Race
BOLLYWOOD: Guftugu
TAMIL CINEMA: Pazhani
RECIPE: Chinese Bhel
HOROSCOPE: April
HEALTH: Caring for Your Teeth