EDITORIAL:
Artist Nandalal Bose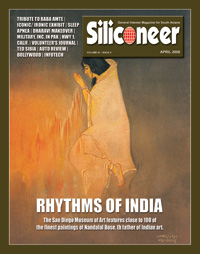 Among the sadder cultural slippages that afflict the expatriate South Asian diaspora is the diminishing appreciation of their stalwart cultural and social figures of the old country. If truth be told, this is a continuing price of socio-cultural evolution even in the old country itself. For all the ostensible obeisance to even an ubiquitous figure like Mahatma Gandhi, how much do today's generation know about the life, struggle and evolution of India's apostle of peace?

If Gandhi faces such a dire future, the fate of other figures, much less known, is not hard to contemplate. Even illustrious Bengali figures like Rabindranath Tagore, Subhas Bose, Kazi Nazrul Islam (all except Nazrul are celebrated all over India) are pretty much unknown to much of the younger generation; if their names are recognized, very little else about them is.

So it should be no surprise that Nandalal Bose is not well known even by name to many outside Bengal today, except those with a serious interest in Indian art and history.

Nandalal who? Nandalal Bose is considered by many experts to be the father of Indian art. However, his significance lies not only in the mastery of his craft, but his appearance at a critical juncture of Indian history when a nation, about to approach independence, was fashioning its own cultural, social and national identity as it weaned itself off a two-century-old bondage of colonial rule.

The great news for Indian Americans is that through an unprecedented collaboration with the government of India, the San Diego Museum of Art has organized the first comprehensive traveling exhibition outside of Asia to survey the expansive repertoire of Nandalal Bose (1882–1966). This display features close to 100 of Bose's finest paintings, which are executed in a variety of styles and media. Rhythms of India also reveals how Bose contributed to the success of India's non-violent struggle for independence from colonial rule through his close association with Mahatma Gandhi. Kicking off an international tour, SDMA's opening of Rhythms of India will mark the 60th anniversary of the death of Gandhi, who was assassinated on January 30, 1948.

However, not all of us can go and see the work of this great artist. Thanks to the assistance of the San Diego Museum of Art, we are pleased to offer in our cover story an essay by noted Harvard historian Sugata Bose on the art and vision of Nandalal Bose commissioned by the museum, accompanied by high quality photographs of some of his famous work.

More information on the exhibit is available at: www.sdmart.org

Baba Amte, India's recently deceased grassroots leader, had the courage to go back to a leprosy patient, and that defining moment changed his life and that of thousands if not hundreds of thousands of others.

Anandwan, the refuge he set up, is true to its name. Every person here — most of them are leprosy patients — radiate a smile. After coming to Anandwan the leprosy patients are able to find a meaning in their lives. Baba taught them that there is dignity in labor, not in charity.

The Anandwan community of leprosy patients can serve to be the model of an ideal human society. There are no public places of worship. Each person is free to follow her/his religion but only inside their homes. After death everybody, is buried underneath the earth with a tree planted on top of it, which is certainly the most environment friendly way of disposal of a dead body.

Sandeep Pandey, Siliconeer India editorial consultant, who himself gave up an engineering career to work with the people, writes an affectionate tribute in this month's issue.

During her recent trip to California, Pakistan's foremost military economy expert Dr. Ayesha Siddiqa Agha said that the South Asian nation's military had grown into a Frankenstein.

"Military today is a giant which has strong political control, economic control, and a very dominant social presence; a military that has over 7 percent share of the GDP, which controls one-third of heavy manufacturing in the country, which controls 6-7 percent private sector assets. It has a huge economic presence. It is a constant story of uneven development between different organizations and institutions," she said.

During lectures in the San Francisco Bay Area, Siddiqa rebuked "educated" Pakistanis who look down upon the masses, call them illiterate and accuse them of being subservient to authority. She asserted that the real stability in Pakistan would come from its ordinary people and the latest elections had shown that these "illiterate" people were quite capable of making intelligent decisions. 

Siddiqa warned that Pakistanis would hear a lot about corruption of politicians in the future. She said that corruption of any kind was bad, but democracy should be given a chance, even when financial scandals surface. Ali Hasan Cementdaur has a detailed report.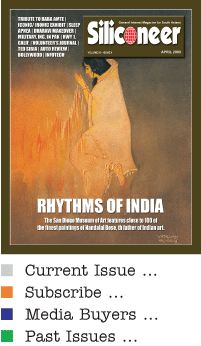 CURRENT ISSUE IN PDF
Click here to read in PDF format
COVER STORY
A Painter's Worldview: Nandalal Bose
Artist Nandalal Bose combined patriotic affection with a broader sense of kinship with Asia, writes Sugata Bose.
TRIBUTE
A Hero in Our Time: Farewell, Baba Amte
For grassroots human rights activist Baba Amte, life flowed like poetry and for the time that you were with him you flowed with it, writes Sandeep Pandey.
SUBCONTINENT
Overstaying Its Welcome: Pakistan's Military
Dr. Ayesha Siddiqa Agha, an expert of the Pakistani military, has this advice for her country's army: 'Stay out of politics, it is good for you, good for us,' writes Ali Hasan Cementdaur.
OTHER STORIES
EDITORIAL: Artist Nandalal Bose
NEWS DIARY: March
EXHIBIT: Painting Desi Icons
DIARY: Goodbye India, Hello Ghana
SUBCONTINENT: China: Dark Horse?
HEALTH: Treating Sleep Apnea
TRAVEL: Hwy 1, Northern Calfornia
OBITUARY: Tejinder Sibia
SUBCONTINENT: Makeover for Dharavi
FESTIVAL: Rang Barse!
BUSINESS: News Briefs
COMMUNITY: News in Brief
INFOTECH INDIA: Round-up
AUTO: 2007 Toyota FJ Cruiser
BOLLYWOOD: Review: Race
BOLLYWOOD: Guftugu
TAMIL CINEMA: Pazhani
RECIPE: Chinese Bhel
HOROSCOPE: April
HEALTH: Caring for Your Teeth