COMMUNITY:
Working Together: National Coordinating Council

Four major national Indian American organizations will join hands to work together for the Indian American community development in U.S. A Siliconeer report.
---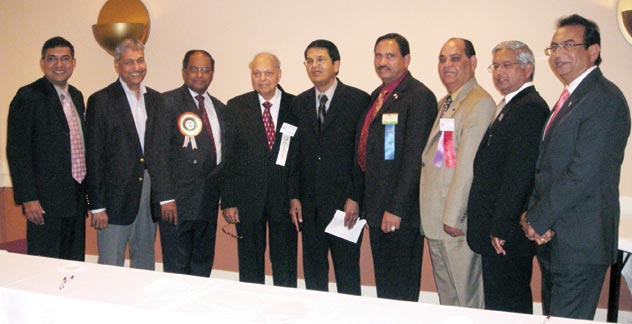 (Above): (From l-r): Niraj Baxi, Dr. Krishan Aggarwal, Dr. Thomas Abraham, Inder Singh, Dr. Ajeet Singhvi, Chandu 'CK' Patel, Lal Motwani, Dr. Shashi Shah, and Chandrakant 'CK' Patel.
---
In a historic move, the four national organizations representing the Indian American community pledged to work together on issues concerning the community, according to a joint press release from the organizations.

Representatives of the Asian American Hotel Owners Association (AAHOA), American Association of Physicians from India (AAPI), Global Organization of People of Indian Origin (GOPIO), and the National Federation of Indian-American Associations (NFIA), gathered in New York on Sept. 18, and agreed on a common agenda to work on issues affecting the Indian American community.

AAPI was represented by Dr. Ajeet Singhvi, Dr. Shashi Shah, and Dr. Krishan Aggarwal. From AAHOA, chairman Chandrakant Patel was present. GOPIO was represented by Inder Singh, chairman, and Dr. Thomas Abraham,chairman emeritus. NFIA was represented by Chandu 'CK' Patel, president, Lal Motwani, executive vice president as well as chairman Rajen Anand. The meeting was coordinated by former NFIA president Niraj Baxi, and was held in conjunction with the 16th biennial convention of NFIA in New York.

In welcoming the representatives of the four national organizations, Baxi said that all the four associations have been conducting similar functions in Washington, D.C. to advocate before the Congress their respective positions. "It would be much more productive if we all join our hands and show a united front before the lawmakers, when we have issues that affect the community at large" he said.

"Each organization has been independently dealing with hate crimes and immigration and other issues of discrimination against Indian Americans."

"We have gathered here to explore the possibility of cooperation among the large national organizations to conduct these functions," said Baxi.

Dr. Aggarwal from AAPI said that such efforts have been tried in the past with limited success. "But now the community has matured to a great extent and the cooperation has become possible," Aggarwal added.

There are many common issues facing the community in this country and if the organizations join their forces to tackle them they will achieve success.

When a single association is trying to deal with certain issues others should join in to support the cause. The issues will change with time, but the pledge to tackle them jointly and show a rapid and joint response should stay firm.

The group of these representatives was named as the National Coordinating Council and Niraj Baxi was designated as the coordinator. The council agreed to meet again in fall in Washington, D.C.