HINDI FILM REVIEW:
So What's New: Anjaana Anjaani


Rating: **1/2 (Mediocre)
Anjaana Anjaani


Starring: Ranbir Kapoor, Priyanka Chopra, Zayed Khan (Special appearance), Tanvi Azmi
Director: Siddharth Anand
Producer: Sajid Nadiadwala.

---
(Above): Ranbir Kapoor and Priyanka Chopra in a scene from "Anjaana Anjaani."

---
For Bollywood 'the strange always seems to be "truer" than fiction!' Yeah! It's true. We desis love Bollywood and the directors there love our moolah. If you drink a glass of wine, the same red wine every night, go watch this movie. But for those who live to be different and want life to throw in a few surprises, still go watch it as it's surprising enough that you are looking for that in a Bollywood flick.

Silicon Valley, the innovative hub of America, does this all the time, trying to rope in the consumer with a new device every Christmas. Come to think of it, what does the consumer really get, that's new, I mean. It has a computer chip, a screen, memory, it's a computer, a handheld, a netbook, a laptop. If it's fast, looks better, and can attract your attention enough, chances are the manufacturer will have a better earnings report in 2011. So why blame Bollywood?

---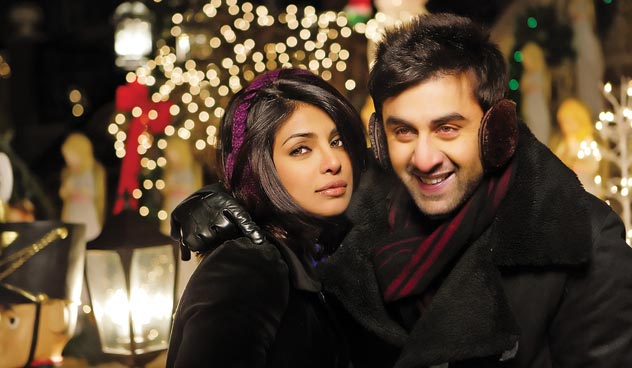 (Above): Ranbir Kapoor and Priyanka Chopra in a scene from "Anjaana Anjaani."

---
Anjaana Anjaani seems like is a wonderful movie for us Silicon Valley junta. We rush off to Reno when a project ends or when there is a need for for indulgence. Just an excuse to get away from the realities that we face everyday, be it work or home.

Akash (Ranbir Kapoor) and Kiara (Priyanka Chopra) meet on a bridge in Manhattan. Both are contemplating a suicide bid to end their worries in life, (may be a jyotish could help). Anyway, truth or dare, they can't jump. I mean how could they. The movie would end, wouldn't it?

So off they go exploring life together, or should I say, the SRK-Kajol DDLJ-style sightseeing tour begins, only it's a road trip here, it's America and we love our convertibles and our freeways.

---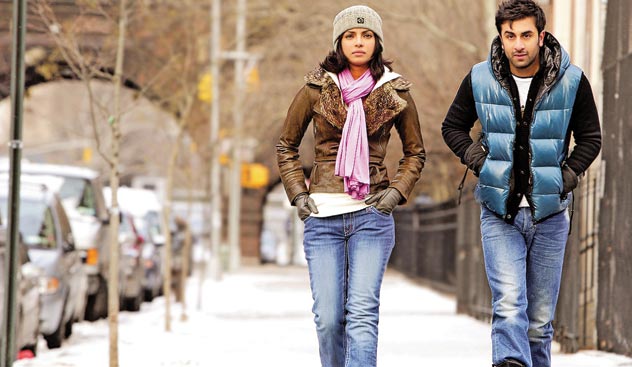 (Above): Ranbir Kapoor and Priyanka Chopra in a scene from "Anjaana Anjaani."

---
The youngsters decide to go on a campaign watch for their life. They want to do it in twenty days. Imagine – Meg Whitman buying all the advertising slots available in the media to fulfill her desire to serve the people of California! – So Akash and Kiara embark on this lifetime blitz, trying to fulfill all of their desires before they again contemplate ending their life in twenty days. You can't predict the future of California, but I guess a Bollywood movie is a little different. Though a typical masala film from Bollywood follows a set course, we've seen that over and over again with David Dhawan sagas or lately with Akshay Kumar-Priyadarshan sagas, this movie does offer a tiny bit of improvement over the rest.

---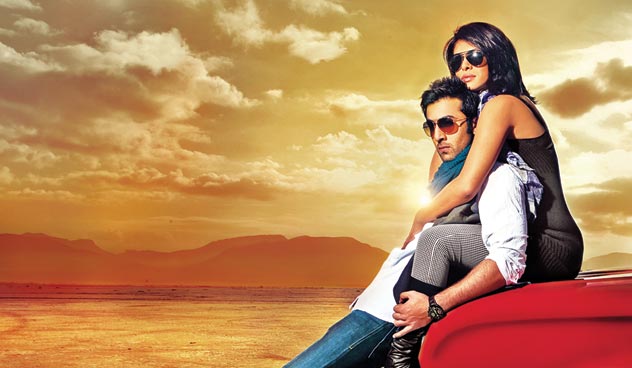 (Above): Ranbir Kapoor and Priyanka Chopra in a scene from "Anjaana Anjaani."

---
Enjoy a soda, some popcorn, a nap or just good times with your companion. Help keep Bollywood rolling, who knows the music might make you tap a foot or two, even earn you a good score for the after movie party. If you're up for a light-hearted visually appealing day dream, it's show time baby. Remember, when it comes to 'time pass', Bollywood is Bindaas!