EDITORIAL: Feet of Clay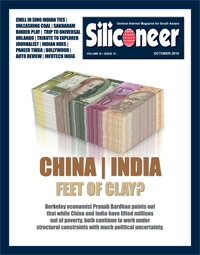 In the past few decades, the most profound change in geopolitics has been the stunning change in the global perception of two Asian nations — India and China. Today it is hard to believe that only a few decades ago, while both these countries drew considerable respect and admiration for their ancient culture and rich heritage, Western affluent nations tended to look at both these countries with an attitude which was at best benign condescension but more often outright disdain.

In the hard-boiled calculus of Western global analysts, economic performance was the name of the game— and here both India and China did not have a stellar record.

For India, notwithstanding its vibrant democracy, its economic performance was sluggish, though its achievement in self-sufficiency in foodgrains and considerable technocratic talent pool were no mean achievements.

China's achievements were substantial too, given the dire circumstances when the Communist Party took power, but the bitter acrimony of the Cold War led Western analysts to cast a jaundiced eye on it, and for all its achievements, it still remained saddled with a huge population of poor.

Then Deng Xiao Ping ushered in a dramatic shift from communist orthodoxy and opened up to foreign companies, and Narasimha Rao brought in dramatic changes where India also dramatically reduced state controls and opened up to foreign corporations.

Both nations have witnessed spectacular economic growth, but the commonly disseminated media narrative, which attributes all the progress to the wonders of the invisible hand of the free market, is a myth, according to internationally renowned development economist Pranab Bardhan. This myth obscures a far more complicated and nuanced reality.

In his book "Awakening Giants, Feet of Clay: Assessing the Economic Rise of China and India," Bardhan points out that while the two nations have lifted millions out of poverty, both continue to work under structural constraints with much political uncertainty. According to Bardhan, it is imperative to dispel erroneous perceptions to understand what pitfalls India and China face.

The Ayodhya dispute, which has caused so much misery in India, seemingly refuses to go away. The recent Allahabad court order which divides the disputed land into three equal parts has drawn complaints from the Musim Waqf Board, which says it will appeal the ruling in the Indian Supreme Court.

Be that as it may, the broader public response has been mercifully calm and free of any overt violence, a most welcome contrast to the fierce fratricidal communal killings that took place after the demolition of the Babri masjid in 1992.

There is an old saying that you can't make the same soufflé rise twice. Perhaps the communal madness that seized the nation at that terrible time is a thing of the past. Magsaysay Award-winning activist and Siliconeer India editorial consultant Sandeep Pandey offers an unflinching critique of the purveyors of religious frenzy, who have in the process forced all the real issues—poverty, unemployment, obscene disparity of wealth, corruption—to the back burner. He says it mustn't be allowed to happen again.

Vijay Tendulkar is arguably one of India's most celebrated and respected dramatists. The Maharashtrian playright has been the uncrowned king of not just Marathi theatre, but also Indian theatre. He has an uncanny eye and his plays tend to dissect the many foibles, hypocrisies and contradictions of Indian society with unsparing honesty. Sakharam Binder is one of his more well-known and controversial plays.

"Sakharam Binder is perhaps Tendulkar's most intensely naturalistic play. Its protagonist, Sakharam, a book-binder by profession, who, though a Brahmin by birth, is the total antithesis of the generally accepted conception of a member of that caste," writes Ravi Bhatnagar in this month's issue . "Through the delineation of this character, Tendulkar explores the manifestation of physical lust and violence in a human being. Yet he refrains from moralizing or being judgmental, and leaves his viewer or reader to come to her/his own conclusions. He portrays the basic and essential complexity of human nature, which is neither black nor white, but varying shades of grey. Thus, all the characters are a combination of good and evil, weakness and strength."

Ravi Bhatnagar is the director of the Naatak production of Sakharam Binder. This San Francisco Bay Area-based theatre group is a cultural gem for desi theatre enthusiasts. Thanks to their assiduous and committed efforts, Bay Area desis are uniquely privileged. No one in the rest of North America can watch top quality Indian theatre with superb production values without the hassle of buying a round-trip ticket to the old country.