NEWS DIARY


Resignation Call
Obama Congratulates Sheikh Hasina on MDG
Pak to Fight Sentence
Aides Freed
Plea to Speaker
Widow Makes Plea
---
Resignation Call
Rajendra Pachauri

Several environmentalists, U.K. MPs and scientists have called for the resignation of Rajendra Pachauri, chair of the UN's climate science body.

Pachauri, head of the Intergovernmental Panel on Climate Change, has in the past been criticized by climate "skeptics."

They have claimed that some of his comments had become politicized.

Pressure increased recently when a report recommended that IPCC chairs serve only a single term of office.

Pachauri has yet to comment on the matter.

The IPCC chair is into his second term and several leading scientists and green thinkers contacted by BBC News say he should quit now.

The list includes Tim Yeo, chairman of the all-party Commons Climate and Energy Committee and Mike Hulme, a former IPCC lead author.

Yeo told BBC News: "Dr Pachauri has become a liability — he is now causing more harm than good. Climate science needs a guarantee of utmost reliability, and Dr Pachauri can no longer guarantee that. It would be as well if he stepped aside."

Professor Hulme said: "Whatever merit his leadership of IPCC has had in the past, Dr Pachauri is unfortunately now associated with controversy and error in the IPCC AR4."

"As clearly implied by the IAC Review, a new chair for AR5 would bring fresh vitality and a new respect to the IPCC."

The IPCC has admitted it made a mistake in its 2007 assessment — known as AR4 — in asserting that Himalayan glaciers could disappear by 2035. But it says this error did not change the broad picture of man-made climate change.

The chairman's fate will be decided by a meeting of the IPCC in South Korea next month. BBC News understands that the government representatives overseeing the IPCC are reluctant to oust him for fear of upsetting India — a major player in climate talks and a growing superpower.

|TOP|

---
Obama Congratulates Sheikh Hasina on MDG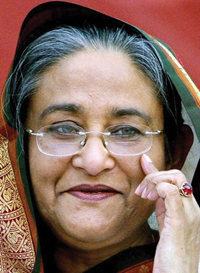 Sheikh Hasina

U.S. President Barak Obama Sept. 24 congratulated Prime Minister Sheikh Hasina for Bangladesh's achievements in attaining UN-set Millennium Development Goals that earned the South Asian nation the special UN award.

"I congratulate you," prime minister's press secretary Abul Kalam Azad told BSS quoting the U.S. president as telling the Bangladesh prime minister at a reception hosted in honor of the world leaders joining the UN General Assembly in New York by UN Secretary General Ban Ki-Moon.

Obama also appreciated Sheikh Hasina for her leadership in spearheading the campaign for achieving the MDG within the UN set deadlines of 2015 while he congratulated her as Bangladesh received the MDG Award particularly for reducing child mortality rate in Bangladesh.

Officials familiar with the meeting said the U.S. president looked very warm and cordial as he approached Hasina congratulate her, when Sheikh Hasina invited him to visit Bangladesh at a convenient time.

Ahead of the reception Hasina held several bilateral talks with her counterparts and senior government leaders of the Netherlands, Denmark, Malaysia, and Myanmar on the sidelines of the UN General Assembly alongside joining the general debate of the 65th UN General Assembly.

Officials said all the heads of governments and government leaders also congratulated her on Bangladesh's MDG achievements under her leadership with Denmark Prime Minister Lars Lokke Rasmussen saying "Bangladesh is on the right track."

He said Denmark would enhance its support and financial assistance for Bangladesh to help the nation achieve MDG goals but would like to move on to "business partnership" from "development partnership" in view of Bangladesh's rapid development in trade and economic sectors.

The officials said climate change appeared a major issue in all the bilateral talks.

|TOP|

---
Pak to Fight Sentence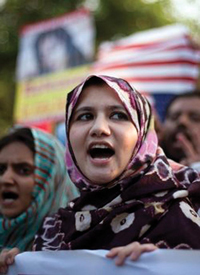 Pakistani protesters rally to condemn the arrest of alleged Al-Qaida suspect Aafia Siddiqui Sept. 23 in Islamabad.

Pakistan's prime minister said Sept. 24 he will fight for the release of Aafia Siddiqui, the Pakistani scientist sentenced in New York to 86 years in prison for trying to shoot American soldiers in Afghanistan.

In a speech to parliament, Yousuf Raza Gilani called Siddiqui is "the daughter of the nation." She is widely seen as innocent in Pakistan, and some Pakistanis took to the streets to protest her sentence.

Gilani said he had already campaigned for Siddiqui's release, and would continue to do so, reports the Associated Press.

"We all are united, and we want the daughter of the nation to come back to Pakistan," he told parliament, which unanimously adopted a resolution demanding Siddiqui's repatriation.

"I fought for her, my lawyer fought for her and now I will take up this matter on a political level," he said.

Siddiqui was convicted of attempted murder in February for grabbing a rifle and shooting at U.S. interrogators while she was detained by U.S. forces near the Afghan city of Ghazni in 2008. The U.S. says she was carrying bomb-making instructions and a list of New York City landmarks when she was arrested.  Siddiqui was missing for five years before her arrest, and the details of that time are murky.

|TOP|

---
Aides Freed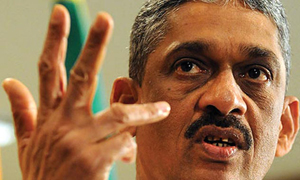 Sarath Fonseka

The magistrate's court of Colombo ordered the release of four aides of the former army chief Sarath Fonseka who was convicted of corruption and conspiring to topple the country's government.

Two retired major generals, a brigadier and a journalist were also charged with conspiracy to topple the government while associating with Fonseka. However, the court ordered their release on advice of the attorney general who dropped charges against them, Xinhua reported.

They were arrested in February along with Fonseka but given bail in May.

Fonseka is still under military custody and now faces a jail sentence after being convicted by two military courts.

The former general who led Sri Lankan army in the successful battle against the LTTE rebels last year challenged President Mahinda Rajapaksa in this year's presidential election held in January.

Rajapaksa defeated Fonseka, but the former army chief won a seat in the legislature in the April parliamentary election.

|TOP|

---
Plea to Speaker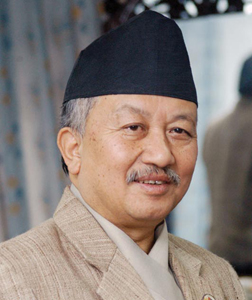 Subas Nemwang

The Unified Communist Party of Nepal (Maoist) and the Communist Party Nepal-Unified Marxist Leninist have requested House Speaker Subas Nemwang to play an active role to end the "meaningless" prime ministerial election.

According to a Kathmandu Post report, the UCPN-M and CPN-UML wrote separately to Nemwang.

"Chiefs of the both parties (UCPN-M and CPN-UML) informed me about their earlier decision to go for new consensus course but I told them to convince the Nepali Congress to withdraw its candidacy before starting a new process," Nemwang told reporters after receiving the letters from the parties.

The speaker argued that there is no other way but to continue with the election unless one of the contestants wins a majority vote in the House or both candidates agree to pull out of the poll process.

|TOP|

---
Widow Makes Plea

The widow of an exiled Pakistani politician murdered outside his north London home has urged anyone who knows who his killers are to come forward.

Dr Imran Farooq, 50, a senior member of the MQM party who has been in London since 1999, was stabbed in Green Lane, Edgware, recently.

His wife Shumaila Imran said his murder had "devastated me and left our family in a state of shock and disbelief."

The inquiry is being led by Scotland Yard's counter-terrorism unit.

Officers are working on the assumption that Farooq's murder was politically motivated.

Speaking at a press conference at Scotland Yard, his wife said: "Imran was a dedicated family man, a loving father and a loving husband.

"Someone somewhere knows something about my husband's murder.

"It does not matter how insignificant this information may seem to you, it could be absolutely vital to the police investigation."

Det Ch Supt Neil Basu said police were keeping an open mind about the motive.

He said the "murder had shocked Edgware's Pakistani community."

Officers will return to the scene to speak to motorists and other potential witnesses.

Police have also published thousands of appeal posters and leaflets in Urdu and Gujarati.

Raza Haroon, a member of the MQM central co-ordination committee, said Farooq had sought asylum in the U.K. as he was "under threat."

|TOP|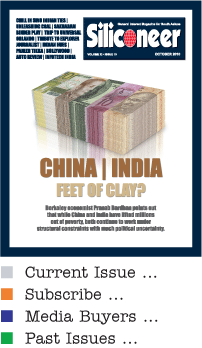 Click here to read the Current Issue in PDF Format
COVER STORY
Feet of Clay?
China and India
China and India have made impressive strides, but anticipation of future greatness is based largely on myths created by the media and part of academia, writes Pranab Bardhan.
SUBCONTINENT
Wounds of Ayodhya:
The Challenge
Following the Allahabad Court verdict, the Ayodhya dispute must not again force the real issues — poverty, unemployment, corruption — to take a back seat, writes Sandeep Pandey.
THEATER
Truth Unvarnished:
Sakharam Binder
Vijay Tendulkar's 'Sakharam Binder is controversial because it mercilessly skewers Indian moral hypocrisy, writes Ravi Bhatnagar.


ASK THE EXPERTS - Advertorials

New Health Care Law: What's in it for Small Business?
New Health Care Law: What's in it for Seniors?
New Health Care Law: How Does It Help People Without Insurance, Jobs, Papers?
New Health Care Law: How It Impacts Children


OTHER STORIES

EDITORIAL: Feet of Clay
NEWS DIARY: September
COMMUNITY: New Visa Rules
SUBCONTINENT: Coal Block Auction
TRIBUTE: Explorer Journalist: Franz Schurmann (1926-2010)
COMMUNITY: Working Together: National Coordinating Council
SUBCONTINENT: Indo-Chinese Rivalry
LEISURE: Lufthansa: Flavors of India
COMMUNITY: Eid Celebrations
TRAVEL: Universal Resort, Orlando
AUTO REVIEW: 2010 Nissan Altima
ART EXHIBIT: Indian Hues
RECIPE: Paneer Tikka
BOLLYWOOD: Review: Anjaana Anjaani
BOLLYWOOD: Guftugu
TAMIL FILM REVIEW: Drohi
COMMUNITY: News Briefs
INFOTECH INDIA: Tech Briefs
HOROSCOPE: October
---
ENTERTAINMENT

IIFA Awards 2010: SRI LANKA: JUNE 2010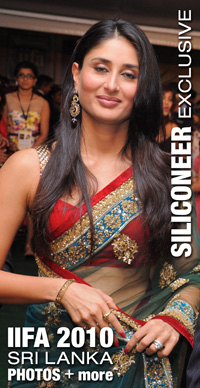 ---
ENTERTAINMENT

IIFA Awards 2008
A Siliconeer Exclusive Photo Essay

---
ENTERTAINMENT

81st Annual Academy Awards
A Siliconeer Exclusive Photo Essay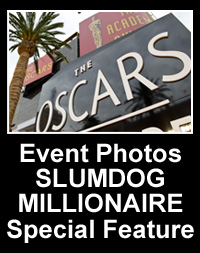 ---
ENTERTAINMENT

IIFA Awards 2008
A Siliconeer Exclusive Photo Essay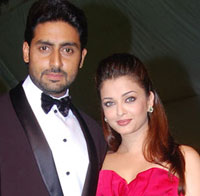 ---