RECIPE:
Grilled Delight: Paneer Tikka


Why should vegetarians be deprived of the delight of mouth-watering grilled stuff? Sadhana Agarwal presents a delicious grilled vegetarian recipe.
---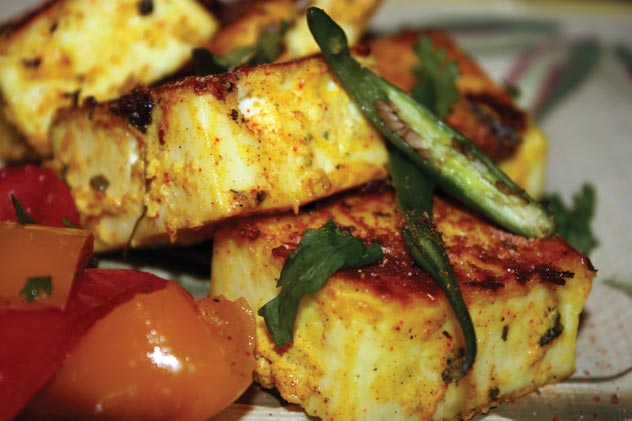 (Above): Paneer Tikka [Photo: SILICONEER]

---
Ingredients

For the tikkas:

2 cups paneer, cut in 2 inch cubes

1 cup red and yellow bell pepper cut in square pieces

1 onion, diced in small squares

1/2 cup thick yogurt

2 tsp red chilli powder

1/2 tsp turmeric powder

1 tsp ginger paste

1/2 tsp garam masala

1 tsp tandoori masala

salt to taste

2 tbsp cilantro, finely chopped


For garnishing:

1 tsp chat masala

Juice of 1 lime

Method:

Tikkas:
Combine yogurt onwards, chilli powder, turmeric, ginger paste, garam masala, tandoori masala, salt and cilantro and mix well.

Add bell pepper and paneer and mix well till all the pieces are covered with marinade.

Leave it for 4-5 hours.

Heat the grill or tawa, put some oil and arrange the marinated vegetables and paneer on the grill or tawa. Cook until brown spots appear. Do not overcook.

Garnishing:
Sprinkle some lemon juice and chat masala and serve hot.