COMMUNITY:
New Visa Rules: SF's Indian Consulate General at Town Hall Meeting

San Francisco's Consulate General of India and the Sunnyvale Temple board held a public meeting to discuss the new visa regulations for traveling to India. A Siliconeer report.
---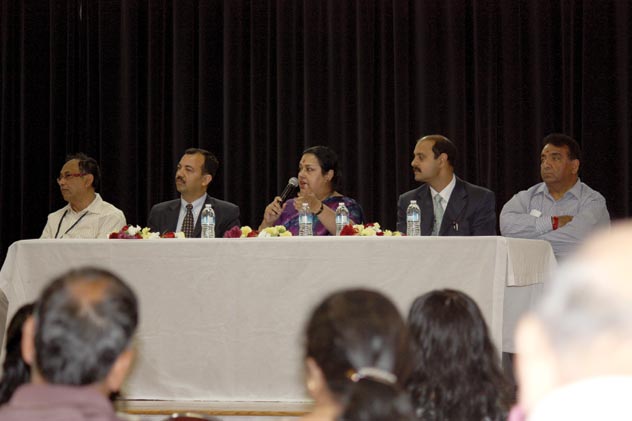 (Above): Seen at the town hall meeting at Sunnyvale Hindu Temple, Sept. 14, are (l-r): Sunnyvale Temple's Surajit Sengupta, Deputy Consul General of India in San Francisco Kumar Tuhin, Consul General of India in San Francisco Susmita G. Thomas, Consul for Community Affairs Ashok Sinha, and Sunnyvale Temple's Raj Bhanot. [Photo: SILICONEER]
---
The government of India recently made a lot of changes in visa regulations for visiting India. These changes have created a lot of confusion amongst those seeking to get a visa to visit India, whether as a tourist or on business.

The Consul General of India in San Francisco, Susmita G. Thomas and her team of officers met with the local resident expatriate community at the Sunnyvale Hindu Temple to address these new regulations, Sept. 14. The meeting was organized by the Sunnyvale Hindu Temple board.

After offering prayers at the temple, Consul General Thomas addressed a packed audience at the Sunnyvale Temple auditorium. She spoke about the new visa rules, explaining the changes and how one could work towards meeting those regulations.

The keynote was translated in Punjabi as well and was followed by a Q&A session. The audience had the opportunity to ask questions, present their case and exchange thoughts on their experiences with the activities of the Consulate office in San Francisco.

---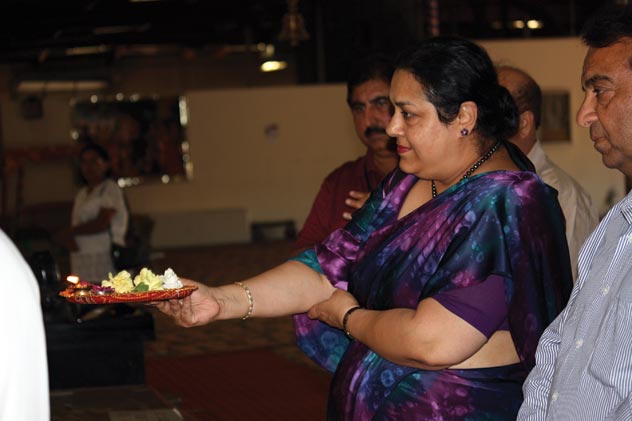 (Above): Consul General Thomas offers prayers at Sunnyvale Hindu Temple, Sept. 14, flocked by members of the Sunnyvale Hindu Temple board. [Photo: SILICONEER]
---
The event was well coordinated by the Sunnyvale Hindu Temple board and a lot of quality information was readily available for the attendees. Security was strong and vigilant for any rude behaviour from the crowd. People were allowed to ask question specific to their applications to get the first-hand information on how to go about when applying for an Indian visa.

It was an eye-opener for many as people shared their experiences with the Consulate team. Some of the issues included documentation problems, unclear intsructions, asylum case delays, and special needs.

The Consulate team answered most of the questions patiently and efficiently. Readers can find more details on the new visa rules and forms at the San Francisco Consulate General of India's Web site at www.cgisf.org.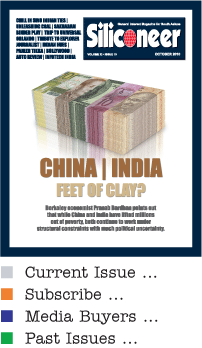 Click here to read the Current Issue in PDF Format
COVER STORY
Feet of Clay?
China and India
China and India have made impressive strides, but anticipation of future greatness is based largely on myths created by the media and part of academia, writes Pranab Bardhan.
SUBCONTINENT
Wounds of Ayodhya:
The Challenge
Following the Allahabad Court verdict, the Ayodhya dispute must not again force the real issues — poverty, unemployment, corruption — to take a back seat, writes Sandeep Pandey.
THEATER
Truth Unvarnished:
Sakharam Binder
Vijay Tendulkar's 'Sakharam Binder is controversial because it mercilessly skewers Indian moral hypocrisy, writes Ravi Bhatnagar.


ASK THE EXPERTS - Advertorials

New Health Care Law: What's in it for Small Business?
New Health Care Law: What's in it for Seniors?
New Health Care Law: How Does It Help People Without Insurance, Jobs, Papers?
New Health Care Law: How It Impacts Children


OTHER STORIES

EDITORIAL: Feet of Clay
NEWS DIARY: September
COMMUNITY: New Visa Rules
SUBCONTINENT: Coal Block Auction
TRIBUTE: Explorer Journalist: Franz Schurmann (1926-2010)
COMMUNITY: Working Together: National Coordinating Council
SUBCONTINENT: Indo-Chinese Rivalry
LEISURE: Lufthansa: Flavors of India
COMMUNITY: Eid Celebrations
TRAVEL: Universal Resort, Orlando
AUTO REVIEW: 2010 Nissan Altima
ART EXHIBIT: Indian Hues
RECIPE: Paneer Tikka
BOLLYWOOD: Review: Anjaana Anjaani
BOLLYWOOD: Guftugu
TAMIL FILM REVIEW: Drohi
COMMUNITY: News Briefs
INFOTECH INDIA: Tech Briefs
HOROSCOPE: October
---
ENTERTAINMENT

IIFA Awards 2010: SRI LANKA: JUNE 2010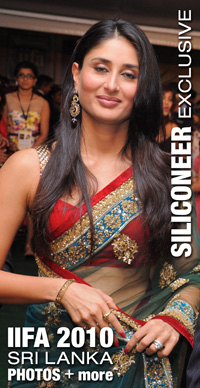 ---
ENTERTAINMENT

IIFA Awards 2008
A Siliconeer Exclusive Photo Essay

---
ENTERTAINMENT

81st Annual Academy Awards
A Siliconeer Exclusive Photo Essay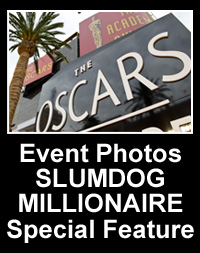 ---
ENTERTAINMENT

IIFA Awards 2008
A Siliconeer Exclusive Photo Essay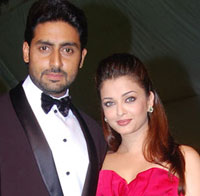 ---