TRAVEL
Pottermania!
Universal Resort, Orlando, Florida

Hogwarts castle, Universal's ode to the Harry Potter novels of J.K. Rowling, is an amazing feat of construction and a superb replication of a writer's imagination, writes a visibly impressed Ras H. Siddiqui.
---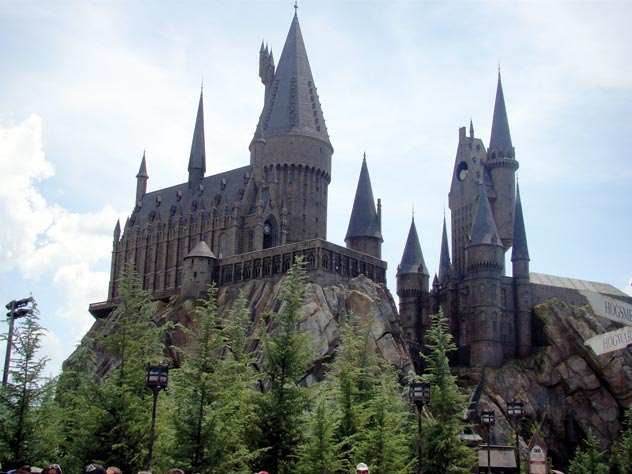 (Above): Hogwarts Castle at Universal's Islands of Adventure in Orlando, Fla., is a sight to see both from the inside and out.

---
A vacation to Orlando, Florida had always been on the cards. Our last landing into that magical world was approximately 15 years ago as we took our oldest for a memorable visit there along with a short stay in the Cayman Islands. That visit was memorable because of both Walt Disney World itself and the weather. Disney has done such a wonderful job there that some things just got embedded into our memory banks. It was as enchanting as ever. But the freezing 28 degree weather that greeted our arrival in "sunny" Florida during that December day certainly made an impression too. A record low of sorts had greeted us and we were certainly freezing.

This time around, it was very different. With younger kids now added to the family pleasure and with the emergence of the Harry Potter phenomenon during the past decade, a visit to the Universal Orlando resort became a priority. With three daughters heavily immersed in "Potter-land" and the recently added attraction at this park becoming the new vacationing buzzword, we set off on our journey during the last week of July, to be greeted by record heat this time.

---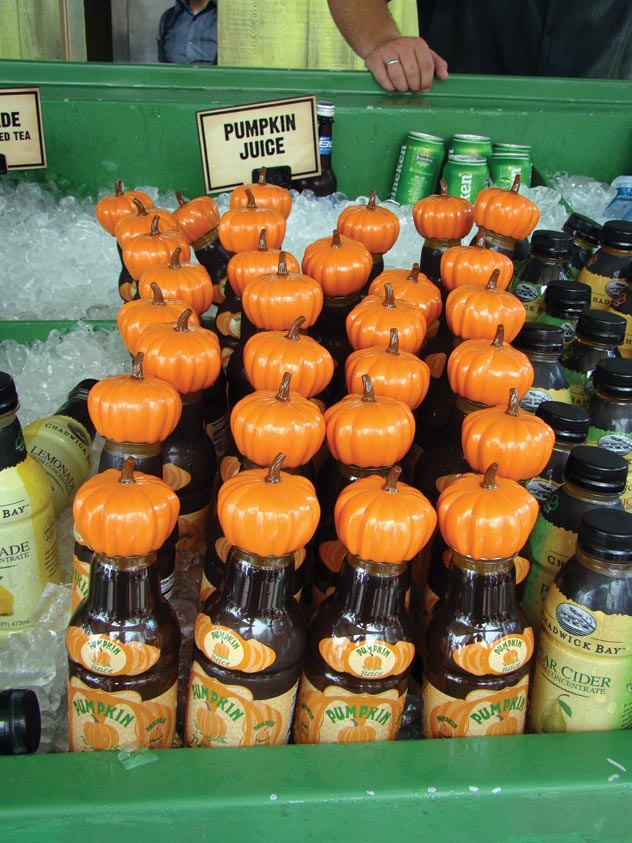 (Above): Pumpkin juice

---
But the Siddiqui family once again proved their resilience and overcame the elements. Our goal was to be at Harry Potter's magical wonderland July 31 because as we were informed by our oldest, it was Harry's birthday!

On a side note, as parents we were attracted more to Disney and creating some family memories there than Universal. We grew up with Disney (Disneyland and I share the same birth year) and have really liked the product, an incredible feat of marketing which has made a mouse one of the most popular brands in the world. For some of us who were born and grew up as children overseas, America was Coca-Cola, Archie Comics and Mickey Mouse. One of my ambitions in life was to visit Disneyland in Anaheim, a feat which I finally accomplished 35 years ago. And Walt Disney World in Orlando was like icing on the cake. We just had to take the kids there, heat, rain or shine. We planned several days at Walt Disney World and three at Universal. And we were off.

---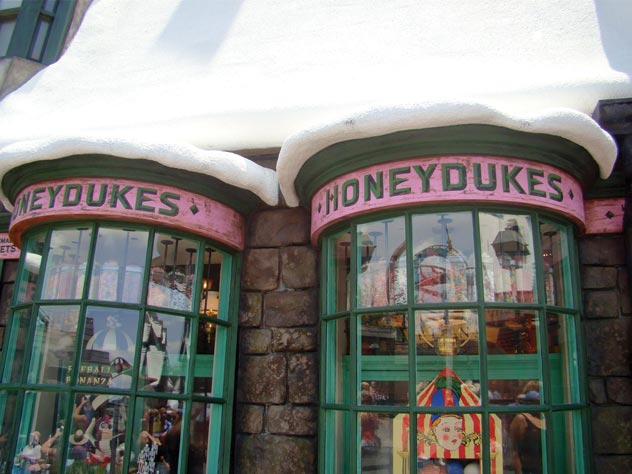 (Above): Exterior view of Honeydukes, the candy store that casts an irresistible spell for those with a sweet tooth.

---
This time a young wizard by the name of Harry almost had the famous mouse beat. But we landed in Orlando, all of us quiet except for a GPS system with its sweet voice nicknamed "Wanda" by our kids. We got lost the first night, but after that initial misleading drive from the airport to our hotel, GPS Wanda for the most part proved accurate. Hot and humid Florida welcomed us, where the numerical percentage of humidity can often match the recorded temperature in degrees Fahrenheit. It certainly does take a bit of getting used to and it should be no mystery as to why the water parks in the area are so popular during summer. Anything to cool off helps and water tops that relief scale.

We started off by spending four days at Walt Disney World (a topic for future writing) and then proceeded to visit Universal. The two Universal parks in Orlando are attractive but for the roller coaster and scary ride warriors, they are almost heavenly. Few places on this planet have more hair-raising examples of such entertainment than this location. With The Hollywood Rip Ride Rockit, the Hulk, Twister, Medusa, Dr. Doom's Fear Fall and the newest Dragon Challenge (to name a few), it is advisable for those with a weaker disposition to enjoy watching others have the thrill. Screaming riders were very common here and the lines to these attractions are long. For this reason, it is recommended that one should pay a little more for the Express Plus tickets since at least an hour's wait for any popular ride is almost the norm.

---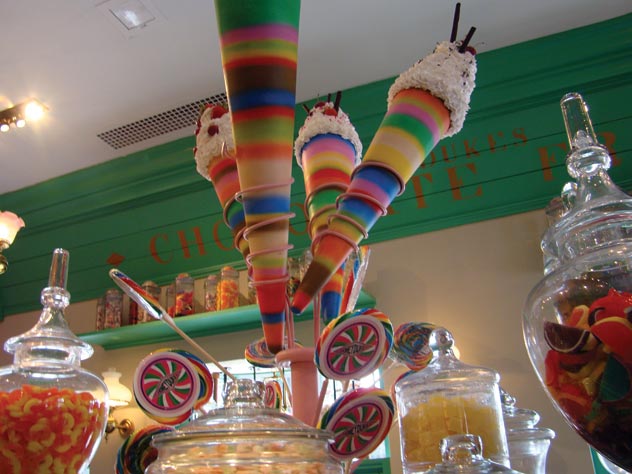 (Above): Delectable candy teases the palate at Honeydukes.

---
A detailed description of the two parks is just not possible here due to space constraints but both the Universal Studios Florida and the Universal's Islands of Adventure have their own unique attractions and are located just next door to each other, sharing the Universal City Walk (with some great restaurants) and separated by their own entrances. The Wizarding World of Harry Potter is located on the far side of the Universal's Islands of Adventure between Jurassic Park and The Lost Continent.

It does not matter which approach you take entering "Harry Potter Land" (for lack of a better description), both are impressive. The town of Hogsmeade with its numerous stores has been taken directly out of the pages of the Harry Potter fantasy. Here, you can spend hours at Dervish And Banges, Zonkos Joke Shop, go through wands at Ollivanders and satisfy your sweet tooth at Honeydukes.

---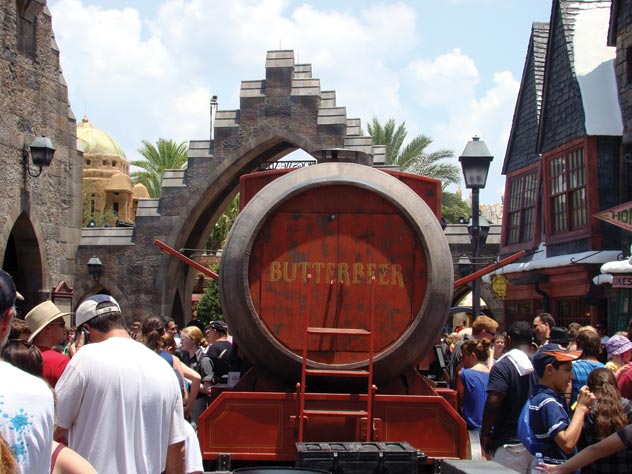 (Above): Butterbeer, a delicious non-alcoholic crème soda, is sold out of a barrel.

---
The number of people purchasing wands just could not be ignored in this article. It was as if they actually worked! The crisis in our family was that on our first visit to the Hogsmeade stores, Hermione's wand was sold out and it just "had to be" acquired. Harry Potter's wand was in ample supply and was selling very well and poor Ron's magic tool was not. Our crisis was resolved three days later on our last visit here as Hermione's wand was finally located and purchased.

Food and drink are a big attraction at Hogsmeade and the place to be is the "Three Broomsticks" restaurant. We had our share of fish and chips at this fine facility right out of the old English countryside and the Potter book fantasy. And no visit to this place would be complete without the consumption of "butterbeer" (actually a nice non-alcoholic crème soda) which is a bit pricy if you want to purchase the souvenir glass/mug with it. You can order butterbeer inside the restaurant or purchase it off the street where a huge barrel stands, mobbed by hundreds of people at any given time.

---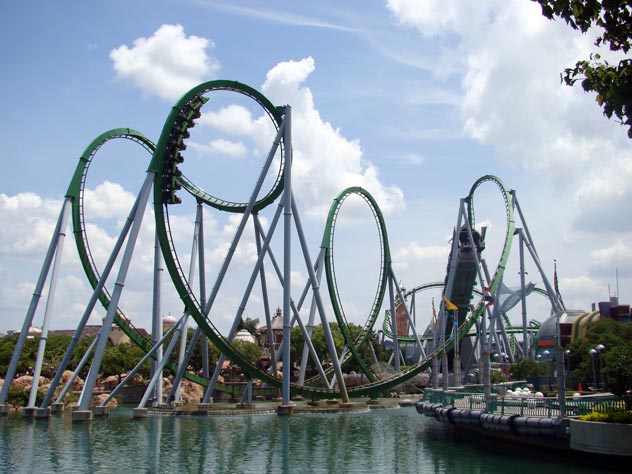 (Above): The Hulk, one of the many hair-raising rollercoasters awaiting thrill seekers. Definitely not for the fainthearted.

---
I saved the best for last here since Hogwarts castle is an amazing feat of construction and a superb replication of a writer's imagination. This scribe never really caught the Harry Potter bug that has been going around for the past decade or so via books and movies but even I had to admit that Hogwarts is a sight to see both from the inside and out. You have the option of either going through the castle for a tour or going through it inclusive of a fantastic ride called "Harry Potter and the Forbidden Journey."

Without giving out details here and spoiling the surprise, the suggestion is that both paths should be taken. And while you are at it, the "family friendly' roller coaster ride called "Flight of the Hippogriff" is a great deal of fun, too, as it goes through a pumpkin patch and past Hagrid's hut. When you are done visiting Hogwarts, you exit through Filch's Emporium and part with more of your money by purchasing mementos from a wide selection of Harry Potter products.

---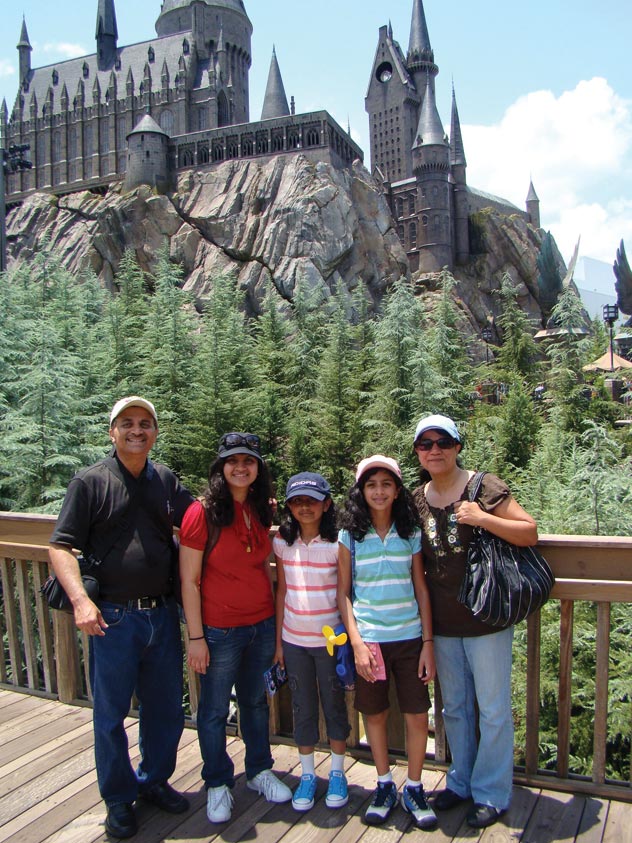 (Above): The Siddiquis in front of Hogwarts castle.

---
To conclude, a couple of thoughts did come to mind while visiting this site. The first was a question as to why The Wizarding World of Harry Potter was not built at Universal Studios in California? From the literally thousands of visitors that we saw visit this site from all over the world (we met Asians, Brazilians, Canadians, Israelis and people from all over Europe), and the millions that are yet to come and spend their money every year, a California location for Hogwarts and Hogsmeade would certainly have made a positive impact on our state finances and budgetary shortfalls. Another feeling that was bit strange was thinking of Mickey Mouse and Harry Potter in almost a friendly competition. Times may have changed but they are both a credit to the imagination of two very gifted people.

---

Ras Hafiz Siddiqui is a South Asian American writer who lives in Sacramento, Calif.
---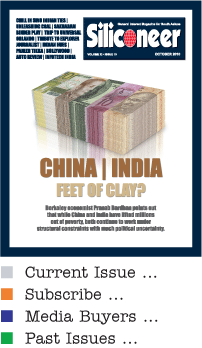 Click here to read the Current Issue in PDF Format
COVER STORY
Feet of Clay?
China and India
China and India have made impressive strides, but anticipation of future greatness is based largely on myths created by the media and part of academia, writes Pranab Bardhan.
SUBCONTINENT
Wounds of Ayodhya:
The Challenge
Following the Allahabad Court verdict, the Ayodhya dispute must not again force the real issues — poverty, unemployment, corruption — to take a back seat, writes Sandeep Pandey.
THEATER
Truth Unvarnished:
Sakharam Binder
Vijay Tendulkar's 'Sakharam Binder is controversial because it mercilessly skewers Indian moral hypocrisy, writes Ravi Bhatnagar.


ASK THE EXPERTS - Advertorials

New Health Care Law: What's in it for Small Business?
New Health Care Law: What's in it for Seniors?
New Health Care Law: How Does It Help People Without Insurance, Jobs, Papers?
New Health Care Law: How It Impacts Children


OTHER STORIES

EDITORIAL: Feet of Clay
NEWS DIARY: September
COMMUNITY: New Visa Rules
SUBCONTINENT: Coal Block Auction
TRIBUTE: Explorer Journalist: Franz Schurmann (1926-2010)
COMMUNITY: Working Together: National Coordinating Council
SUBCONTINENT: Indo-Chinese Rivalry
LEISURE: Lufthansa: Flavors of India
COMMUNITY: Eid Celebrations
TRAVEL: Universal Resort, Orlando
AUTO REVIEW: 2010 Nissan Altima
ART EXHIBIT: Indian Hues
RECIPE: Paneer Tikka
BOLLYWOOD: Review: Anjaana Anjaani
BOLLYWOOD: Guftugu
TAMIL FILM REVIEW: Drohi
COMMUNITY: News Briefs
INFOTECH INDIA: Tech Briefs
HOROSCOPE: October
---
ENTERTAINMENT

IIFA Awards 2010: SRI LANKA: JUNE 2010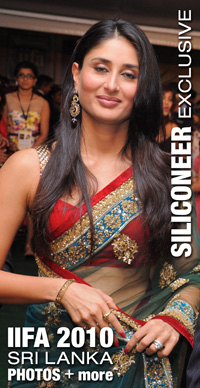 ---
ENTERTAINMENT

IIFA Awards 2008
A Siliconeer Exclusive Photo Essay

---
ENTERTAINMENT

81st Annual Academy Awards
A Siliconeer Exclusive Photo Essay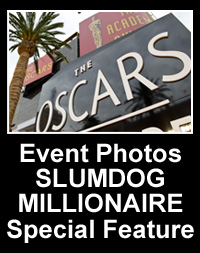 ---
ENTERTAINMENT

IIFA Awards 2008
A Siliconeer Exclusive Photo Essay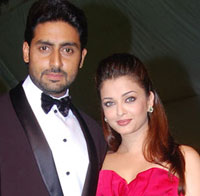 ---